Nine story apartment complex proposed for former White Plains Linen site
Council members express concern at scale of project
A Brooklyn based developer proposed a nine-story apartment building at the former White Plains Linen site bounded by Highland and Constant Avenues and North Division Street during Monday's Common Council work session. Members were in agreement that the proposal was too big for the location. A nine-story project would need a zoning text amendment for a height over five stories according to Jean Friedman, director of planning. 
Daniel Martin of CW Realty took the council through 44 slides showing renderings of the building for 249 one bedroom apartments renting at market rate with 48 two bedroom units, and 446 parking spaces on two floors of a garage. The units would be between 480 and 1,060 square feet. The proposal also includes public and private green space on rooftops, similar to the Alma Realty project on Park Street.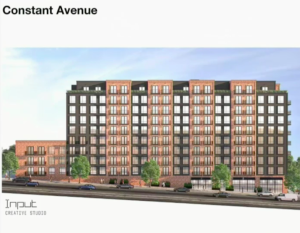 "We are investing $100 million to build this project," said Martin, referencing the cost to tear down the existing properties and construct the new building. He indicated that a development with less than nine stories doesn't fit their financial equation. He said CW Realty had complied with the existing C3 zoning language. He said his company recently acquired the old Fire Patrol building at 425 Highland Avenue that's sandwiched between the former White Plains Linen buildings. 
In response to questions from Councilwoman Kathie Talbot concerning the project's construction and whether it would be environmentally-friendly, Martin responded that they are aware of that issue but that the company doesn't design to incorporate LEED certification.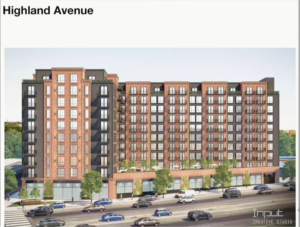 "We're a small city, this is way too big for that area," said Deputy Mayor Patricia Riley.  "It's gigantic." That sentiment was echoed by every other council person. 
Mayor Vivian McKenzie said the next steps would be for the developers to come back with a proposal incorporating the comments discussed tonight. 
In a February 2021 Peekskill development roundup, the Herald spoke to CW Realty Group's CEO Cheskie Weisz, who reiterated the company's 2018 proposal for a residential / hotel complex on the site; at the time Weisz was noncommittal on the timing nor other details.
In November, the River Journal reported that CW had missed three months' payments on the site's mortgage and that the lending bank had filed a notice of foreclosure on the property.