School budget passes
Write-in candidate Rekeda wins board spot
Peekskill's school district budget vote passed by a 4 to 1 margin, and the newest member of the Board of Education is write-in candidate Erik Rekeda after Tuesday's elections. 
The tallies on election night showed a total of 533 votes cast. This is on par with the number voting last year, according to Debra McLeod, district clerk. 
There were four candidates running for three seats. Top vote getters were 20-year incumbent Michael Simpkins with 374, President Jillion Villon with 361 and Rekeda with 224. The other write-in candidate, Marta Brooks, received 146 votes. There were an additional 18 write-ins for other candidates.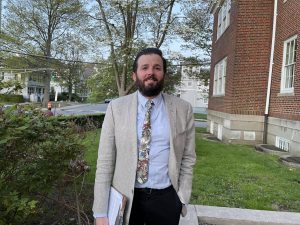 The $105 million spending package approved new hires of teachers to deal with increasing enrollment in a district with a student population of 3,500. Hillcrest Elementary needs an additional 5th grade teacher to maintain 24 students per class. 
On the secondary level, there is a need for additional math and science teachers in the high school, and administrators hope to increase the culinary class offering from four periods to six per day. At the middle school, where there are 800 students, the budget seeks to add a physical education teacher so the pool, which has been closed for two years, can be reopened. That requires another set of adult eyes. There are currently three full-time physical education teachers at the middle school. 
Capital improvements include replacing the flooring at Woodside and Hillcrest for $500,000 – of which 86 percent of the cost is picked up by building aid. 
Rekeda and Brooks ran a last-minute write-in campaign after incumbent Maria Pereira didn't return her petition with signatures putting her on the ballot.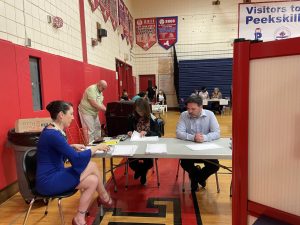 "I'm proud of the growth our school district has made under Dr. Mauricio's leadership, but there is still much work to do. I wouldn't have run otherwise.  Outside our school buildings, for instance, we need to upgrade our playgrounds and equipment to honor original, social emotional learning as well make it more safe for students to walk or bike to school," said Redeka. 
Other priorities include better planning for grade-level curricula so that all teachers work from a common foundation and expectations under the Princeton Plan.  "We need to then use this as the starting point for our critically important DEI work, and make these curricula available to parents and families.  Crucially, we also need to reduce our staff turnover – especially in administration – and recruit qualified, diverse employees for our schools if any of this is going to have lasting impact," said Rekeda, the father of two Peekskill students. His wife, Tricia Schultz, is a teacher at Peekskill Middle School.