School Board Election Now A Race
What looked like a fairly routine contest is suddenly a horse race, with four candidates vying for three seats in Tuesday's Board of Education election.  It wasn't until petitions with signatures were required to be turned into the district clerk on April 27 that incumbent Maria Pereira formally indicated she wasn't running for re-election after nine years as a trustee. That left almost no time for two newcomers to gather the 100 signatures necessary to be on the ballot.
In addition to voting for candidates when residents go to the polls on May 17, they will give a thumbs up or down to a $105 million dollar spending plan for the district's 2022-23 budget.  The financial package will see an average monthly increase of $14.71 to homeowners or an annual increase of $176.55, under the two-percent cap the state mandates.
Peekskill residents Eric Rekeda and Marta Brooks will be write-in candidates for the three-year term. According to District Clerk Debra McLeod, first and last names of the candidates need to be hand-written on the ballot by voters who support them. "It can't be an initial with a first or last name and it can't be just one name, it needs to be first and last name. If the names are spelled incorrectly that will not disqualify a vote, because the intent is known," said McLeod.  Incumbents Jillian Villon and Michael Simpkins are running for re-election and filed the necessary paperwork to be on the ballot.
The confusion came when Trustee Pereira told fellow board members in January she was considering not running and then at a board retreat in March she indicated again that she was thinking it was time to step aside. "I think they were hoping I was 'on the fence' about continuing. They were hoping I was not firm," about leaving the position, she told the Herald after the candidates forum on Tuesday.  When she didn't return her petition to the Clerk, it was clear her seat was available. 
"As much as I would love to be on the Board, it's time for new blood and new ideas. It's been a phenomenal ride for nine years." She listed as accomplishments the increased graduation rate, the STEAM program, the new athletic field and the $12 million in budget reserve. "All this doesn't happen overnight," she continued.  
Simpkins has been a Board of Education trustee for the past 20 years, and is seeking another term. He's held various leadership positions through his tenure and wants to continue to be a part of the 'renaissance' of the school district. "I want to continue to collaborate with the current board members and to be proud of what Peekskill is and what Peekskill is all about."  
Villion, the current board president, began the first of her three terms in 2013. She is a graduate of Peekskill schools, and has a child in the district. "The cornerstone of any community is the education and support it provides to its children," and says she wants to be a part of the decision making for the district's young scholars. 
Write-in candidate Eric Rekeda is a secondary math teacher in a southern Westchester school district, and is the father of two children; one a student at Hillcrest Elementary, and the other at Woodside. He and his wife Tricia Schultz have lived in Peekskill for more than 12 years. He has been the co-chair of the Peekskill Parent Teacher Organization (PTO) advocacy committee for the past five years and was involved in lobbying for millions of state Foundation Aid for Peekskill. He's a member of the Education Committee of the NAACP and he helped create the Safe Route Peekskill program, a collaboration between the PTO's advocacy committee, the school district and Peekskill Walks. The goal is to make it safer for students to walk or bike to school and encourage less traffic around schools.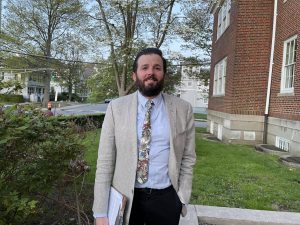 A public school teacher for nearly 20 years, Rekeda comes from a family of educators and said he grew up watching his parents dedicate their free time to helping children. He leads the math department in the Greenburg Middle School, which has given him familiarity with math curricula and programs at nearly every grade level – as well as experience in hiring decisions, strategic planning, and both school  and district-level administrative work.
The other write-in candidate, Marta Brooks, is a retired public school teacher with 36 years of experience in both NYC and Westchester school districts. She said her goals as a board member would be t o provide a safe learning environment for every student, increase expectations for academic achievement, provide practical solutions to close achievement gaps, and embrace diversity to help ensure that every student is included in the Peekskill school community.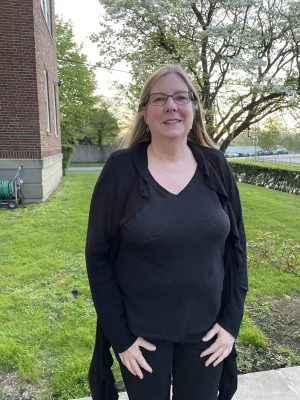 From the beginning of her career, Brooks has been interested in educational policy. She wrote her thesis for graduate school on Public Law 94-142, which ensures that each student is educated in the least restrictive environment, while their individual needs are met. 
Her concern about educational inequity among immigrant students, prompted her to move to Spain in the 1990's.  She received training in teaching new language learners. When she returned to the US, she saw how the literacy gap widened and caused children to fall behind in their education.  She completed a post-masters degree in reading and literacy that contributed to her spending the last 19 years of her career working as a reading teacher in Westchester schools. 
When the PTO, the host of the candidates forum, learned that there were two write-in candidates, they responded to the 'unprecedented situation' and allowed the candidates who were on the ballot, Simpkins and Villon, to have three minutes for opening remarks and two minutes for a closing statement. They would also respond during a question and answer session. 
The write-in candidates were given three minutes at the end of the forum to make a statement. 
Fifteen questions submitted by the public and the PTO were posed by moderator Margery Rossi.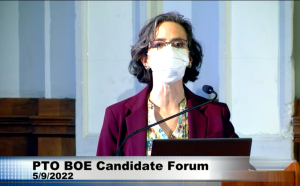 Questions about administrator turnover, fundraising and busing 
One question raised the issue about administrator transition in Peekskill, especially during the past 10 years, and asked what each  candidate would do to change that. Most recently, LaJuan White, the middle school principal who started in September, left the position in April to take a job as chief of the Rochester, NY Schools. And in July, Rodney Arthur left the principalship of the high school, causing a vacancy that saw an Acting Principal appointed a month before school opened. 
Simpkins replied that the district is always trying to find administrators that look like the student population – that "kids can look up to." 
Villon noted that turnover is a concern for the board. "We want to look for lots of characteristics and we want stability for our students. We haven't always gotten it right, and we haven't always gotten people as dedicated to our community as we wanted them to be. The more great things we are doing, the more great candidates will apply.  We want candidates who will be warm and caring, dive into data, and get their hands dirty and play with the kids – and worry about playgrounds.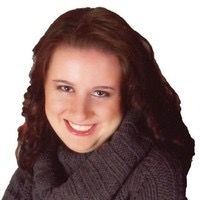 Another question asked how the board could address the enrichment needs of the 80 percent of children who are performing on baseline, not just the students who excel and those who are in special education. Both candidates responded that programs need to be modeled to specific needs and offer support when necessary and engaging programs for those who don't need support services.   
A 2018 county study showed that 433 of the district's 3,500 children were homeless. The state hasn't released new data, but a question asked how the district could account in an accurate and transparent manner the impact the pandemic had on students who are unhoused – and what was the budget allocated for those students. Simpkins replied that it was important for the district to know who those children are; Villon repsonded that the commitment to continue to fund the Parent Resource Center was integral to supporting those children.  She also referenced the Parent Resource Center as a way to make a connection with parents regarding engagement.  
Parent engagement continues to be a problem, another question noted. Simpkins referenced the monthly Saturday Academy as a way to open the door to parent involvement, while Villon said that "we need to be more clear and concise in what we are looking for parents to do in regard to engagement."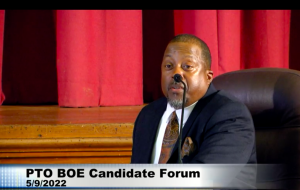 Rossi, the moderator, referenced the support of the community in the summer of 2020 that helped the district fund access to computers for children. That community fundraising helped make Peekskill a one-to-one district in regard to technology (one computer per student), and was "faster than the board could've imagined" said Villon. She referenced another area that the community could get behind involves repairing or replacing playgrounds, which she said could cost $20,000 – $40,000, and has been identified as a need.  Simpkins noted that the board is always looking for ways to collaborate with the community.  "You can find very creative things you're looking for right in the community," said Simpkins.
Limited transportation to and from school has been named an obstacle for consistent student attendance, another question noted, asking what the would-be board members would do to address that. 
Simpkins responded that busing comes with a tremendous cost. "The community has to vote; the board can't do it on their own. There is a tremendous cost, and I don't think people know the cost impact that will have on the district."
Villon said "transportation always comes up on our wish list items, and it will continue to come up as we continue to grow as a district. There are lots of other pressing issues. We have to be mindful of taxpayers and stay within the two-percent tax cap."
The Board of Education election takes place on Tuesday, May 17th at Peekskill High School. Polls open at 7 a.m. and close at 9 p.m.