Center Diner Primed for Renovation, Expansion
Also: physical therapy center proposed for Ford Piano building; World Cuisine coming to former auto parts store
By Jim Striebich
The new owner of Bank Street's landmark Center Diner, Olger C. Quituisaca of 1015 Park Street, will present plans for major renovations – including a two-story residential addition and outdoor dining – at this Wednesday's meeting of the Peekskill Planning Commission. 
Other notable agenda items in this week's Planning Commission meeting include a proposal for a physical therapy business to occupy the former Ford Piano building at 15 South Division Street; and conversion of the former Sav-Mor auto parts store at 982 Main Street to a new restaurant.
Diner Expansion
Agenda documents posted to the city website this morning show a refreshed exterior of the existing 1939 "National" style diner building located at 13 Bank Street, with new signage reading "PRIME DINER". A newly-proposed two-story brick addition to the rear would house a new kitchen and restrooms, with a 687-square-foot one-bedroom apartment upstairs. 
Renderings show a partially-enclosed rear courtyard with seating for 26 guests, in addition to the current counter stools and banquet seating inside the original diner.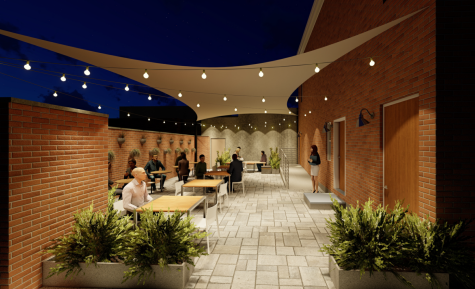 The Planning Commission Staff Report from Consulting Planner John Lynch contained in Wednesday's meeting agenda notes "The project is positive in that it represents an investment in a major downtown landmark that could stand to use it. The proposal offers a new outdoor dining experience that we believe will become a popular destination, especially because interior diner renovations will likely improve the diner's culinary offerings."
The Center Diner has been closed since January, 2020, when owner Gus Moundroukas suffered a heart attack. The building changed hands in late 2020.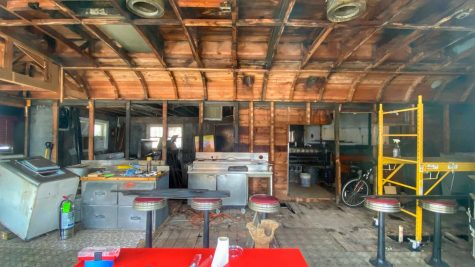 Ford Piano's Future
Another vacant downtown Peekskill landmark – the former Ford Piano building at 15 South Division Street – is also on Wednesday's Planning Commission agenda. The large single-story building is proposed to house a new physical therapy business called Wellness Warehouse, including a small juice bar within. The proposal comes from existing physical therapy operation Iron Health, currently located around the corner at 939 Central Avenue.
According to Iron Health, the new facility would be a "sports and performance-focused" "outpatient orthopedic practice." According to the Staff Report, the operator expects the facility to serve a maximum of four patients at a time. The report notes that "a new pedestrian seating area in front of 15 South Division Street is contemplated as part of the Downtown Revitalization Initiative (DRI)" – and while the proposal expects existing on-street parking to be sufficient to serve the new business –  that "since the seating area has not yet been fully designed and vetted, it is possible to reduce its size if a drop off area is deemed necessary."
World Cuisine on Main Street
A third proposal before the Planning Commission this week involves 982 Main Street – former home of Sav-Mor auto parts, which moved to 1022 Main Street last fall. The change-of-use proposal would convert the empty retail storefront to a 68-seat restaurant and bar called Ofori's World Cuisine.
The proposal comes from Chef Lawrence Ofori, a finalist on the TV cooking show "Chopped" who is most recently associated with the Spicy Food Truck based in Yorktown Heights, and the Javelina Tex-Mex Manhattan restaurant chain.