In a year when lives were disrupted by the global pandemic, coming up with what we're grateful for can prove challenging. However, this year's celebration of Thanksgiving provides a unique opportunity to take inventory of what's hidden in plain sight; the daily miracles that have sustained us through these past eight months. Herewith the Herald's Thanksgiving Gratitude List. We're grateful for:
Living in Peekskill, a four-square mile city, with an abundance of natural space that offers a  stunning riverbank trail and spectacular sunsets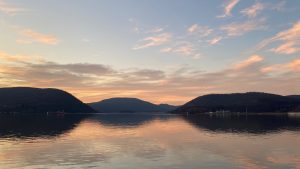 along with a 60-acre park in which to observe creation, disconnect from troubles of the world and be renewed by time spent there.
A new gathering space for people in the form of an outdoor urban park at Esther Place and the creative programming that brought free outdoor movies and music to the space. The expansion of Division Street closures along with Gleason's and Railroad Avenue parklets to encourage outdoor dining.
Restaurant businesses that survived an epic downturn thanks to their ability to adapt and be supported economically by residents. For the cashiers, cooks, servers, and cleaners who put their health on the line to support their families.
Citizens who put aside their personal safety and created distribution systems to get food into hands of people who needed it: from the Million Gallons Soup initiative, to Fred's Food Pantry increasing their days of operation to civic organizations such as the Rotary Club and Hispanic Community Corp., stepping up and being resourceful about providing food and meal vouchers.
For the front-line healthcare workers, firefighters, EMT's, ambulance volunteers, and police officers who responded to thousands of emergencies – often confronting COVID head-on to provide care and solace to sick and frightened residents.
Generosity of regular citizens along with restaurant owners to feed firemen, ambulance volunteers, and health care workers with homemade desserts and restaurant meals.
City government transitioning to virtual business and giving public easy access to meetings via Zoom.  In addition, city government keeping vacant positions open and employees picking up the workload so an already strapped budget wouldn't be further stressed.
Teachers and school administrators finding ways to stay connected to students and learning new technology to continue teaching, even from home. Major donations toward hardware and internet access from individuals and businesses, spearheaded by businesses and civic organizations such as Peekskill NAACP.
To parents who juggle working from home, virtual learning and hybrid school schedules and the tremendous flexibility, patience and stamina that are required to ensure their children are engaged in learning.
That the turf and track is nearly complete at Torpy Field, a true source of pride for the school district.  The transformation of the Broad Street former firehouse into a school district parent resource center.
To residents who created software to keep tabs on the early voting line and ingeniously turned a security camera to give real time data. To citizens who stood in line with wind and rain to exercise their obligation to vote.
For entrepreneurs who took a chance and opened a business despite a pandemic; Journeyman Bakery, Whiskey River, Carolina's Ice Cream, Agape Closet, Bucko!, Apple Farm, Abbey Inn & Spa,
Dam Good English Muffins, Bajarito, Tuscana Pasta Factory Store. Starting a small business takes a lot of guts and grit – even during a good year!
This list is by no means comprehensive, but it paints a picture of the abundance that is present in this community. It's far easier to lament what we can't do and don't have and become stuck in what once was. When we focus our attention on what we've accomplished, gratitude naturally surfaces.
Happy Thanksgiving!