New Apple Farm grocery store opens at Blue Mountain Shopping Center
The southern end of Peekskill once again has its own grocery store. A year after Peekskill Green Grocer closed its doors, Westchester-based Apple Farm has opened in the space following a full interior renovation that was originally planned to be complete in April but was delayed by the ongoing COVID-19 Pandemic.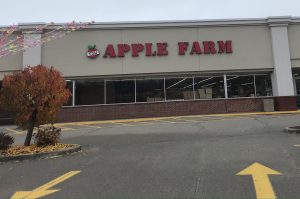 The 25,000 square foot space fills the void for a grocery store in that section of Peekskill which saw the  A&P operate there from 1959 to 2015. Much of the interior of Apple Farms follows the layout of the A& P with seven cashier stations in the front and the deli to the left. Unlike the
A&P and Green Grocer, there is one entrance and exit.
Roy Yoon, general manager of the newly opened store, has hired about half of the staff of 40 people it will take to operate the store that opened last Friday.  "I'm still taking applications and want to hire people from the local area," said Yoon. He will train people who don't have specific grocery store experience and says he's looking for people who are motivated to work and that will be his main focus when making hiring decisions. Because he wants to hire local people, he hasn't advertised for employees, only using signs around the store location at Welcher Avenue, just west of Rt. 9.
Apple Farm markets are known for their high-quality foods and low prices especially in the fresh produce department. They also offer meat, cheeses, and seafood along with Asian specialties and flowers. The Peekskill store is the newest edition to the family run market group. The original store opened on Tarrytown Avenue in White Plains about 30 years ago. The Croton location is at the Van Wyck Shopping Center. 

Part of the interior overhaul was taking out the bakery and increasing the size of the deli and adding a station where sushi is made. Bakery items are delivered daily at 5 am from various area bakeries said Yoon. There are certain items that aren't on the shelves yet, like beer,  while they await a license from the state. The shelf space where beer would be located says, "coming soon."
Apple Farm, 20 Welcher Ave. is  open from 8 am to 8 pm Monday through Sunday.