By Jim Striebich, Contributing Writer
Peekskill's next big residential project from GDC will be just steps from the train and will "transform" Railroad Avenue. Martin Ginsburg knows Peekskill well, having developed five high-profile residential projects here, Chapel Hill in 2005, Riverbend in 2007 and most recently the Abbey Inn and Fort Hill Apartments. But "Number 6 may be [the] most important", he told the River Journal in a May 2020 profile, referring to his plan "to transform the area around the city's railroad station at Riverfront Green".
"Number 6" is likely to be Peekskill's next big residential project, replacing the haphazard mix of commuter parking, broken asphalt, and humble commercial buildings along Railroad Avenue across from the Metro North arrivals platform. 
Although not yet formally announced, the Peekskill Herald has learned that Vahlalla-based Ginsburg Development Companies (GDC) is planning a large mixed-use residential development for the 1.5 acre block-through site that runs from Requa Street north to the Station Deli, with frontage on both Railroad Avenue and South Street.
Between 2005 and 2007, GDC subsidiary Peekskill Bay LLC purchased six adjacent properties comprising roughly 64,000 square feet, according to Peekskill tax records.
The lots include the small parcel where the Station Deli stands, as well as the location of His & Hers Dry Cleaners. Besides the two buildings, much of the frontage along Railroad Avenue exists as a private parking lot – former site of the legendary Sorrento's Restaurant; the sloping properties along South Street are overgrown with trees and vegetation.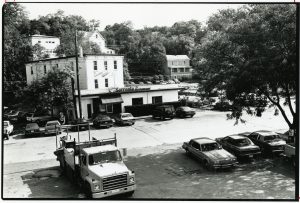 The development was mentioned in Peekskill's winning bid for a $10 million Downtown Revitalization Initiative (DRI) grant from New York State. It was categorized as one of $41 million worth of "Projects under review or ready to move forward," and the application language inferred that the adjacent City-owned commuter parking lot at the corner of Railroad Avenue and Requa Street might be included. 
In 2019, during DRI project proposals, GDC applied for funding to redesign the two streets as part of its master plan for a "mixed use residential and commercial development" at the site. The final DRI proposal submitted to the state in July includes some of these street and parking improvements, but does not mention the Peekskill Bay project specifically.
Between the Lines
Ginsburg representatives were unwilling to divulge any project details this week, since they haven't presented plans to the city's planning department and Planning Commission yet. But the city's zoning code provides enough clues that we were able to create a very rudimentary "massing model" image to show the location and potential scale of the development.
The site is zoned WF-2, part of the overall Peekskill Waterfront Zoning tract. Under current zoning, GDC can build commercial buildings as-of-right (without any zoning amendments) up to 4,000 square feet per building, with a limited number of uses such as retail, galleries, restaurants, professional offices, personal services, furniture making, or indoor recreation such as gyms or dance studios. 
With a Special Permit from the Peekskill Common Council, GDC can build multifamily residential on the site, and the WF-2 language also allows for a combination of residential and commercial, or "mixed-use" as described in the DRI grant application. The zoning code allows up to five floors (or 55 feet of height) for developers willing to subsidize infrastructure improvements in the district.
Based on zoning language, and given the steep slope from South Street (and allowing for retail, parking and common areas), the current site probably supports 50 – 75 dwellings, with retail fronts along Railroad Avenue facing the train station. It is likely that GDC would include both residential and commuter parking within the footprint. 


The Waterfront District Design Guidelines instruct architects to "reflect the maritime industrial character of existing buildings in the area (e.g., the Standard House and Peekskill Brewery)", and suggest using brick and/or stucco. "A richness of facade texture should be encouraged through the use of punched windows, deep reveals and marked roof profiles".  The finished product will be much more interesting and attractive than our massing model.
Why Now? Ginsburg has owned most of the site for fifteen years, but given recent market conditions it appears the developer is ready to move forward with the project. Regular Metro North commuters have seen multi floor residential projects spring up all along the Hudson Line recently, in Harlem, Yonkers, Ossining, and other Westchester "river towns". Clearly, a subset of New Yorkers find the prospect of lower rents, larger floor plans, modern amenities, and suburban life, often with river views and an easy commute into Manhattan to be irresistible. 
At the same time, historically-low interest rates are spurring development nationwide, with builders able to borrow cash cheaply.
GDC's Development Director Kevin Marrinan told the Herald on Tuesday that he "expects to show [the Railroad Avenue project] to the city, and start through a process in the next twelve months" but cautioned that the process for approval can be quite lengthy.