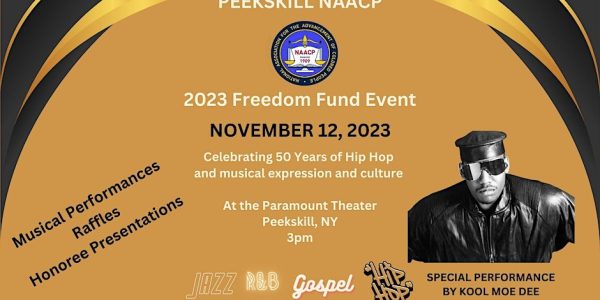 On Sunday, November 12, Melvin Moore, Regina Clarkin, Reverend Jeannette J. Phillips, Tuesday Paige McDonald, Adrienne Harper, Ariana Okoth, Valerie Eaton, NY Presbyterian Hudson Valley Hospital, and Marisol Jimenez will all be honored by the Peekskill NAACP at the 2023 Freedom Fund Event. The 2023 Freedom Fund event will be held at the Paramount Hudson Valley at 3:00 p.m. The event celebrates 50 years of Hip Hop and features special guest performances by Acute Inflections, The Faithlock Singers featuring Jeremiah, local Peekskill talents Bria the Artist and Noodle Noo, and Hip Hop legend Kool Moe Dee. This is a major fundraising event for the Peekskill NAACP which raises funds to help serve the community. For more information and to purchase tickets, visit the Peekskill NAACP website.
---
Please remember November is our big annual fundraising campaign at the Peekskill Herald – where every dollar we raise is matched, dollar for dollar, by major national funders through our partnership with NewsMatch. Every dollar counts and helps keep this 501c3 organization thriving. 
If you enjoy seeing events like this publicized and our hyperlocal Peekskill Centric news articles please donate by visiting Support the Herald. We only exist with your support. The Peekskill Herald is a 501c3 charitable organization and all donations are tax-deductible. Don't forget to subscribe to our daily or Saturday roundup email informing you of all of the newest content delivered directly to your inbox.