For the third time in four weeks, the Westchester Cars & Coffee group is giving back to Peekskill by holding their 3rd annual Food Drive in conjunction with the Peekskill Youth Bureau. On Sunday, November 12th from 8 to 10 am the community is invited to bring non-perishable Thanksgiving food items to the Parking Lot next to Homestyle Desserts Bakery and ogle over hundreds of amazing cars. All of the food donated will go to the Peekskill Youth Bureau who will then distribute the food before Thanksgiving to families in need.  Attendees are invited to bring any non-perishable food items, including but not limited to stuffing mix, instant potatoes, dried beans, canned goods such as beans, vegetables, gravy, or pumpkin, boxed corn bread, condiments & spices, vegetable or olive oils, non-stick pan spray, nuts or dried fruit, pasta, cake or brownie mixes just to name a few.
News 12 Westchester covered the event. You can view the story here. To view a beautiful video montage of the bus being filled that was created by the Westchester Cars & Coffee group themselves, click here.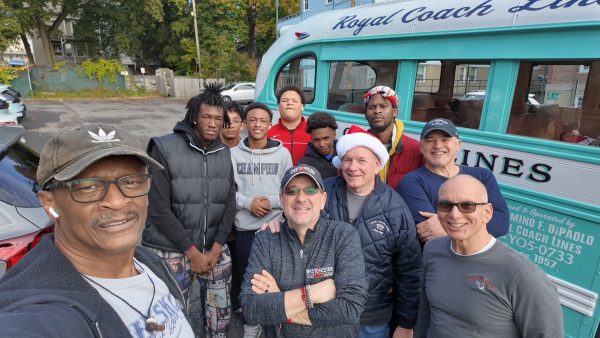 Last Sunday, the Westchester Cars & Coffee group, led by Basil Kazepis, held its 3rd annual Toy Drive. The goal of the event was to fill a fully restored 1957 Chevrolet school bus and double the amount of toys they received last year. Not only did the group double the amount of toys they received, but they succeeded in filling up the bus to maximum capacity. Check out the bus filling   Helping them unload the bus afterwards were members of the newly crowned Hudson Valley Football Tournament Champions, the Peekskill High School Varsity Red Devils Football Team! This was the first Championship the PHS Varsity Football team has won in over 29 years! The new unwrapped toys were turned over to the Peekskill Youth Bureau who will distribute the toys to Peekskill families in need just in time for the holiday season. 
The Thanksgiving Food Drive is the last meet for the Westchester Cars and Coffee group for 2023. To find out more about Westchester Cars and Coffee visit their Facebook page or their website. 
---
Please remember November is our big annual fundraising campaign at the Peekskill Herald – where every dollar we raise is matched, dollar for dollar, by major national funders through our partnership with NewsMatch. Every dollar counts and helps keep this 501c3 organization thriving. 
If you enjoy seeing events like this publicized and our hyperlocal Peekskill Centric news articles please donate by visiting Support the Herald. We only exist with your support. The Peekskill Herald is a 501c3 charitable organization and all donations are tax-deductible. Don't forget to subscribe to our daily or Saturday roundup email informing you of all of the newest content delivered directly to your inbox.