Last night, the PHS Boys Varsity Football team brought home gold to the city of Peekskill. The Red Devils were able to overcome Tappan Zee, at their home-turf, in the championship final of the Hudson Valley Football Tournament. At the game's end the scoreboard showed Peekskill 20 Tappan Zee 14. According to the school district, this is the first time the boys football team has reached the championship finals since 1994. 
The victorious team received a police escort once they arrived in Peekskill with fans honking and shouting as they drove to the high school. This reporter captured the celebration along Nelson Avenue. 
Spirits were high leading up to the final. The Red Devils were coming off a 8-0 win against Spring Valley in their semi-final encounter. Yesterday, Peekskill arrived at Tappan Zee with a point to prove. In Week 5 of the regular season, Tappan Zee beat Peekskill 14-6. Tappan Zee held a season record of 7 wins, 1 loss and were favorites coming into the final. This did not bother the Peekskill Red Devils who started the final off strongly and held on to claim victory and lift gold.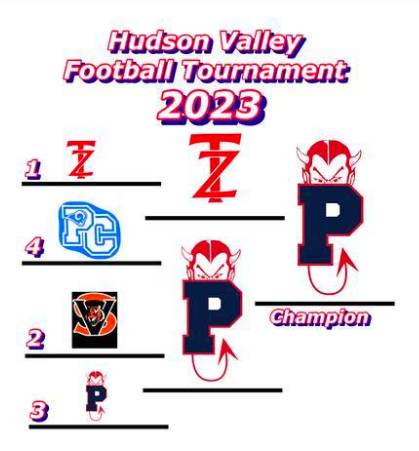 Earlier in the day, as the team prepared to depart the high school, Peekskill faculty and students cheered on the boys football team and wished them good luck. See district video here. The Red devils finished their season yesterday with a record of 6 wins and 3 loses.