Walk into Jo's Body Shop on South Street in Peekskill and you'll see that Julie Overskei has created so much more than a massage studio. Her space has the requisite comfy couch and health-related items for sale, but that's just the beginning. There are cabinets and shelves stocked with everything from books to musical instruments to items Overski has collected during her travels. The walls are adorned with Overskei's own artwork.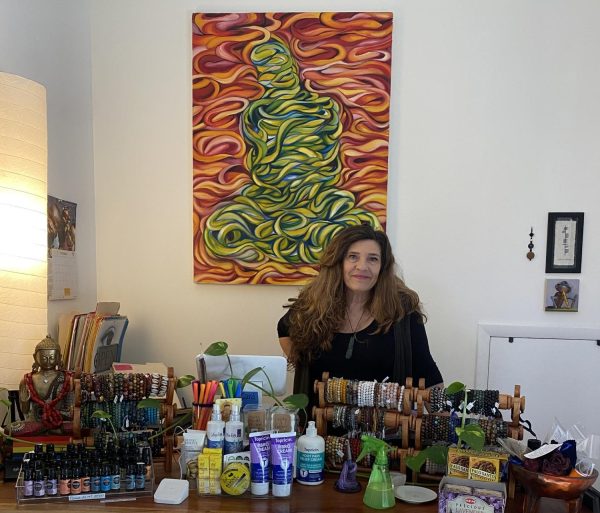 This artwork is a visual reminder of one of Overskei's many talents. Despite an early interest in healing, Overskei was more committed to art than science as a high-schooler. Her grandmother was an award-winning oil painter of landscapes, and Overskei's first experience painting was with her. Overskei won several art competitions and went on to study at UCLA, where she earned an MFA in fine arts.
Overskei's art degree led to her to jobs in multi-media production design. "I worked on some magical projects," she said. These included Anna Deavere Smith's play, Twilight: Los Angeles, 1992; the Academy Awards; and Cleveland, Ohio's bicentennial celebration, among others.
"I also created silk slogan scarves that sold in Barney's, New York," Overskei said. One of the slogans was Auto Body, "foreshadowing my future."
Having children prompted Overskei to rethink what was important in her life. "I could no longer, and neither was it important to, spend 36 hours in front of my computer working on a logo or some branding idea," Overskei said. "I was abusing my body for design work, and I didn't think I would last long if I continued."
The work that was taking a toll on Overskei's body and mind led her to work where she takes care of the bodies and minds of others while also caring for herself.
"My husband is to thank," she said, recalling that he found a massage school that she could attend part-time. This gave her the flexibility she needed to continue a full-time design job and raise her children.
Going to school to study massage therapy made Overskei feel whole. "I absolutely thought that I had found a missing piece of myself," she said. "I loved it, I loved studying, I loved learning, I loved thinking that one day I would be a massage therapist and be able to help people feel better in their body and about themselves."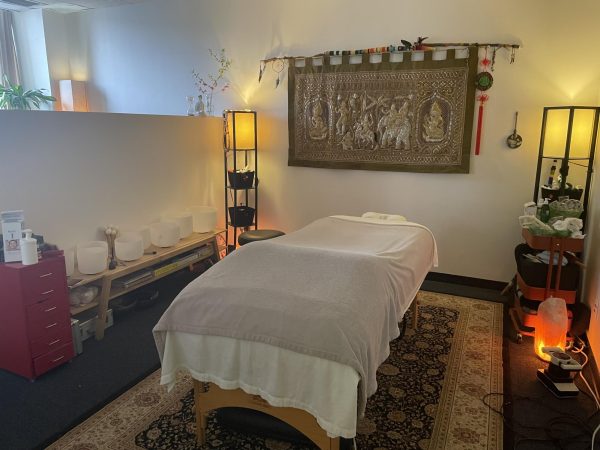 Overskei passed her massage therapy state and national board exams in 2013. She practiced in her basement for a few months before signing a lease on a space downtown. That summer was a busy one. Overskei and her family travelled to Italy, Greece, and Turkey. Overskei had a photography exhibit at Westchester Community College. And she opened Jo's Body Shop on South Street in Peekskill. "It was an amazing time," she said.
Overskei, a massage/wellness therapist, offers myriad ways to help people. She performs many massage modalities, including Swedish, sports, and prenatal. She offers aromatherapy, hydrotherapy, and sound therapy. Her list of services is seemingly endless.
"Some people come with an idea of what they want, or a critical, chronic issue they would like to treat or finally resolve," Overskei said. "Then the treatment happens and I think they are often surprised but happy with the results if not at the moment then in the coming days."
Overskei never turns anyone away, "unless I believe that I absolutely cannot help them," she said. "I thrive on challenges, so I research quite a bit. I am honest with my clients. If something comes to me and it is unfamiliar, I say I can try."
Her growing client base speaks to her success with this approach. Despite not advertising–"word of mouth has been a blessing" Overskei said. "I would say the majority are from the tri-state area, but I have seen people from the UK, Florida, Texas, and far upstate."
Overskei never stops trying to improve her craft. "When it comes to body work, I'm a forever student," she said. "I'm always reading up on this or that, taking a training, and mainly learning from my clients."
During a visit to Joe's Body Shop, Overskei's clients are greeted by a helpful and knowledgeable massage therapist. They are also welcomed into a space filled with items that reflect who Overskei is.
From the beginning, Overskei knew that her shop would be more than a place for massages. "I started in one room," she said. "I had a small shelf with some hand-made products for sale, as well as health-related items and jewelry." Her clients were her patrons. Word got round, and people began coming to shop for the holidays. As Overskei's space–she moved from one part of South Street to another in early 2022–and clientele grew, so did the shop's offerings.
Many of these items are from Overskei's travels. "I love to share my experiences," she said, "and when I find something unique, I buy it for the shop."
She also sells handmade products, many of which she started making out of a personal need. "My All-Purpose Lube was inspired by my son, a beautiful black body with curly hair that needed some special emollience." Now Overskei has people come in for the lube exclusively, and her son helps her make this and other products.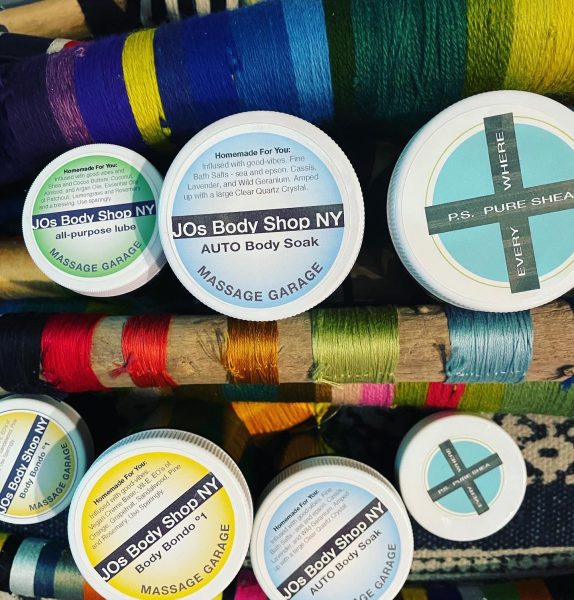 Overskei also displays–and sells–her artwork at her shop. This includes paintings, photographs, and spirit sticks. Most of Overskei's work is created at home. "You wouldn't want to see my office/work/storage/studio at home," she said. "It's mixed with all the things I do–maybe a view into my head–not always so easy to understand."
When asked what she loves most about her work, Overskei responds, "Everything. I am not kidding. I feel so very lucky to be in a calming, positively scented, and beautiful space that I can share with people."
The massage therapist and business owner hopes to find more ways to share health and wellness with people in the community. "In terms of growing the business, I have big dreams," she said. "I would like 906 South Street to be filled with people and healers ready to help them."
Overskei has brought special guests to Jo's Body Shop. These have included a Reiki master, a Peruvian shaman, and a psychic. Psychic medium Athena Silver will be at the shop on Saturday, November 4, from 12-5, for tarot readings and mediumship. For an appointment reach out to Silver at https://www.readingswithathenasilver.com/.
The massage therapist has called Peekskill home for the past 27 years. She and her husband, Sam North, are raising their family here. Their daughter, Sage, is studying social justice at John Jay College of Criminal Justice. Their son, Theo, is a junior at Peekskill High School where he is part of the select acapella group, Peekskill City Singers.
Overskei describes Peekskill as "a dynamic community" and would like to see more retail options downtown. "I believe that would be helpful to all the business owners in Peekskill," she said.
She is a strong supporter of Peekskill and its people. It's why she opened her business here ten years ago and continues to work to make it grow. "Community is very important to me," she said. "I have always wanted to provide some type of valuable service to the people I live amongst."