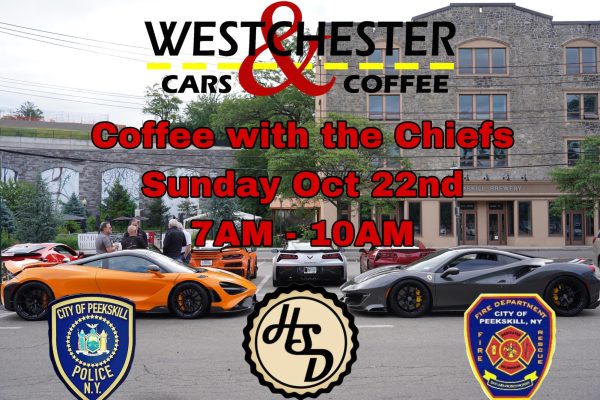 Warm coffee, tasty donuts, Peekskill Police Chief Leo Dylewski, Peekskill Fire Chief James Seymour, and over 150 vintage to modern cars will descend upon Water Street this Sunday from 8 to 11 a.m. for the annual Westchester Cars and Coffee "Coffee with the Chiefs" event. The parking lot next to Homestyle Bakery will be packed full of vehicles that will wow even the most casual car enthusiast. Coffee and donuts will be provided free of charge from 7 to 10 a.m. and donated by Homestyle Desserts Bakery. This is an annual event that Basil Kazepis began in conjunction with Homestyle Bakery. Kazepis, Founder of Westchester Cars and Coffee says, "this is a great opportunity to bring folks from the police and fire department and the community members they serve together–over coffee–to discuss issues and learn more about each other." 
Eleven years ago Westchester Cars and Coffee was founded and began meeting in the BJ's parking lot next to Dunkin' Donuts.  The group quicky outgrew the space at that shopping center. Seeking out a larger space, they worked out an agreement with the City of Peekskill to use the parking lot on Water Street where they meet every Sunday.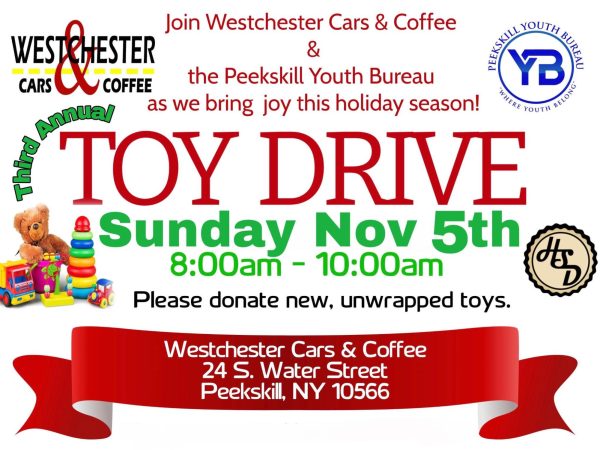 Kazepis and the Westchester Cars and Coffee group have been giving back and strengthening their bond and ties in the community ever since coming to Peekskill.  One way the group has given back to the City of Peekskill is by hosting the "Coffee with the Chiefs" program every year. The group really wanted to give back to Peekskill in an even bigger way. It was over cars and coffee that the idea of a Toy Drive and a Food Drive came about. Basil thought it was a great idea and sprung into action. Kazepis called the Peekskill Youth Bureau and spoke with Tuesday Paige McDonald. The two instantly clicked and the collaboration between the two groups has flourished ever since.
For the past three years Westchester Cars and Coffee has held an Annual Toy Drive and Food Drive where the toys and food donated goes directly back into the Peekskill community. This year on Sunday November 5th the 3rd Annual Westchester Cars and Coffee Toy Drive will occur from 8 to 10 a.m. This year the goal is to fill a fully restored 1957 Chevrolet school bus, doubling the amount of toys they received last year. The group is asking for attendees to bring new unwrapped toys to fill the bus, which in turn will be turned over to the Peekskill Youth Bureau. The Youth Bureau will disseminate the toys to Peekskill families in need just in time for the holiday season. Since the Annual Toy Drive began three years ago, the amount of toys collected every year has doubled helping families and kids smile ear to ear during the holidays. The following week, on November 12th from 8 to 10 a.m, the group will host their Third Annual Food Drive and final meet up of the year. Attendees are being asked to bring non-perishable food to their event that will then be donated to the Peekskill Youth Bureau who will get the food passed out to families in Peekskill just before Thanksgiving. To find out more about Westchester Cars and Coffee visit their Facebook page or their website.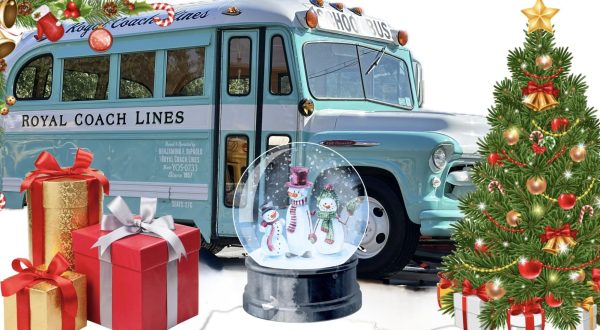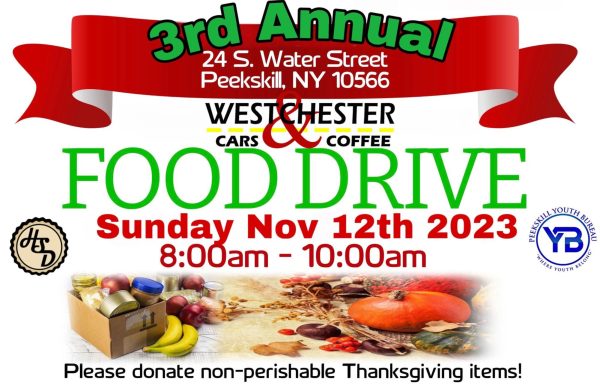 ---
If you would like to have your event publicized and advertised for free, please add your event to the Peekskill Herald Event Calendar. You may even get to become a highlighted featured event of the week.
Do you like what you see? Click here to subscribe for free to the Peekskill Herald. Do you really like what you see and want to support local thriving journalism? Click here to donate and become a member of the Peekskill Herald. The Peekskill Herald is a 501c3 charitable organization and all donations are tax-deductible.
---