Bagels and doughnuts, comfort food of quarantine, share owners'common vision
A new type of cottage industry around food is emerging in Peekskill where the product is crafted by hand, sold only in online storefronts and available for pick up at a brick and mortar location in town.
launched a week ago with a first batch of 200 low carb, low calorie bagels and sold out in ten minutes. Pick up was from the Pine Street home of Matt and Tina Selsky where the bagels were made. This Saturday's pick up will be at Peekskill Brewery said Tina, who grew up in Putnam Valley and moved to Peekskill in July.
Peaceful Provisions has been selling vegan doughnuts in Peekskill for a year after four years of pop up events and farmer's markets.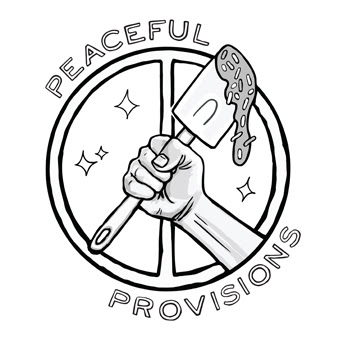 Founded by twin sisters Justine and Brittany Soto who grew up in Mohegan Lake, Peaceful Provisions uses the space at Peekskill Brewery for its customers to pick up products on weekend mornings before the Brewery's Tap Room opens.
Cottage industries or family economy can be traced back to the 1700's where tasks were done in homes using hand tools and simple machines producing sewn and woven materials as a way to earn income. Very little start-up capital was required.
Selsky, 29, is a professional shoe designer who has used the extra hours she's gained at home instead of commuting into Manhattan to perfect ways to launch her Blithe Bagels business. Last year, before her October wedding and wanting to shed some pounds to fit into her wedding dress, she started experimenting with different bagel recipes she found online.


"I didn't want to give up the things I enjoyed, like bagels." She wanted something that wasn't the traditional high calorie bagel. What she discovered was low fat yogurt as a key ingredient. All her bagels are under 200 calories. She was making them for herself until recently when her husband Matt tried them and told her, "you should sell these" and her business was born.
She didn't want a cliché type of name, especially because bagels have such a storied reputation in New York. She like the alliteration of Blithe Bagels and the double meaning of the word blithe. It can mean happy and innately cheerful by nature and also indifferent to your own happiness. She felt making a bagel in New York that was completely different from what people associated with the product connected with the two meanings.
She uses KitchenAid mixers, rolls everything by hand and bakes in her home oven in batches of 36. In order to keep the business manageable with one or two days of baking as much as she can and especially because she has a full-time career, she limits sales to what she makes so everything is fresh. "We're positioning ourselves as a flash sale; this is what we have available."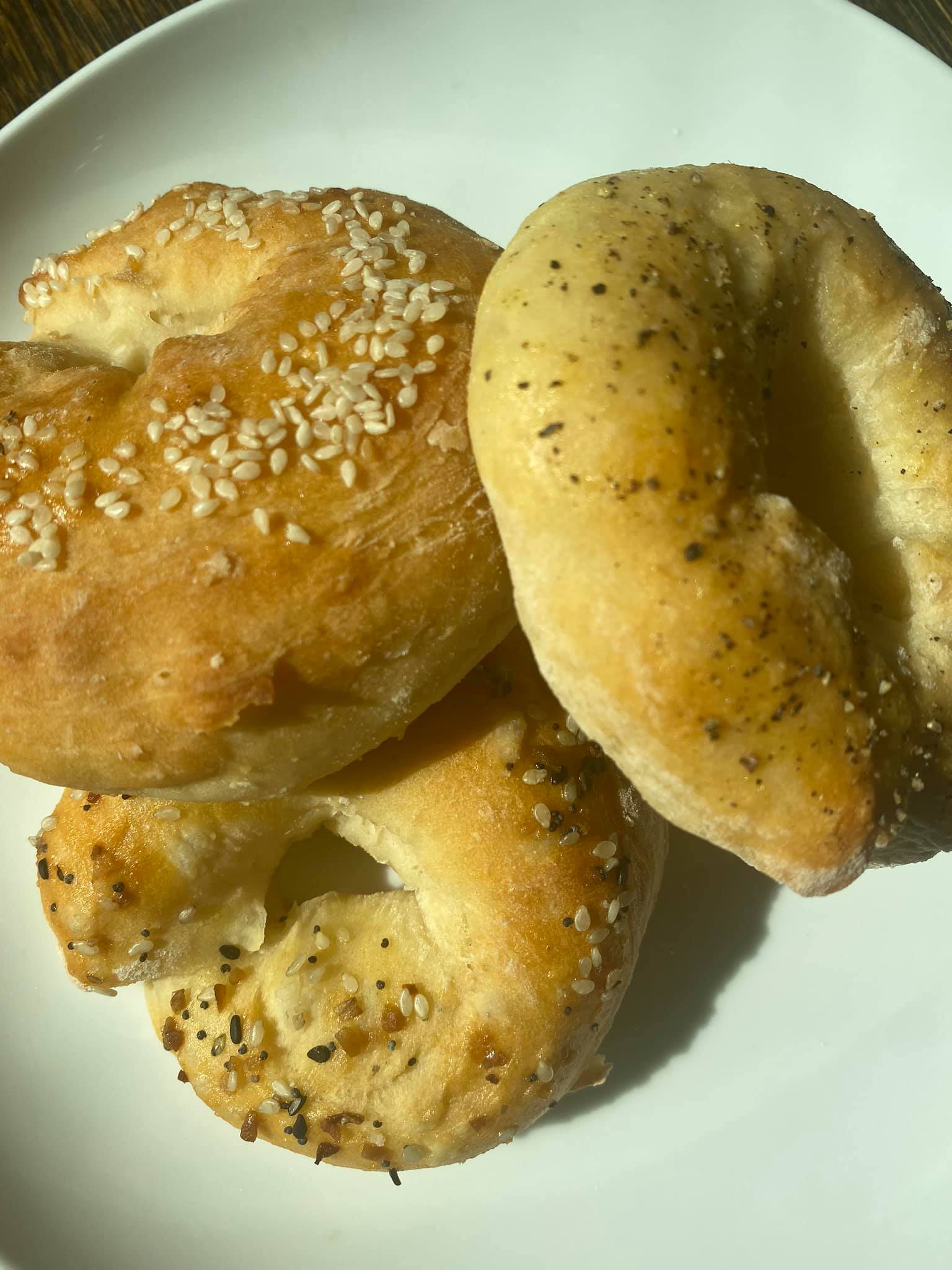 Her husband Matt is the marketing guru and has created the social media campaign around the launch. Dropping off samples to the volunteer ambulance, fire and police departments helped build the buzz around the product as well as the countdown to the website going live at 4 p.m. every Thursday for weekend orders. They have a license from New York State to create the bagels at their home kitchen and are fully insured.
For twins Justine and Brittany Soto, age 31, Peaceful Provisions grew out of a discovery of how delicious vegan food could taste and a desire to use their career training as registered dietician and pastry chef, respectively.  Justine was a vegetarian but a family trip to a farm animal sanctuary resonated with her and led her into a vegan diet. She took a hiatus from her dietician job for a month and visited Brittany in San Diego where she was working as a pastry chef. The two started experimenting with veganizing recipes and seeing how delicious the food tasted.
"It's a craft for us. We care about each step and detail and we're enjoying what we're doing," they said. They came back from California and tested recipes out on their parents who are not vegan and older sister Bridget and decided to sell brownies and cookies at farmer's markets. One early morning at a farmer's market they noticed there were no 'breakfast' items like doughnuts and decided to 'roll with it' and started making them.
They create small-batch, craft-made doughnuts from a rented commercial kitchen in Tarrytown with one other baker, who is Brittany's boyfriend Matt Eaton. Since they grew up in Mohegan Lake, they were familiar with Peekskill and liked the strong community here. Their first wholesale order was from Big Bang Roasters who were formally in The Flatz building on Main Street. There was such positive feedback from that connection, they knew they needed to continue making doughnuts.
On National Doughnut Day last June, they started selling at Peekskill Brewery. That relationship came about because older sister Bridget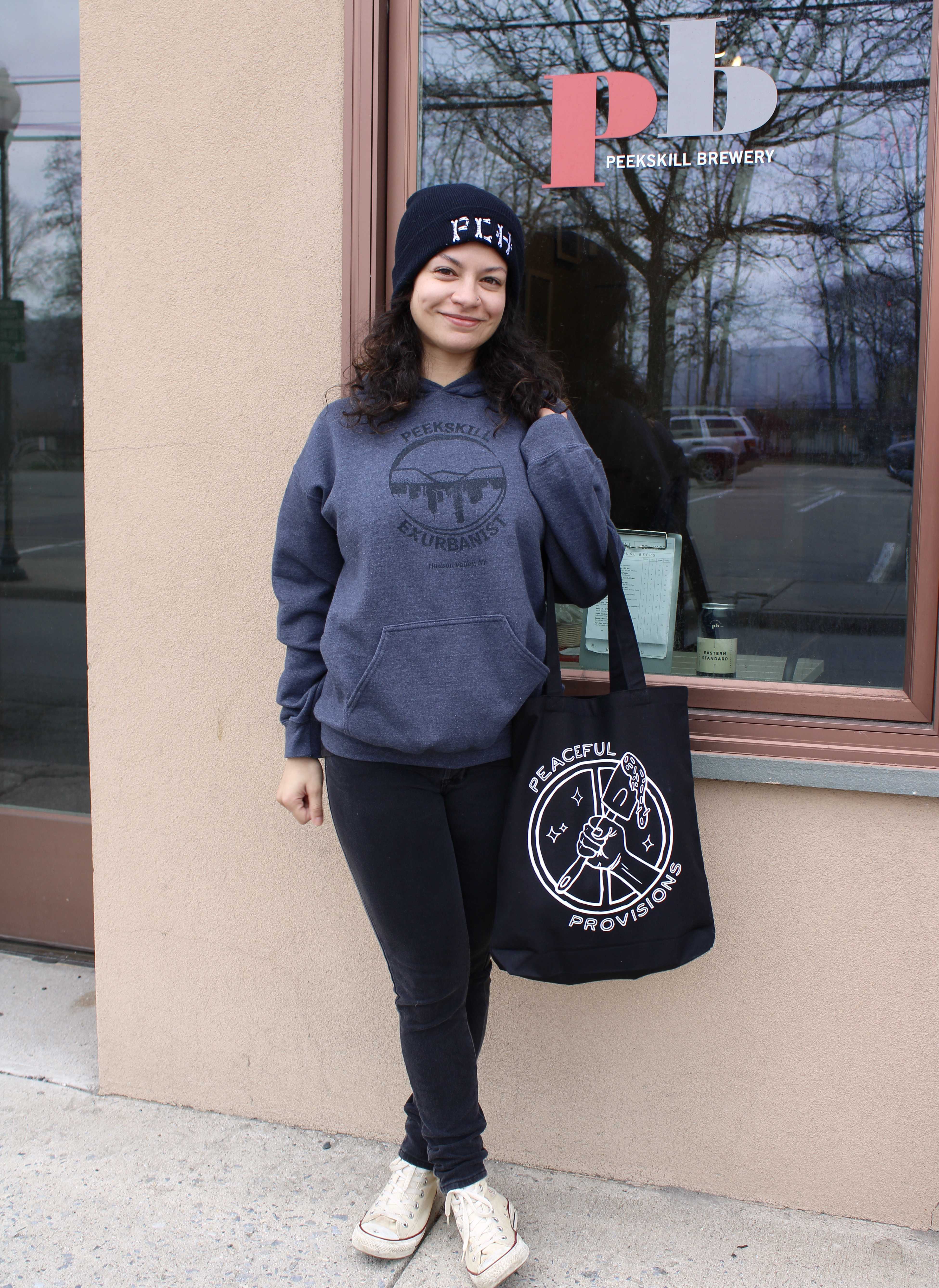 was a friend of owners Keith, Cara and Morgan Berardi.  Bridget is the front of the office person at Peaceful Provisions, handling the pre-orders and getting products to customers who drive by to pick up.  Both Brittany and Justine share the responsibility of social media and ordering supplies and other business functions.
Both Blithe Bagels and Peaceful Provisions are facing challenges finding their ingredients during the pandemic. "With lots of people baking at home, there's been times when flour is low and yeast is sold out," said Brittany Soto.  Luckily, they have inventory in stock, but for Tina Selsky getting the yogurt has presented difficulties.
Giving back to Peekskill has been a passion for both businesses. Peaceful Provisions, whose logo was created by Kaitlin Van Pelt of New Paltz, decided to create doughnuts honoring Peekskill food establishments that are still open during the pandemic and as a way to promote those businesses.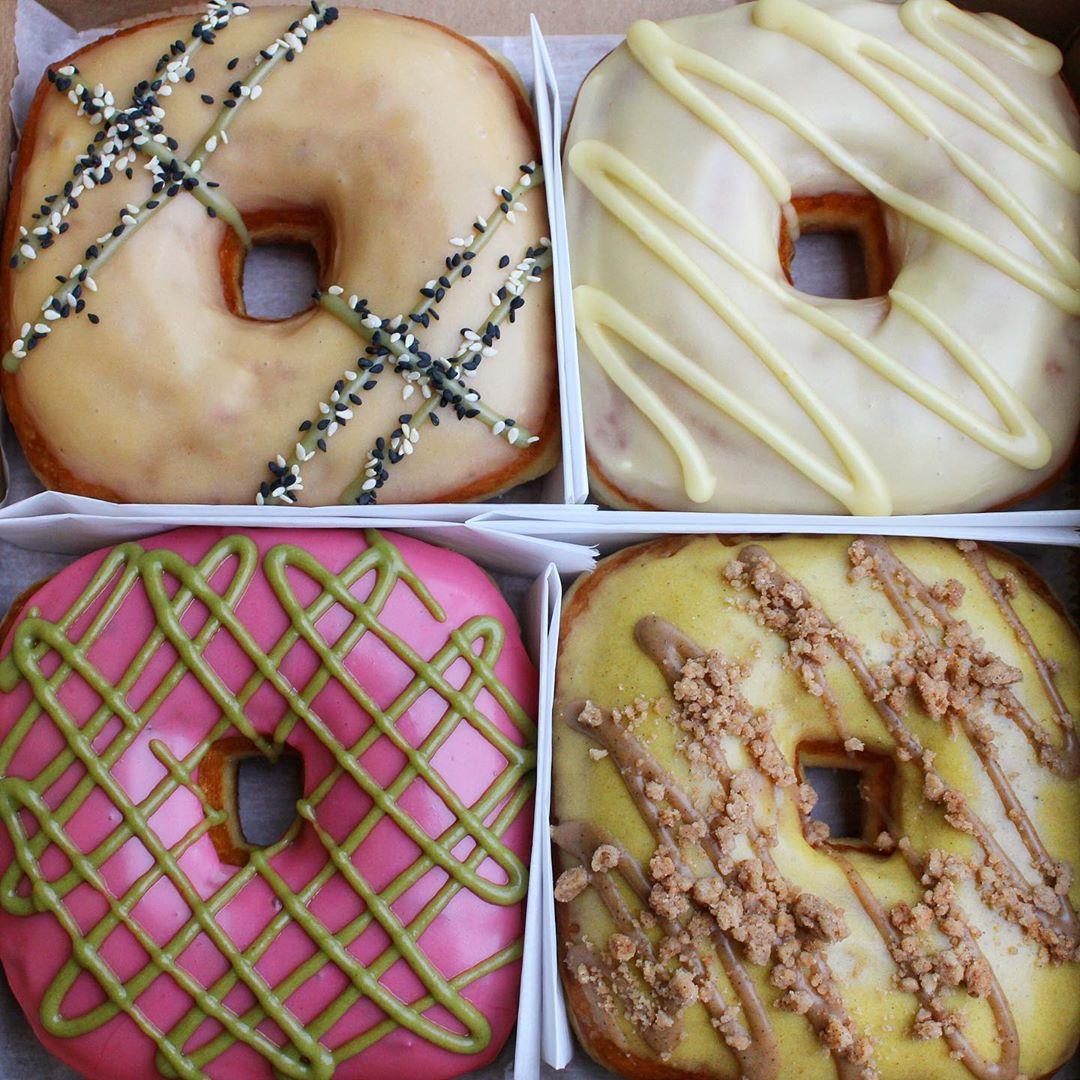 And Blithe Bagels will be 'popping up' at different businesses in town for people to pick up their orders.
Both businesses are committed to providing high quality offerings and won't compromise that in order to keep up with the demand. This week Peaceful Provisions had 400 products preordered in less than 40 minutes They cap their production since only three people are making them. The same with Blithe Bagels, when they've reached their capacity, no more are available.
Blithe Bagels can be ordered from the website: www.blithebagels.com
Peaceful Provisions can be found at www.peacefulprovisions.com