At long last, Maureen Winzig's solo show is finally here. On Saturday, October 21st, from 2 to 5 p.m,, the H-Art Gallery at Steel Imaginations will present an artist's reception for "ACHE", a 3D interactive art exhibit by Peekskill-based artist Maureen Winzig. Meet the artist and interact with your own "Ache" on paper and place it on the giant hand releasing all to the Universe.
Winzig explains, "This series was a labor of the heart working to free its pain. The elephant in the room became my teacher. If the pandemic of 2020 has shown me nothing else, it has taught me reflection and examination of my inner world. In the US over 7 million people died suddenly, along with my husband. How does one grieve in isolation? So many haunting feelings? How do I express myself of such pain and sorrow? And more importantly, how do we comfort one another about death and loss?  This is the beautiful, natural, unavoidable elephant in the room which only wishes to be recognized, honored and released."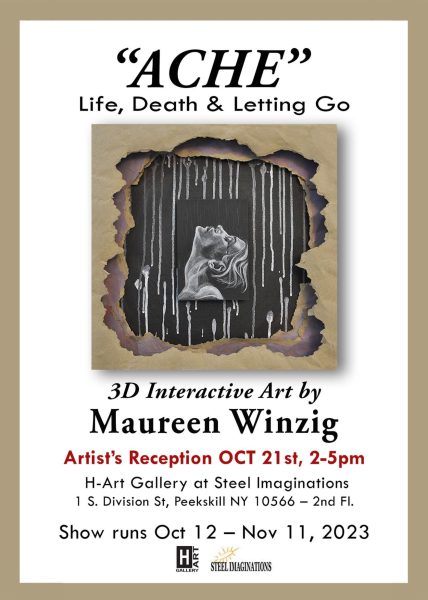 The 14 pieces Winzig says, "seemed to create themselves. Once I realized my small drawings depicting my terrifying feelings would NOT in fact kill me, I came to the studio every day to find a way to release them. Seeing them all together, it struck me they wanted only to be loved and understood. This process was helping me heal. In building the work, several ideas failed but I gladly, and almost on autopilot, found my way."
It is Winzig's "hope that people start talking and sharing their personal stories again.  Finding the courage to share who you really are opens a world of freedom. Death and loss are powerful realities in all of our lives. They deserve to be honored and set free."
If you cannot make the opening reception, you can still view Maureen Winzig's  exhibition. ACHE will run until Nov 11th, 2023 at H-Art Gallery at Steel Imaginations located at 1 S. Division St, Peekskill NY 10566 – 2nd Fl.
---
If you would like to have your event publicized and advertised for free, please add your event to the Peekskill Herald Event Calendar. You may even get to become a highlighted featured event of the week.
Do you like what you see? Click here to subscribe for free to the Peekskill Herald. Do you really like what you see and want to support local thriving journalism? Click here to donate and become a member of the Peekskill Herald. The Peekskill Herald is a 501c3 charitable organization and all donations are tax-deductible.