Peekskill Herald Publisher Regina Clarkin was in Washington, D.C. earlier this week to meet with key Senators and Congressional representatives to advocate for bills and ideas to help save local journalism.
Clarkin joined local publisher Adam Stone of Examiner Media along with Emily Sachar and Walter Mullin of The Daily Catch in Red Hook, NY as part of a delegation of some 80 newspaper publishers from across the country. The publishers were invited to Washington by the News Media Alliance, a trade association representing 2,000 newspapers whose members include the largest publishing companies, both newspapers and magazines, in the country.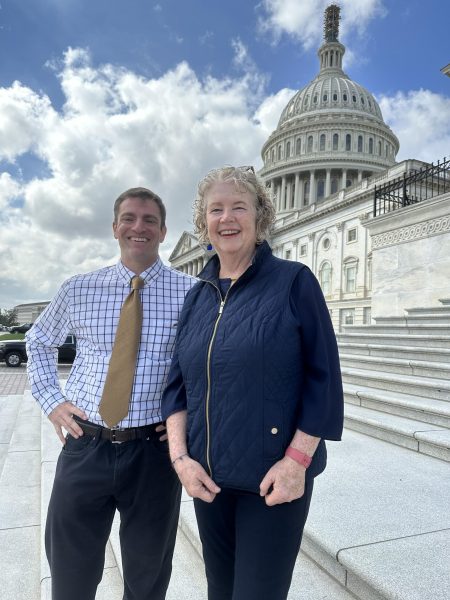 "It's so important for our legislators to hear about the vital role that local newspapers like Peekskill Herald serve in communities throughout the country," said Diane Kennedy, executive director of the New York News Publishers Association,the non-profit trade association representing New York State's daily, weekly and online newspapers.
"By informing local residents about the activities of town boards, city councils, school boards, charities, local businesses, and volunteer organizations, these local newspapers inspire citizens to vote, to run for local office, and to take an active role in the well-being of their communities," explained Kennedy.
Senate Majority Leader and New York Senator Chuck Schumer and senior staff of New York Senator Kirsten Gillibrand met with 15 members of the New York delegation for two briefings on Wednesday. 
At a meeting in Senator Gillibrand's office with her Finance Counsel Bill Rockwood, Sachar presented the case for trying to rein in "big tech" from "scraping" the news sites of small local outlets like The Daily Catch and Peekskill Herald without paying for the content. She was joined in her presentation by Mike Reed, CEO of Gannett, which owns The Journal News and LoHud.com along with 217 other dailies across the country. Gannett also suffers from its content being stolen by big tech companies. 
"We break stories, Google crawlers find them, interested readers enjoy them and learn from them, and we derive not one scintilla of revenue," Sachar explained, even though, all the while, Google is serving ads against the content from which it reaps billions of dollars annually. "Don't get me wrong. We all need and use Google, we just want our fair share of the revenue they glean from our hard work."
These issues would, in part, be addressed through the Journalism Competition and Preservation Act (JCPA).  The JPCA, a bi-partisan bill introduced in the Senate by Senators Amy Klobuchar (D-MN) and John Kennedy (R-LA), ensures that publishers – especially small and local ones – are compensated more fairly for their content. Currently "big tech" companies like Google and Meta (formerly known as Facebook) "scrape" the news sites of news operations and republish content without paying for it. The JPCA would allow news publishers to collectively negotiate with Facebook and Google for compensation for the use of their content. 
In 2022, Google earned $224.47 billion, the vast majority of it from ad revenue, according to public filings. Meta reported income of $116.6 billion last year. 
In the same presentation, Sachar also noted the inevitable problems posed by impending artificial intelligence tools that will not only steal the content of media outlets, but rearrange it and "spit it out" to make the theft unrecognizable. "AI is coming to get us," added Reed. "We must be ready."
A little later in the day, at Schumer's office in the Capitol, the Brooklyn Democrat said he "loves local news" and outlined several strategies in the current session of Congress to get the Journalism Preservation and Competition Act passed. 
Another issue brought up with Senator Schumer is a payroll tax credit for journalists. Such a credit would have the effect of alleviating the pressure felt by small non-profit newspapers like Peekskill Herald to pay big-city wages.
After the meeting, Senator Schumer invited the publishers and editorial leaders for a tour of his personal office that included paintings by Norman Rockwell of Lyndon Baines Johnson and an image of Eleanor Roosevelt by Serge Ivanoff. He also showed a football jersey signed by Buffalo Bills player Damar Hamlin who suffered cardiac arrest during a nationally televised game on January 3. Schumer said it's his intention to get automated external defibrillator (AED) machines in every high school.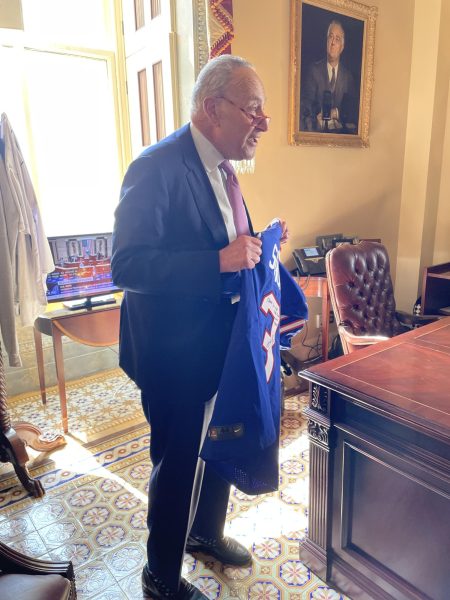 At an awards ceremony on Tuesday at The Washington Post Senator Amy Klobuchar of Minnesota told the publishers  "Local news is facing an existential crisis, from ad revenues plummeting and newsrooms across the country closing to artificial intelligence tools taking content," Klobuchar said at the NMA-Post awards ceremony.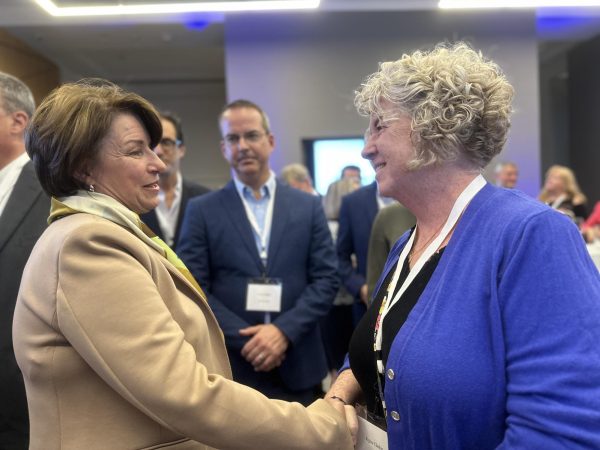 "To preserve strong, independent journalism, news organizations must be able to negotiate on a level playing field with the online platforms that dominate news distribution and digital advertising," said Klobuchar. In her remarks accepting the award, the Senator spoke of her dad, Jim Klobuchar who had a 40-year-career as a journalist.