Can a star of reality TV help launch One Park Place on the path to success?
In a possible sign that the day could come when tenants might move into the stalled One Park Place apartment project, developer Efstathios 'Steve' Valiotis has hired a prominent Manhattan real estate broker to market the property.
A large banner hanging on the southeast corner of the site at Park and Broad streets has appeared recently touting "The Overbrook," a new name for the building. Serhant, the eponymous real estate brokerage firm owned by "Million Dollar Listing" reality TV star Ryan Serhant, is the agent taking on the task of finding renters.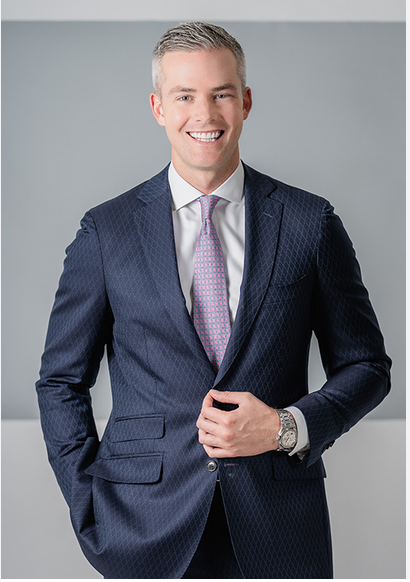 But there is no target date for when those potential renters can walk through the apartments, much less actually move in. Construction workers appear on the site daily, seeming to tackle small projects, but many weeks of work still lie ahead. The banner on the building lists a website (theoverbrook.com) that appeared at one point but no longer seems to exist.
A public relations firm accepted questions about Serhant's involvement in the One Park Place leasing assignment but then the firm, Agean PR, never responded with answers.
One of Manhattan's top firms
Bringing the Serhant agency onto the project would lend credibility to the Peekskill development. When the Overbrook website was live, Serhant agent Steven Irizarry and his team were listed as the brokers for the project.
"Meet The Irizarry Team at Serhant, a group of highly successful and experienced real estate agents serving the New York and New Jersey area. With over 4,000 transactions and more than $250,000,000 in real estate sales, The Irizarry Team has a wealth of knowledge when it comes to the real estate market," their website says. "Steven Irizarry, the team leader, has a background in new development, renovating distressed properties and has successfully built a portfolio of Airbnb properties around the country."
According to a published report, Serhant is rapidly expanding his two-and-a-half year old agency, increasing revenue by nearly double to $542 million in 2022 and finishing sixth in The Real Deal's magazine rankings. Earlier this year Serhant expanded into six new markets – Florida, New Jersey, Pennsylvania, Connecticut, North Carolina and South Carolina.
One Park Place, Valiotis' nine-story, 181-unit market rate rental apartment development in Peekskill, received approvals in 2017 and broke ground in 2019 with a target date of opening in the spring of 2021.
Trouble appeared early on during construction at One Park Place. The state Department of Environmental Conservation (DEC) stopped work there in November 2019 requiring remediation of contaminated soil that initially cost nearly $200,000, according to documents filed by Alma Realty, a Valiotis company.
When the Covid pandemic struck in 2020, work again stopped from February until June, costing another $675,000 in insurance and rental equipment expenses and delaying construction further.
Costs of delays mount
Lengthy delays on such a large project extract a high cost. Two years ago, the developer estimated that the added expenses and the lost expected rent came to a shortfall of over $5 million by 2021.
Since then, with a projected residential and storefront rental income of over $1 million a month, the project is approximately another $20 million behind in expected additional income because of the ongoing delayed opening.
While construction continues today at the project on Park and Brown streets, the building permits displayed on the work site all have expired dates. The master permit was issued in February 2019 and expired in February 2021.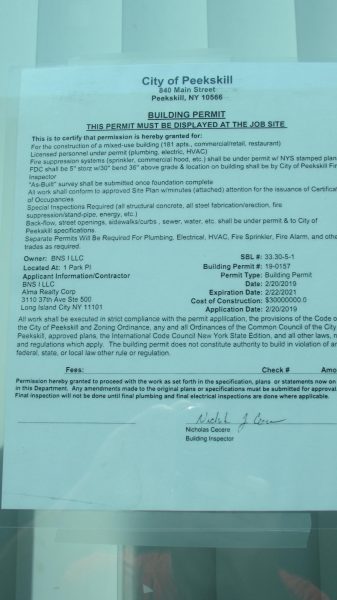 However, according to City Manager Matt Alexander, the developer does have valid active permits to keep working at the site.
Valitois and his company Alma Realty were sued in January by New York City, alleging thousands of open code violations.
"All New Yorkers deserve to live in safe, clean homes, which is why we will not tolerate landlords who repeatedly flout the law and put the health and wellbeing of tenants at risk," Mayor Eric Adams said in a press release.
The lawsuit alleges that Alma has maintained dangerous and unsanitary conditions in 13 buildings, where more than 800 violations remain uncorrected. Some of the worst conditions in these buildings include deteriorating facades, defective electrical wiring, missing fire doors, lead-based paint hazards, and infestations of rats and mice, according to New York City officials.