Employee wins $105,000 settlement of federal lawsuit against city
It was on August 3, 2020 that Jahmar Smith, who started working for Peekskill as a laborer in the department of public works two years earlier, was told he had to take a random drug test.
That request began a nearly three-year-journey that ended Monday night when the Peekskill Common Council voted unanimously to approve a settlement of $105,000 to Smith to satisfy a federal lawsuit he brought against the city claiming harassment by two supervisors, David Rambo and Cornell Hammonds.
In the lawsuit, Smith's attorneys allege that Smith was illegally targeted for harassment by Hammonds, whose allegations against another employee were refuted by Smith's testimony in that case.
The lawsuit charges that Hammonds referred to Smith as a drug dealer and said "once a drug dealer, always a drug dealer." In its response in court papers, the city's attorney denied the statements were made.
Smith served a sentence in federal prison after pleading guilty to one charge of selling controlled substances.
Ordering that Smith take a random drug test was in violation of federal law and prohibited under the city's union contract. Smith's name appeared on the drug test list but he was not eligible to take a test because he didn't have a commercial driver's license, was not a probationary employee, was not involved in a workplace accident and wasn't considered under suspicion for drug use.
In court papers, Smith wrote "I told defendant Rambo I did not have a commercial driver's license (CDL) and that I should not be subjected to this test. Rambo still insisted on going forward with the test and ignored my objections, demanding that I subject myself to the test even though Rambo and I both knew that it was not a proper test for me to be forced to take."
As part of a grievance hearing with the union that Smith filed days after the drug test "…Defendant City of Peekskill admitted that demanding that Plaintiff undergo a mandatory urine test 'was a mistake,'" according to the lawsuit. Smith's drug test was negative.
Before agreeing to settle the case, attorneys for the city claimed in court papers that "All decisions made by Defendants with respect to Plaintiff and all actions taken with respect to his employment with the City were made without malice, ill will, fraud, oppression, personal spite or any other improper motive."
Smith's attorneys charged that the two Peekskill employees who allegedly harassed Smith, violated his rights and decided to retaliate against him for filing the grievance with his union. According to court papers, a woman who was a friend of one of Hammonds' relatives told Smith that she had been offered money to claim that she had smoked marijuana with Smith.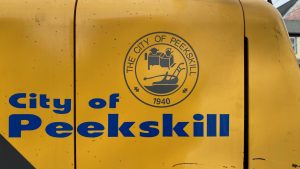 Responding to the allegations, in court papers Hammonds said he grew up with Smith and helped get him his job with the city. He said he never asked anyone to "set up" Smith and that he and Rambo had never discussed trying to harm Smith.
Rambo denies that he knew that Smith was ineligible for drug testing. He said the allegation that he conspired to harm Smith is "baseless speculation."
The city blamed the third-party testing company for testing Smith and said any court claims against the city were barred when he filed a grievance through his union in the case.
Smith said in the court filings that the illegal test was particularly painful because of his years in prison.
"Being in prison was a life changing experience that caused me to reflect on my life's choices. I used my time in prison to better myself and take self-help steps to ensure I would no longer engage in wrongdoing and criminal activity.
"However, the experience of having to take the improperly imposed drug test was different than incarceration because I did not deserve the humiliation and shame arising out of this drug test, while the lack of rights while being incarcerated was authorized by the law and a consequence of prison time for my own terrible mistakes," Smith wrote in the court filing.
In the resolution by the Common Council at its June 26 meeting approving the settlement, the council determined that "the settlement is fair and reasonable, settles all claims that were or could have been asserted against the City and avoids the expense and risk of litigation."
Peekskill was represented in the lawsuit by Littler Mendelson P.C. of New York City. The firm declined to comment on the case.
Smith was represented by Nathaniel Charny and H. Joseph Cronen of Charny & Wheeler P.C. of Rhinebeck, N.Y. The firm did not respond to a request for comment. Smith is still employed by the city.