Be First Boxing is more than a gym
When West Artope was honored at Peekskill's Martin Luther King, Jr. celebration last week the words used to describe him included tolerance, humility, mental and physical endurance. He's going to need those qualities as he looks to find a new home for his Be First Boxing gym before July when his current lease at 200 North Water Street expires.
The 53-year-old executive director of the non-profit gym was recognized for the work he does with the youth of Peekskill through his boxing program.  Artope, who grew up in the Bronx as part of a family of boxers, wanted to create a space in Peekskill where kids could learn positive, character-building activities while mastering the techniques of boxing. He and his wife, Clara Montague who died in December, teamed up with Peekskill coaches Freddie Spry, Jr. and John McCrae to create Be First Boxing, operating out of the city's Kiley Center over a decade ago.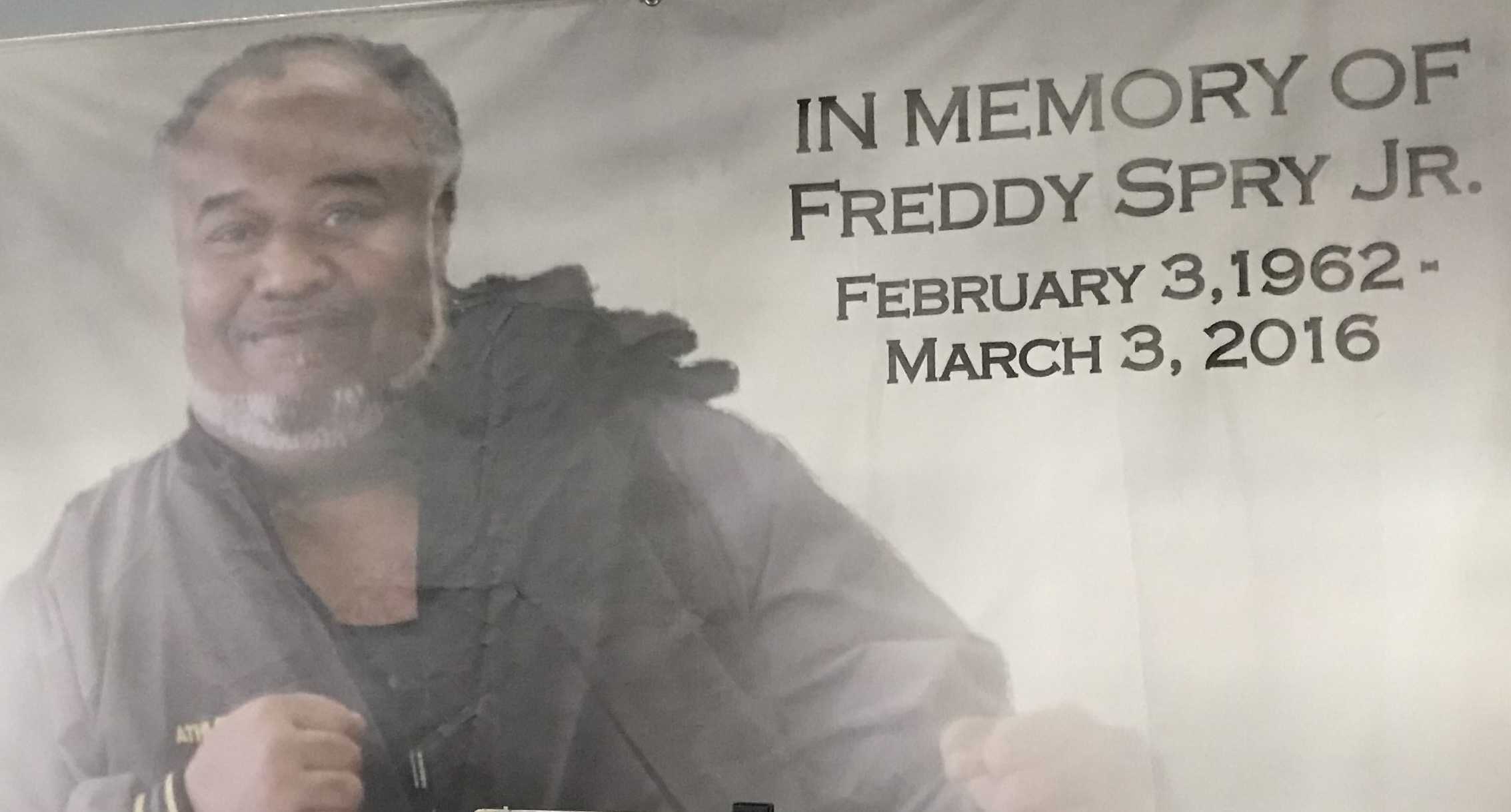 When they outgrew Kiley Center, they moved to a city owned building on Main Street that is now the location of the Central Firehouse. In November of 2015, they moved to an 8,000 square foot space at the end of North Water Street.
Through all the location changes, Be First maintained its family-friendly atmosphere where coaches all volunteer their time to work with kids and adults. "This is a gym where people care about the well-being of those who come in here," said Michele Cunningham who started her affiliation with Be First because she won three free lessons in a raffle. That was two years ago and now she's teaching classes to women while they're waiting for their kids who are taking lessons.
Cunningham is creating a program, slated to start in the spring,  for girls between ages 11-17. Girls in Gloves aims to give confidence, self-esteem and empowerment to young women.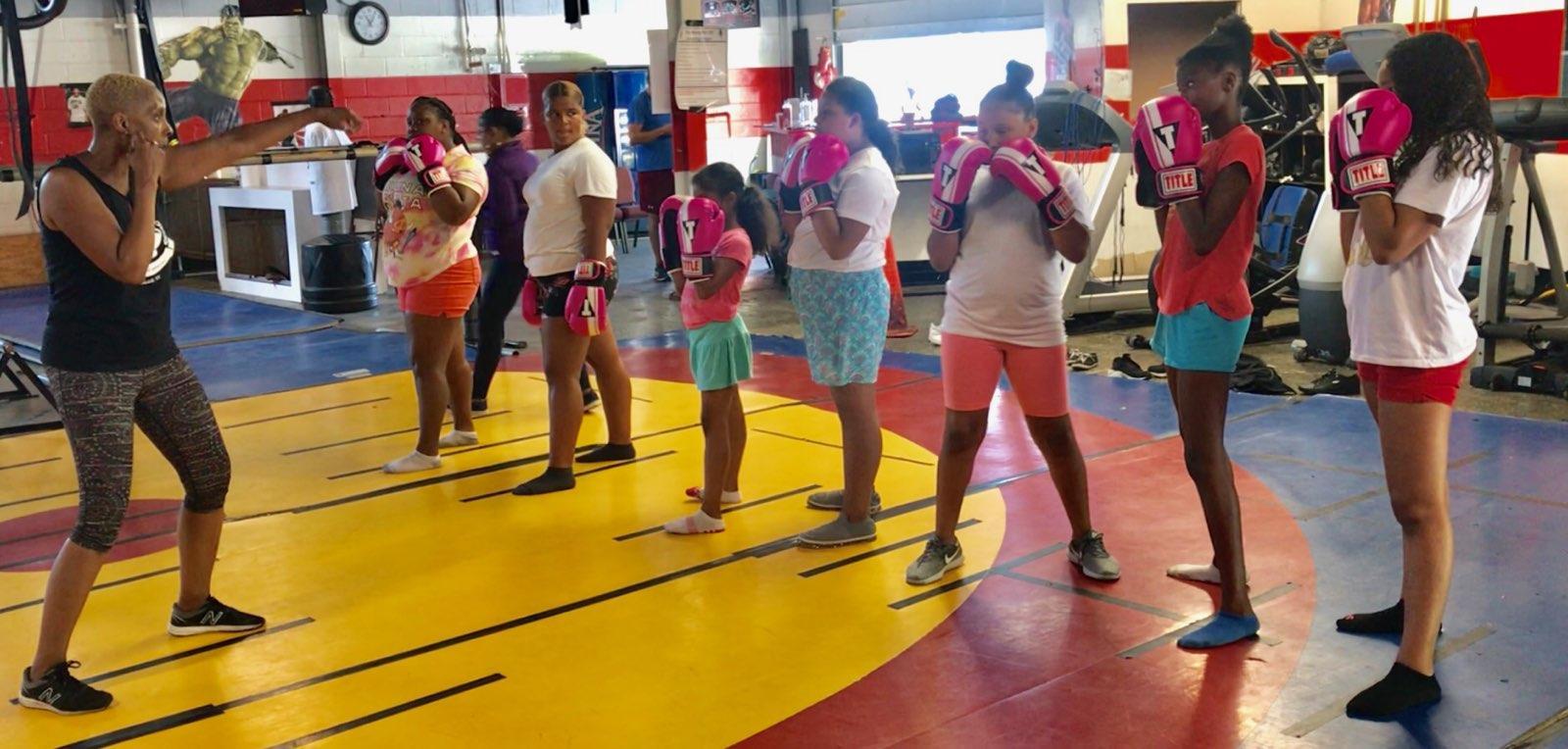 "Boxing is not just about punching," said Cunningham, "it's about footwork, agility, hand and eye coordination, it's a whole mind body workout." She ran a pilot program for Girls in Gloves over the summer and told of a young lady whose mother signed her up. The girl didn't want to be there, she came to the first session wearing a dress. But by the third session, she put on the gloves and was hooked. "There's something empowering about putting on the gloves, it's not just for boys," said Cunningham.
Adults come to the gym for various reasons; to keep in shape, train for amateur fights and be part of a community. One woman who has been coming for two years said her doctor told her boxing would be the best thing for her to do to slow down the advancement of her Parkinson's Disease.
Mike James, 34, participated in a Golden Gloves competition two years ago for the first time. He's now got 6 wins and 1 loss and in two weeks will be in the ring again, fighting his last fight in his age category at the Golden Gloves. He brings his son with him to Be First to train for the Golden Gloves competition in the 50-pound category. The younger James was training in the ring with Atrope and two others one night this week.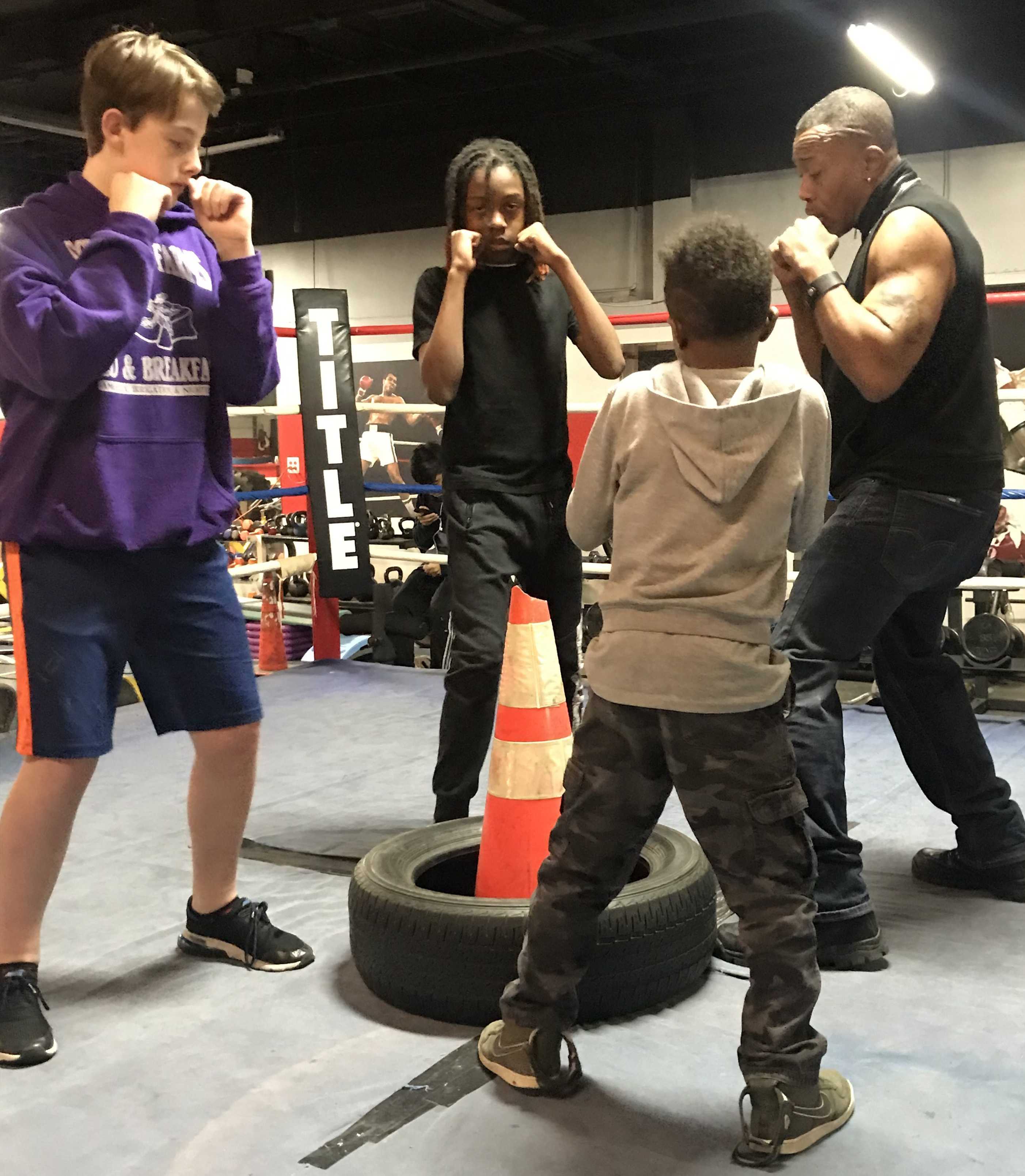 Atrope was giving directions to the three kids in the ring. "Don't drag your feet, always punch to the center, slip left, slip right, never let your forehand go over your knee" he said to the young boxers.
The energy and commitment of coaches and other associated with Be First is exemplified by Jim Chichitano.
 Chichitano who grew up in Peekskill, remembers when there were places for kids to ice skate and roller skate and he's grateful there's a place like Be First.  He's now a professional welder and built all the equipment at Be First that allows training, from metal bars for a group of Bartendzers, to devices for holding punching bags. Chichitano, dressed as Santa Claus, comes to the gym on a Harley Davidson bike at Christmas time and gives out candy canes. He said he's continuing the tradition begun by his late friend Charlie Mule'.
Lorena Chan comes to the gym with her four kids two nights a week. Her 6-year-old daughter and her 7 and 9-year-old sons take lessons. She's thrilled to see them practicing what they've learned at the gym when they are at home in Cortlandt Manor. They do warm up drills, they learn techniques and how to punch and she likes the family environment at the gym.
Artope, who is an animal behaviorist in his day job, runs the gym as a non-profit in order to make it accessible to everyone. He knows finding an 8,000 square foot location that kids can walk to is challenging, but it's not the first time he's faced adversity. The goodwill and community his gym  engenders is his strongest marketing tool.