Tell the city how to spend the $10 million

When the state of New York gives your city $10 million to spend on revitalizing your downtown, involving as many people as possible in assembling a 'wish list' ensures there will be plenty of competition for the dollars along with conversation around what ideas will generate returns.
At tonight's (Jan. 23) second of three hearings, residents can engage in an interactive design exercise about the wish list of projects that have come from the public. The workshop is from 7 to 9 pm at the Central Fire House. The public is strongly encouraged to attend.
The Downtown Revitalization Initiative (DRI) grant was given to the city last August. The preliminary vision guiding the DRI process says downtown Peekskill is a friendly, intergenerational, and diverse community that will leverage its lively arts, entertainment, and dining scene; excellent access to regional recreation opportunities; entrepreneurial spirit; and historic charm to welcome people of all ages, incomes, and backgrounds to live, visit, learn, work, and raise a family.
After outreach to the public through community forums and idea boards at public gatherings such as the farmer's market and outdoor festivals, state and city planners identified five goals that the projects need to address.
Attract and support  for all skill and wage levels, helping both current and future residents establish and grow their careers and the city to expand its tax base, including through investments in critical infrastructure and the youth of the community.
Strengthen linkages from the central business district to the transit-oriented waterfront area and to adjacent residential neighborhoods, creating inviting and walkable connections for downtown visitors.
Establish Peekskill as a regional art, cultural, and dining destination, with a diverse range of offerings that support tourism as well as local jobs.

Enhance the attractiveness of the 

downtown environment

 for residents and visitors alike, through improvements to streetscapes, public spaces, wayfinding and parking signage, and overall aesthetics

.
Promote a healthy balance of downtown uses, including retail, restaurants, small businesses, cultural and community institutions, and housing, to support a 24/7 community.
Some of the 40 proposals include ideas such as electronic reader boards throughout the city, similar to the school district's display in front of the administration building on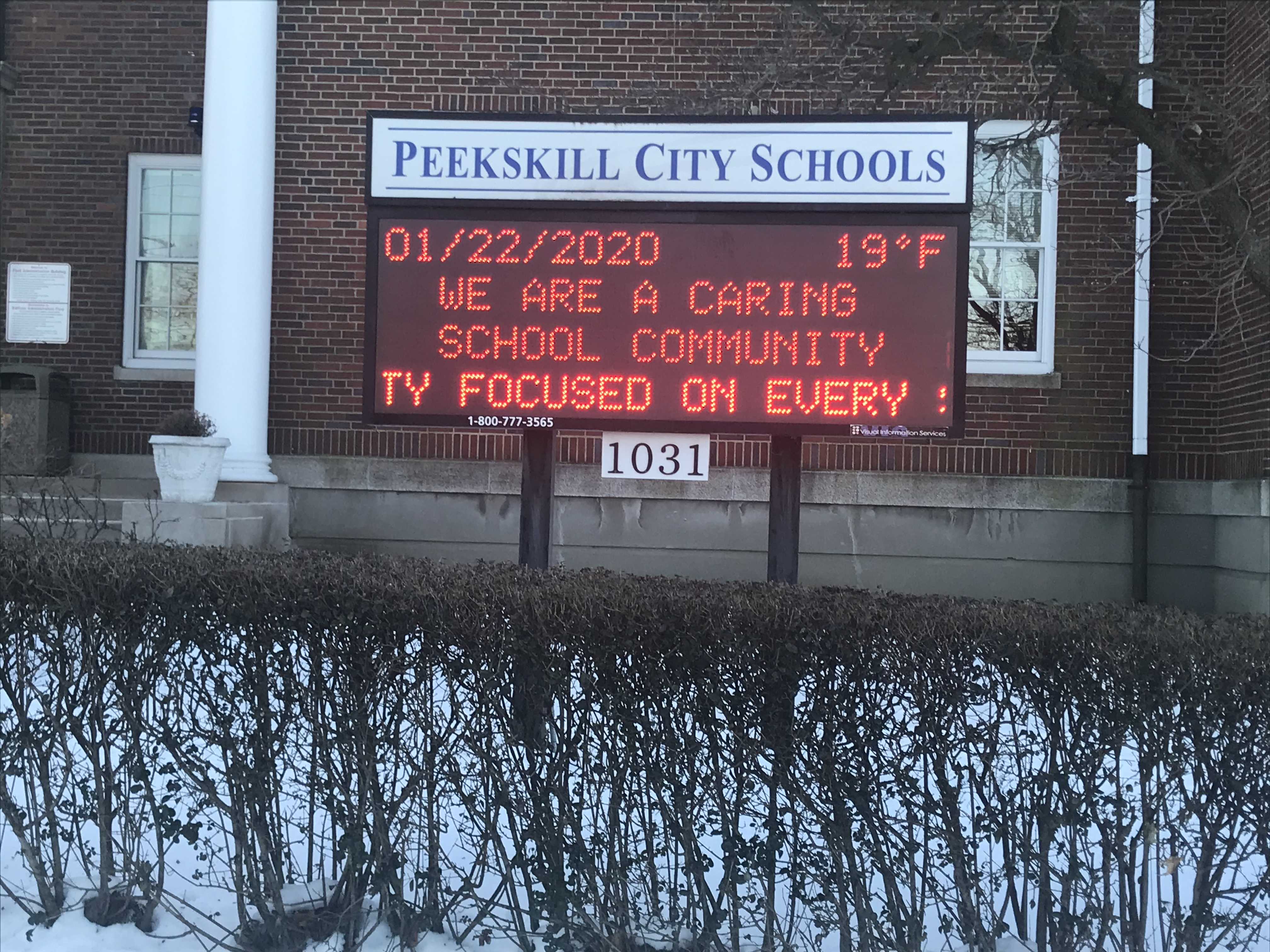 Elm Street..  Having digital information signage in strategic spots in the city allows community groups and the city to share information with citizens and visitors. Examples of uses could include maps of downtown and waterfront parking locations, wayfinding maps for pedestrians, commuters, bikers and drivers, promote events in the city and at the riverfront and offer emergency information such as road closures, etc.
Another proposal submitted for consideration is called Peekskill Plaza.
[wpvideo woko5Aar]
This proposal was submitted by community group Peekskill Walks.  The proposal envisions two lanes of Division Street between Park and Brown converted into a public plaza, creating a space for residents and visitors to gather, relax, eat and enjoy downtown. The two eastern lanes could easily be converted into an inviting public plaza and seating area. The remaining two lanes would still carry car traffic, one lane in each direction, without causing congestion.
And to ease congestion as well as link the various hub of activity in Peekskill is a proposal called RIDE!. RIDE! is the evolution of the Go Peekskill shuttle service that moved visitors between the riverfront and the downtown for the past few years.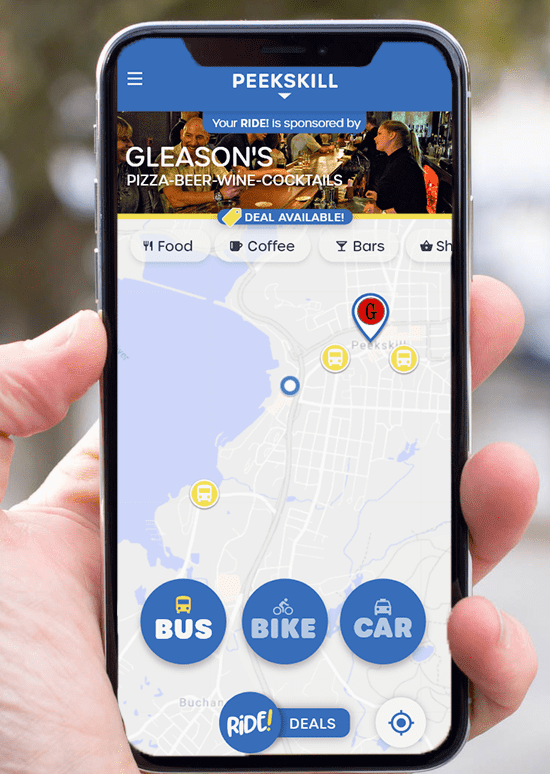 No longer just a shuttle van, RIDE! is an entire mobility system designed to link Peekskill's various hubs in a way that engages locals and visitors alike, creating a sense of community, reducing congestion and pollution and boosting local economies.   The RIDE! app uses various green mobility options: electric shuttles, e-bikes, and syncing up with local taxi companies for ridesharing. What's unique about this app is that it will link these services together and act as a promotional platform for local businesses.
The public will be able to comment on these and other proposals at the workshop tonight.