Celebrate Earth Day at a garden and a park
Peekskill Community Garden and Friends of the Dog Park looking for volunteers this Saturday
Friends of the Peekskill Dog Park at 1795 Main Street are partnering with members of the Peekskill Community Garden across the street, at 1800 Main Street, for an Earth Day cleanup on Saturday, April 22 from 12 to 4 p.m.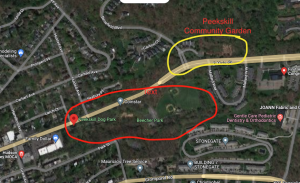 The Peekskill Dog Park is looking for volunteers to help install fencing in a new area that was freshly mulched by the city a few weeks ago.  And the Peekskill Community Garden is hoping volunteers will help spread mulch and rebuild some eroding areas. The Garden holds approximately 30 beds. 
Volunteers can show up with work gloves, shovels and a desire to give a few hours to spring clean the Garden which has been on East Main Street off Benefield Boulevard (Forestview) since 2012.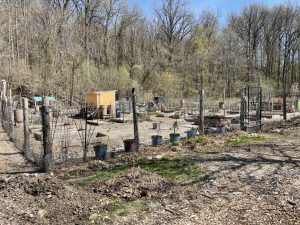 "There are two or three beds available and once we get three or four rebuilt those will be available also," said Paul Boll who is the only original gardener still planting since 2012. Boll said the cost of a 4×8 plot is a one time yearly fee of $25. 
"We're a truly 'country garden' because the only water that is available is from rain barrels and a pipe that goes to a stream nearby. There is no running water," said Boll. There's also a need to fix the roof on the shed and a bench containing water collecting stations is collapsing and needs to be rebuilt.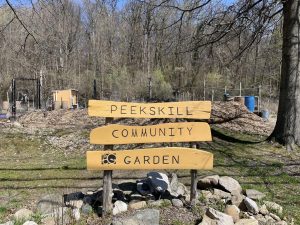 Sabina Flagg, board member of the Friends of the Peekskill Dog Park is encouraging "all of our Peekskill neighbors to join us in this annual celebration of Earth Day by doing what helps restore our communities and the planet." Every choice we make to live more sustainably and every piece of trash we remove contributes to a healthier Peekskill and environment for everyone. We are putting out a call for all volunteers to help with this cleanup," said Flagg. 
The Friends of the Peekskill Dog Park and the Peekskill Community Garden will be hosting a raffle. Peekskill resident Wendy Kelly has been instrumental in attracting donations for the raffle from local businesses in the area. Businesses that have so far contributed are D. Bertoline & Sons, Inc, Stop & Shop of Peekskill, Save A Lot, Walgreens, Starbucks, Sunoco Gas Station, Toscana Pasta, Dain's Lumber, Buchanan Home Center, Mavis Tires, Homestyle Desserts Bakery, and Superior Express (formerly Sudz Car Wash).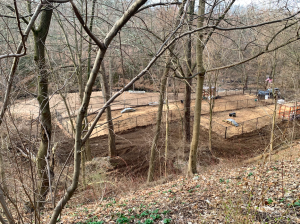 A handful of Raffle Baskets will be available to choose from. Raffle tickets can be purchased on the day of the event – $5 for one raffle ticket and $20 for 5 tickets. These funds are crucial to assist both the Dog Park and the Community Garden in its upkeep. Examples include eco-friendly dog poop bags, miscellaneous gardening tools, gardening soil, wood chips for both communities, community events, and further needs as we plan for expansion.
The Friends of the Dog Park are welcoming their community partner WIN Waste Innovations and Home Depot who are supporting them for the cleanup day event this year by providing volunteers, tools, and garbage removal solutions. 
For more information about the Peekskill Community Garden, call Paul Boll at (914) 282-0248.  Friends of the Peekskill Dog Park can be reached at [email protected]