"Grand Opening" for Five Arches Murals Saturday
The Five Elements Arches Mural ribbon cutting ceremony takes place Saturday, April 15 at 1:30 at the Arches, South and Requa Streets.  The Five Elements Arches Mural is a Peekskill Community Art Project as part of the City of Peekskill's 2019 Downtown Revitalization Initiative.
At a fundraising event at Peekskill Brewery on April 1, with a special limited edition IPA, Five Elements Arches, the project raised just over $4,000 to help defray the costs of the murals.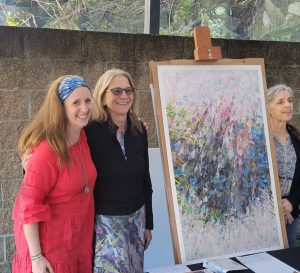 The design is based on the concept of the Five Elements as the basis of nature and every living organism. Each element has corresponding associations, different colors, and energetic movements. These five ancient elements flow and support each other in a continually changing cycle that seeks balance and harmony for optimal health. Every element has a particular color association, physical characteristics, and seasonal life chapter.
Wood is the first element in the cycle that corresponds to Spring, the sprouting green of new life.
The Wood element creates Fire, the Early Summer crimson energy of creativity and youth
From Fire flows the Late Summer Earth element of mid-life's harvest expressed in golden tones, when energy settles and contracts
Metal follows, the Autumn of later life as energy prismatically turns inward and hardens
The cycle of nature ends with the deep blue Water element, the coldness of Winter hibernation and the powerful transformation preparing for a beginning
Community Involvement
Since the July 2021 notice of grant acceptance, Knowlton and Winter  have worked steadily to engage the local community in this major public art project. They held 11 workshops involving 1,600 people of all ages and walks of life. The basic concept of the five elements was introduced and a palette of uniquely painted papers evoking each element was created.
All 500 Peekskill Middle School students and every Peekskill High School art student painted and cut collage papers. A PHS mural was installed in a hallway and the leftover papers were used in their 3′ x 5′ collage art-boards. Two painting workshops were hosted by the Field Library and other local artists contributed to the art process.
The painted collage papers were then hand cut into element-assigned shapes: Wood as green leaves; Fire as wavy reds; Earth as golden strands and flowers; Metal as rich diamonds and triangles; and Water as varied blue fish.
Participants at the Peekskill Coffee House, the Railroad Avenue Makers Market, and summer music festivals, as well as Peekskill Arts Alliance artists and Open Studios visitors, chose their favorite elemental papers and shapes. Everyone loved the design concept and was excited to contribute.
Why GoFundMe Support is Essential
Because the New York State DRI funding does not pay 100% of any project budget and does not pay "soft" critical administrative costs or overages, the pair knew they had gap fundraising to do. But since the 2019 estimated budget of $33K was approved, of which $24K was granted, COVID affected the supply chain and electrical costs have doubled. We have a much greater fundraising need than anticipated for the Five Elements Arches Murals project to be completed as envisioned. Our revised goal is to raise $25,000.
Along with all the community helping hands, the murals project has received the following financial support.
Dain's Lumber in Peekskill donated the five artboards and lumber
A lighting plan was designed Pro-bono by Jerry Kugler
The Peekskill Rotary Club contributed a $1000 donation
Arts Westchester Arts Alive granted $2,500 through a regrant program of the New York State Council on the Arts with the support of the Office of the Governor and the New York State Legislature