Funeral for Bernadette Olsen next Friday, April 14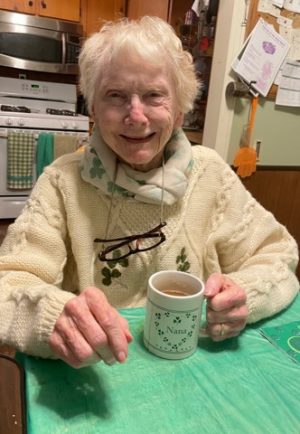 Bernadette Ann Olsen, 88, of Peekskill, passed away at her home on April 6, 2023.  Born on December 18, 1934 in Astoria, Queens to Catherine (Coyle) and Patrick Gillis, she graduated from Bryant High School and received a bachelor's degree from Queens College.  
After graduating, she taught third grade at Immaculate Conception in Queens, NY.  In 1958, she met the love of her life, James Bernard Olsen and they wed on May 9, 1959.  A devoted, supportive and loving wife, mother, grandmother, great grandmother, aunt and friend, Bernadette always sacrificed her needs for the good of others. Bernadette was a devout Catholic and a "Jill of all Trades". Some of her many interests included:  playing scrabble, bridge and tennis; walking, reading, gardening, traveling and cake decorating; embracing her Irish culture; and especially spending time with her family and friends. 
Bernadette said recently that her greatest joy was helping her special needs grandson, Craig Dwyer, learn how to walk.  She was predeceased by her parents, mother-in-law, Grace MacBride, son, Michael Patrick Olsen, four brothers, three sisters, two nephews and one niece. 
She is survived by her husband of 63 years & 11 months, James Olsen; her children: Christine (Robert) Mendello, Jean (Kevin) Dwyer, James (Terese) Olsen, Jr. , Bernadette (Bryan) Daniels, Teresa (Ralph) Rivera, Carol (Craig) Lively; her grandchildren: Sean (Simone) Dwyer, Craig Dwyer, Kelly Mendello, Brian Dwyer, David (Meryl) Mendello, James Olsen, Julia Olsen, Brianna (Francis) Mtuke, Catherine Lively, Brett Rivera, John Lively, Olivia Olsen, Stephanie (James) Luoma, Aaron Daniels, and Jonathan Daniels; her great grandchildren: Conor and Ava Dwyer, and Lorelai, Jayden and Trenton Luoma.  
A wake will be held from 4:00 pm – 8:00 pm on Thursday, April 13, 2023 at Dorsey-Carlone Funeral Home in Peekskill.   A funeral mass of Christian burial will be held Friday, April 14, 2023, at 10 am at the Church of the Assumption in Peekskill, NY.  Burial will be at a later date.  In lieu of flowers, memorial donations may be given to St. Jude's at https://fundraising.stjude.org/site/TR?px=5149297&fr_id=39300&pg=personal or to Memorial Sloan Kettering Cancer Center at https://secure2.convio.net/mskcc/site/TR?pg=personal&fr_id=3903&px=5119822.