Taking Stock of Peekskill's Natural Resources 
Presentation to residents on Tuesday on Zoom
Peekskill's position nestled on a large bay right before a curve in the Hudson gives it spectacular vistas from which to appreciate sweeping sunsets and river walks. But the city has much more natural beauty than its riverfront. Taking stock of the natural assets  in this little city on the Hudson is a process called a Natural Resources Inventory; this labor of love has been an undertaking years in the making. 
The public is invited on Tuesday, February 7th at 6 pm to a Zoom presentation giving an overview of natural resources, as well as interactive participant polls. Following the presentation, community members will have an opportunity to participate in a live questions and answer session. Participants must register here. 
The maps and supporting data in this NRI will include information regarding health and quality of water resources, open spaces, agricultural lands, soils, biological communities, historical sites, and landmarks. Having multiple layers of data presented in a visual format can assist stakeholders in making important decisions proactively, rather than uncovering information "too late". Decisions such as where to place a firehouse, a commercial lot, an organic farm, as well as how to lay out a development, and what lands to protect and preserve can be made with the right information in a consolidated, easy-to-access source.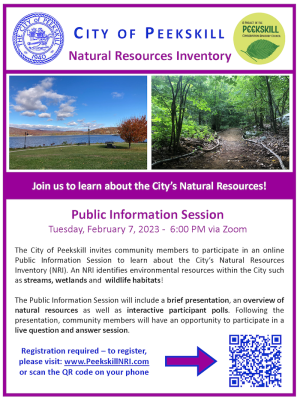 ​This shall be an evolving, living document maintained by the City of Peekskill Conservation Advisory Council to reflect both the availability of more accurate data and the natural and human changes to the landscape over time.
​The data sources for these maps include federal, state, and county agencies, non-profit organizations, and knowledgeable individuals. All maps compiled into this set of NRI materials will use Geographic Information System (GIS) data and software. The spatial accuracy of features on these maps is dependent on the original data sets used to make the maps. Some agencies, including Westchester GIS and the New York State GIS Clearinghouse. 
Creating a detailed NRI is one of the few very specific missions mandated by Chapter 24 of Peekskill's Municipal Code, which creates and defines our Conservation Advisory Council (CAC). Peekskill CAC members have been working on securing a grant for some nine years to create a Natural Resources Inventory. In late 2020, the Hudson River Valley Greenway Association announced that Peekskill was receiving a $10,000 grant to inventory all the natural resources within the city's four square miles. Former city planner Jessica Youngblood was instrumental in securing the grant, said Lise Prown, who developed a website to catalog the work of the Natural Resources Inventory. MJ Engineering and Land Surveying is the company facilitating the project. 
A website has been specifically designed for this Natural Resources Inventory where residents can check in on the progress of the Inventory.