Going Gaga Over Musician Alex Smith
Alex Smith is a pianist, organist, composer, and educator whose career has been on a dramatic upswing since 2013, the year he and his family moved to Peekskill. In the last ten years Smith has played on four Grammy-winning records, toured the United States and Europe with Tony Bennett and Lady Gaga, and performed in front of an audience of more than 100 million viewers when he accompanied Lady Gaga on the piano while she sang "The Star-Spangled Banner" during Super Bowl 50.
The talented musician felt his calling when he was quite young. "I think I knew I wanted to be a musician when I was about five years old," Smith recalls. "My family took me to a restaurant in Cincinnati [Smith's hometown] called the Music Palace which featured this virtuoso organist who would rise out of the ground playing his instrument to start each set. He played showtunes … and could control the lights and effects in the room all from this modified Wurlitzer organ. He was the musical equivalent of the Wizard of Oz," Smith says. "And after seeing him, I desperately wanted to do that."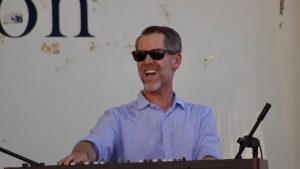 Smith attended Cincinnati College Conservatory of Music (CCM) where he received a degree in Jazz Studies. He moved to New York City and eventually got a master's degree in Jazz Studies from SUNY Purchase. Ten years later, he still considers himself a student of sorts. "There are so many great musicians in the area, and I still feel like I've got a lot to learn in the field of music."
In addition to being a lifelong learner, Smith also shares what he learns. "I feel fortunate that I've had the opportunity to learn from some wonderful teachers," Smith says, "and I really enjoy sharing my love of music with others." One of his teaching gigs has been to "co-teach a fun rock band class with Michael Czerwinski for Arts10566 (a great arts education nonprofit here in Peekskill). The class gives middle school and high school students the opportunity to play various instruments–drums, keyboards, guitars, bass, etc.–and experience the joy of making music with others."
Smith knows that joy firsthand. He met and first played with jazz musician, singer, and trumpet player Brian Newman when they were both undergraduates at CCM. He continues to play with him as part of the Brian Smith Quintet several nights a week at the Aman Hotel in Manhattan. In addition, Smith plays with his own band one night a week at the Flatiron Room in New York City. He and his band released an album, Island Falls, in 2019. The artist wrote five of the ten songs on the album.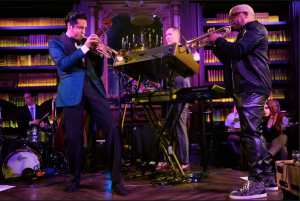 "I've been lucky to work with two musicians who really inspire me, Jesse Lewis (guitar) and Tony Jefferson (drums)," Smith says. "My motivation for making this record came out of the joy I have whenever we get a chance to play."
Smith enjoys both being the band leader and following the leader of the band. "Both opportunities challenge and inspire me," Smith says. "With my group, I enjoy putting the pieces together to try to put on a good show for the audience…. For Brian (or for anyone for whom I'm playing a more supportive role), I love trying to make the leader feel comfortable and setting the table for them to be as successful on stage as possible."
Smith has "set the table" for a wide variety of jazz musicians and stars. "I had the opportunity to stand behind Stevie Wonder and play a few chords on the organ while he put on a complete keyboard masterclass playing and singing "I Wish," Smith says. He also got to play with Emily King when she was a featured guest on Brian Newman's After Dark Show in Las Vegas. "I accompanied her on some original material," he says. "The whole band felt like we were under her spell when she performed."
The musician says that some of his most memorable work has been with Lady Gaga. "I feel like almost no one can connect to an audience better than she can," Smith says. "It's always an elevated experience whenever I have the opportunity to play with her."
Smith first met and played with Lady Gaga around 2010 when she would occasionally sing with the Brian Newman Quartet at the Plaza Hotel's Oak Room. Smith eventually went on to perform on Cheek to Cheek, Lady Gaga's first duet album with Tony Bennett. He accompanied them on their U.S. and European tour. Smith remembers the shows they played at Radio City Music Hall as a highlight of that tour.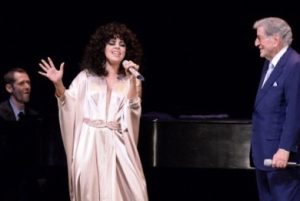 "Maybe it was being in Tony's hometown, or that Radio City Music Hall is one of his favorite venues," Smith says, "but he sang with such passion and command on those nights that the hairs on the back of my neck started to stick up whenever he would really lean into a phrase. In fact, his voice was so strong that he sang "Fly Me to the Moon" without a mic and could be heard all the way to the back of the hall."
Smith performed on Love for Sale, Lada Gaga and Tony Bennett's 2021 album. He also accompanied Lady Gaga at her tribute to Tony Bennett at the Grammy Awards in 2022.
"Performing at the Grammy's was a real thrill," Smith says. "It might be the most intricate and complicated stage production I've ever encountered. Given that the crew has a matter of seconds to prepare each set for every performer, the possibilities for something to go wrong seem tremendously high. The challenge in that situation was to stay focused and confident despite all the chaos before and during the performance."
 Another highlight of Smith's career was accompanying Lada Gaga on the piano while she sang "The Star-Spangled Banner" at Super Bowl 50.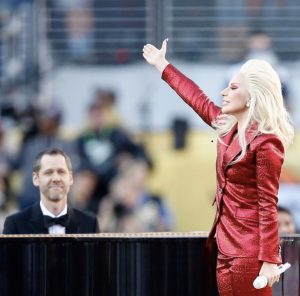 "Even though the arrangement wasn't difficult, the circumstances given the size of the audience and the importance of the event felt like that was, at the time, the most challenging performance I had been asked to do. So, intense practicing seemed to be the only solution to conquer my nerves and give a good performance."
And practice Smith did. "For the two days prior to the Super Bowl, I wouldn't leave the hotel room for meals or exercise until I played the song 20 or 30 times in a row each time I wanted to do something. I'd play the song fast, slow, blind-folded, in all 12 keys–anything to deepen my feel for the song. It's not an exaggeration to say that I played that tune 200 times that week…. It really gave me the confidence to play in front of an audience that size."
What was the experience of playing for 100 million viewers actually like? "In the moment, it's hard to get a sense of how many people are watching," Smith says, "but there was a crowd of 70,000, which was so exhilarating. Being in the center of the field made me feel as if I were one of the athletes ready to compete–there was so much energy and excitement around us." Smith adds, "It was also truly wild to have fighter jets do a flyover right as you hit your last note!"
Smith was also a featured performer for Lady Gaga's Jazz and Piano residency in Las Vegas from 2019 until 2022. "I can't begin to say how enormously grateful I am to get to work with a musician of her caliber," Smith says, "especially one as kind and supportive as she is. I am working on a project with her at the moment but, unfortunately, I can't really talk about it yet."
With a demanding work life, Smith feels "lucky to be here in Peekskill." He and his wife, Nell Marantz, and their young daughter moved to Peekskill from Astoria in 2013. "We started looking for a diverse place not too far from the city that had a town center," Smith recalls. "When we came to check out Peekskill, we fell in love with the city almost immediately." Smith says that he thinks it was the Peekskill Coffee House that sealed the deal for them. "It's one of those special places where you can feel a sense of community and have a well-made espresso!" he says.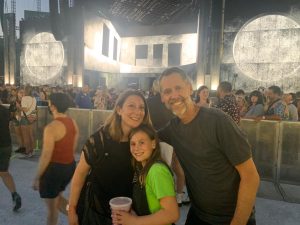 Smith also appreciates–and contributes–to the local music scene. "I love performing in Peekskill!" he says. "There are so many wonderfully creative people who make the effort to support live music…. Places like the Bean Runner do an excellent job at bringing in good music to the area."
The artist and singer Kristina Koller co-founded the Feel Good Music Festival during the height of the pandemic, providing musicians with a safe way to make music and the community with a safe–and beautiful place–to hear it. It was the first time a concert series was staged at Charles Point.  "I'm very grateful that I could work with some wonderful people in the community, who donated a lot of time and effort, to bring some fun and diverse music to Peekskill for the series," Smith says.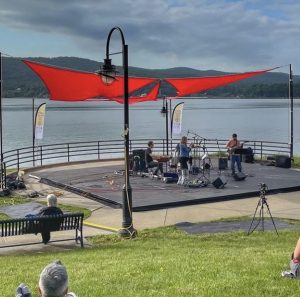 Smith says he and his wife "have made some wonderful friends here, and it's been such a positive experience for us to be part of this community." Their daughter, Esme, "has truly benefited from the schools and activities here." She currently attends Hillcrest Elementary, and "really loves her friends, her teachers, and her art class most of all."