Gunshots lead to death on John Street 
Police have 'persons of interest' in custody
A quiet Sunday afternoon in January turned deadly on John Street yesterday when a 35-year-old was shot and later died at Westchester Medical Center.  
Peekskill police said they were called to the 600 block of John Street at about 4:15 after a report of gunshots. When they got to the scene they discovered a 35-year-old man who was given medical aid by the officers on the scene. He was then taken to New York Presbyterian Hudson Valley Hospital in a marked police car and later transported to Westchester Medical Center in Valhalla where he died from the wounds he sustained in the shooting. Police said they have "persons of interest" in custody and that the investigation is ongoing. 
According to residents on John Street, they heard continuous arguing before hearing a car zoom by and then gunshots. Another resident saw a person lying on the ground as police came flooding in.  Police quickly put out an alert for a 2016 white Acura which according to scanner reports was stopped on the Sprain Brook Parkway hours later. 
Jess Jaroff, who lives in the Ft. Hill Apartments was taking a nap after working a double shift at her job at The Central on Saturday.  Sunday afternoon she was awakened by the sound of gunshots.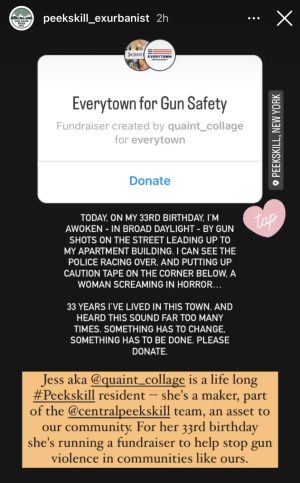 She immediately posted on Instagram the following: Today, on my 33rd birthday, I'm awoken – in broad daylight – by gunshots on the street leading up to my apartment building. I can see the police racing over and putting up caution tape on the corner below. A woman screaming in horror –  33 years I've lived in this town and heard this sound far too many times. Something has to change. Something has to be done. Please donate: She then put a donate link to Everytown for Gun Safety on her post. 
Her post was shared by Peekskill Exurbanist with the following: [email protected]_collage is a lifelong Peekskill resident – she's a maker, part of the @centralpeekskill team, an asset to our community. For her 33rd birthday she's running a fundraiser to help stop gun violence in communities like ours. 
"This kind of thing could've been prevented," said Jaroff. "There are too many illegal guns on the street." She supports Everytown because they are interested in working to keep guns out of the hands of people who shouldn't have them.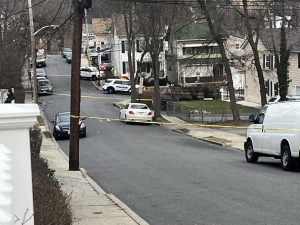 Anyone with information is urged to contact the Peekskill Police Detective Division at 914-737-8000 or email
[email protected]  Anonymous tips may also be made at www.cityofpeekskill.com  under the crime tips section.