A park for all seasons
New upgrades in historic Ft. Hill Park preserve natural beauty
Wandering through Ft. Hill Park, one comes across interpretative signs explaining the history of the land, benches and a stairway on the western edge of the 60-acre rugged terrain. These are the new enhancements to one of Peekskill's urban parks which was officially dedicated at a ribbon cutting ceremony Tuesday afternoon.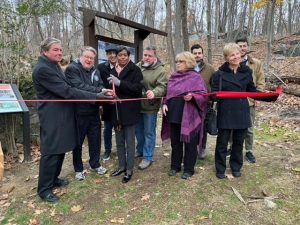 The November weather is ideal for hiking up to the top of Ft. Hill and surveying the landscape of the Hudson and the Highlands, seen clearly in the distance. 
Lauded as a public private partnership between the city and the Ginsburg Development Corporation who donated 52 acres of land, the work in the park to create a new trail was funded by state grant money secured through Senator Pete Harckham's office. "Recreation and parks are such a vital part of improving the city's quality of life while also attracting new residents and businesses to the community," said Harckham at Tuesday's ceremony.  
The city contracted with MKW + Associates to design new trails, improve existing trails, and make substantial upgrades to the Decatur Avenue park entrance.  New park features also include a timber staircase, stone benches, two Kiosk signs, and interpretative and wayfinding signage. 
Fort Hill Park is a city-owned park that was acquired by the Village of Peekskill in 1929 by a private landowner. It also has a long history as a home to native people, a prime location of barracks and two redoubts for American troops in the Revolutionary War, and a place of reflection and refuge for residents of the Community of Saint Mary's.