Community mourns beloved police officer
Peekskill wraps its arms around those hurting at candlelight vigil
The infectious smile and friendliness of Peekskill Police Officer Gregory Jones were the traits referenced repeatedly by nearly a hundred people who attended a candlelight vigil in his memory Tuesday night on the Neighborhood Center Plaza. 
A School Resource Officer, a member of the Community Policing Unit, and the D.A.R.E officer for the Peekskill and Hendrick Hudson school districts, he was affectionately called "Jonzee" by those who knew him. He was 48 years old.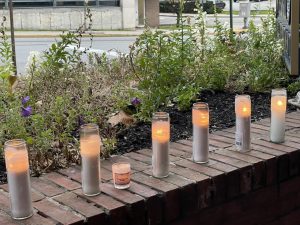 "We are here tonight to remember how he was a big light in our lives," said Rabbi Dana Bogatz of the First Hebrew Congregation. "When lights are extinguished it's so painful for us, it doesn't make any sense. But tonight I noticed how we were all helping each other light candles; one candle becomes two and the first one doesn't have to be diminished. "Who Greg was to us, we need to be to others," she said. 
Jones, a 22-year-veteran of the Peekskill police department, died by suicide on November 24. 
The crowd, who stood quietly with taper candles in their hands, heard Rabbi Bogatz say,  "He will never be far from us if we live the way he lived, and the best way to do that is to live a good life." Referencing a Bill Withers song, she said "Lean on me, when you're not strong, I'll be your friend I'll help you carry on."  She told those gathered to remember the members of the police department and Jones' family who are hurting.  "Reach out in the coming weeks and months. Grief doesn't disappear, it mellows and turns. Be a little like Greg to light up someone else," she said.  
"Jones stood out," said Peekskill City Court Judge Reginald Johnson. "He didn't just work here, he was invested in the community. If we focus on the way he lived and what he did, his legacy will be good."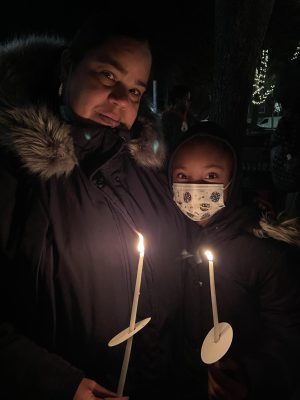 Ten-year-old Trinity Hardy was there with her mother Kathleen Perez to represent the school district. Trinity said she was helping Officer Jones give out food at a community dinner on Wednesday night and wanted to be at the vigil to remember him. 
Peekskill City School Superintendent Dr. David Mauricio recalled his first time meeting Officer Jones in one of the schools and thinking, 'we're in good hands if we have a police officer that smiles that much.' Mauricio said Jones "gave his life to our children, everywhere I went from the Farmer's Market to the park he was there. I am especially glad that he was at Baisley's Deli at 3 o'clock every day when the middle school let out so he could help our kids move along and get home safely," said Mauricio with a gentle laugh.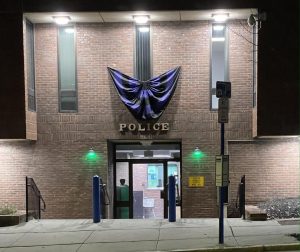 "Sometimes when people are smiling for you, inside they are not. Let us remember that kind of hurt that can be inside and not just accept 'I'm fine,' let us take care of those who take care of us," Mauricio told the crowd. 
Charles Guzman said Peekskill takes care of each other. "We love one another through hardship and hope. We all need to help and reach out to neighbors." That sentiment was echoed by Lee Esther Brown who organized the vigil, saying how she loved Officer Jones, "He smiled through all the pain."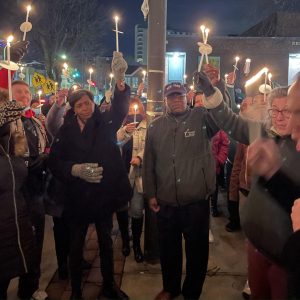 Mayor Vivian McKenzie said the city will never forget him, his children and the police department. "Our community will wrap its arms around you," said McKenzie who on Monday night, voted with the rest of the Common Council to direct the city manager to have all city flags fly at half staff on Wednesday and Thursday in honor of Officer Jones. 
Frank Savage, Kairul Bacchus and Edgar Pinyol worked with Officer Jones at the Peekskill Day Camp at the Middle School last summer. They fondly recalled his sense of humor and how he'd let children get in the backseat of the police car to see what it was like. They remembered how he was one of the police officers serving a "Welcome Back to School" lunch in September for school district staff. "He made our summer camp experience so much better," said Savage. 
Annie Strong attended the vigil as her way to honor Jones. "I would see him whenever I was at the Burger Diner. He would always come by the table and stop to talk with me and whoever I was with. He made sure to go around to all the tables and say hello to people when he was coming in for his coffee."
Officer Jones will be waked at the Nardone Funeral Home, 414 Washington Street today, Wednesday, from 3 to 7 p.m. and a funeral mass will be celebrated on Thursday at Assumption Church on First Street at 11:30 a.m.