Lake Mitchell's Success Story: Environmental Protection here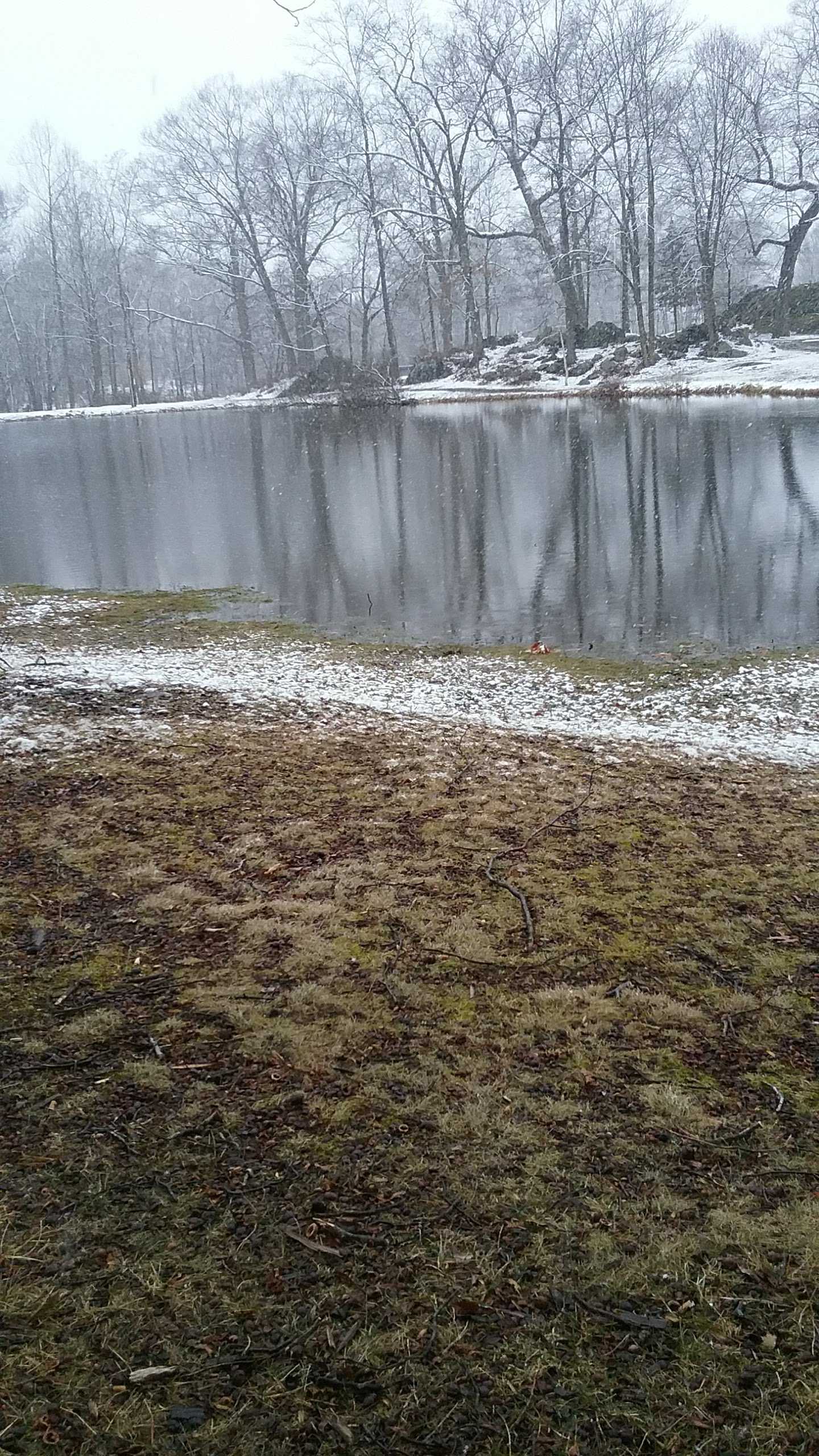 Walking in Depew Park daily, I notice changes in Lake Mitchell and how it looks very different after rain and or when it's windy. I spoke to Nicole Crane, who is the chairperson of the Peekskill's Park Advisory Board, and she told me that she and John Neering, another member of the board, presented at a conference near Lake George last October. 
They highlighted floating islands, beneficial bacteria and barley bales used in Lake Mitchell's fight against algae blooms. They presented the results of a three-year experiment  at North County Climate Reality annual conference.  They told participants about Lake Mitchell's success story regarding the control of harmful algae blooms (cyanobacteria) without using chemicals. 
The two of them, both volunteers, shared hands-on experience and other details about the collaboration between Peekskill and the Department of Environmental Conservation's on-going experiment with the 4-acre lake in Depew Park. They sampled lake water every two weeks during the summer months, testing for pH, phosphates, nitrates, dissolved oxygen, temperature and turbidity. At DEC expense, bacteriological samples sent to an independent lab show that Lake Mitchell doesn't suffer from an overgrowth of cyanobacteria that could lead to a harmful algal bloom. Lake Mitchell is the only lake in the area that is not succumbing to toxic, steady growing cyanobacteria. 
When Crane and Neering joined the Parks Advisory Board three years ago, the lake was managed using herbicides and algaecides. This was supplemented with dye and grass carp. That treatment was only temporarily effective and repeated applications were necessary. The die off of plants and algae created a noxious odor. Fish and other larger aquatic organisms were also affected. And the chemical treatment  lessened the quality of water. 
The two began researching natural water management techniques and found people with experience in lake and pond water management who used  floating planted islands that absorb excess nitrates and phosphates that would otherwise be available to cyanobacteria. Through the publication of Diet for a Small Lake  they found a contact in the DEC who was performing cutting edge research into natural water management techniques. After a few conference calls, he agreed to accept the Lake Mitchell project as a case study in his research on harmful algal blooms (HAB's). 
Along with park workers they 'planted'  six floating islands made from inexpensive landscaping material and  non-invasive aquatic plants such as cana lillies.  The islands, which go into Lake Mitchell in the spring and come out in the late fall, soak up harmful nitrates and phosphates  from rain runoff water that comes from people's yards, often containing lawn fertilizer. When the densely concentrated algal cells die off, the decay process, assisted by bacteria, can deplete the water of oxygen, which in turn can lead to the death of oxygen-dependent marine creatures. That hasn't happened at Lake Mitchell. Crane reports seeing egrets and herons and in one special instance last summer they saw a great egret hunting from an island. It's common to spot turtles sunning themselves atop large rocks in the water. 
The second approach to treat the lake with non-chemicals involved large, non-biodegradable onion sacks that allow water to pass through. They are stuffed with barley straw bales. These lie on the floor of the 6-foot lake, breaking down harmful substances.
Spraying beneficial bacteria in the water is the third treatment. Crane said spraying beneficial bacteria in the water  is similar to a human eating priobotics to keep the ph levels in balance in the gut.  
Runoff travels and Lake Mitchell is a tributary to the Hudson River. "There are a lot of subtleties to the way you manage a lake and that's why we're doing this, and trying different approaches," said Crane who has lived in Peekskill nine years. 
John Neering has taught science for 33 years and is a recipient of the Siemen's New York State AP Teacher Award for Math, Science, and Technology. He brings his scientific credentials to the Lake Mitchell experiment.