Developer pitches residential and retail complex for north end of downtown
Recalling the bygone prominence of Pugsley Park, Peekskill architect Joseph Thompson and developer James Guerriero envision a 21st century use of the park's promenade – at  the entrance to their proposed residential and retail development at North Division and Howard Streets. 
The pair presented their vision for a 125-unit project replacing the vacant buildings there now during Monday's Common Council work session.  
"We looked at the context of this project in relation to Pugsley Park and took that as an opportunity to orient the residential entrance to activate and engage the park," said Thompson.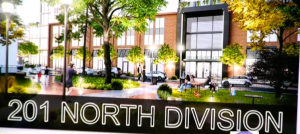 Currently, there are five parcels on just over an acre of land, about 40,000 square feet that Guerriero and Cornerstone Structures have acquired. The building on Howard Street is the former RAL Plumbing Supply and the building on North Division Street is the former Hudson Glass. One of the exciting aspects of this project is to extend the downtown beyond Main Street, said Guerriero, who added that no residents would be displaced.
The proposal intends to demolish all the buildings which are in various states of disrepair and create a new structure that combines traditional design elements with modern architecture strategies, said Thompson. "You'll see traditional red brick with punctured window openings, almost a factory industrial look, yet with modern elements to soften it. The upper floors are tiered back to scale the mass."  
The proposed 5-story residential and retail building would include market rate, workforce and affordable units as specified under the city's new affordable housing law.  They have planned for one off street parking space per unit in the building's garage along with 18 spaces for retail customers and staff. 
Features include the building being all green, with no natural gas, rooftop solar and high efficiency HVAC. According to Guerriero the project would upgrade the city's deteriorating storm drain between Cortland and Howard Streets to be maintained by the building with access for the city.  
Thompson said one of the uses of some of the 1600 square feet of commercial space on the street levels could be small maker spaces for people living in the building. 
Another aspect of the project is the way it supports the Downtown Revitalization Initiatives in the area of Pugsley and Monument parks, changing the streetscape to encourage pedestrian traffic with a flared sidewalk, creating a curb island to widen the sidewalk and shortening the crosswalk. The project would also increase the number of street parking spaces.