Riverfront development project at a standstill
Council votes to not send project to Planning Board for review
The Ginsburg Development Corporation is unsure how they are going to proceed with their proposed residential development at the riverfront after Monday's Common Council 6-1 vote to not forward the company's request for a zoning change to the Planning Commission. The zoning change is needed to allow an extra story on the building at South and Requa Streets.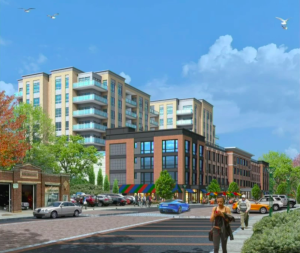 "We are disappointed to not have the project forwarded and GDC is now re-evaluating its options as to how we'll proceed," said Jim Surdoval of GDC on Wednesday.  In addition to the zoning text amendment to allow the building to be one story higher, the developer would also need the city to sell its parking lot on Railroad Avenue for the project to be given the green light.
"There is nothing for the city to do next," said Jean Friedman, Peekskill's planning director. "We would only sell the parcel if there was a project for it," said Friedman. "What they submitted won't meet the zoning requirement."
After listening to a parade of speakers talk for nearly an hour about the project being too big for the space, Council members voted 6-1 to not ask the Planning Commission for a recommendation about the zoning change request.
Councilman Dwight Douglas was the only member in favor of referring the project to the Planning Commission for further study. "I'm appalled that we didn't send it to the planning commission and see what they think," said Douglas who was attending the meeting virtually and was the first to vote.  "We could always take the Planning Commission recommendation and turn it down, are we afraid to see what they think? I'm sort of astonished that so much information came up that wasn't channeled without the proper knowledge. We had people speaking off the cuff without full knowledge of how this process works.  We have a process."
Douglas, a former Peekskill Planning Director, said he was in favor of sending the project to the Planning Commission because he wanted to get opinions from the more experienced board regarding size, traffic, parking and aesthetics.
Those subjects were what drove some 13 citizens to stand at the podium speaking their comments, capped at three minutes.
"We have zoning for a reason," said Jim Crookston of Hudson Avenue. He referenced that Ginsburg Development Corporation sat on the property it owns for the past 15 years. Another speaker referenced that  if Ginsburg was so concerned about the area being a gateway to the city they could've made it look more attractive for the time they've owned it.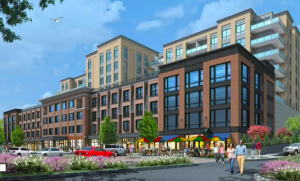 "This development is inappropriate on multiple levels. It's aesthetically out of step, environmentally unsound and economically unsustainable, said Andrew Acciaro of 922 Main Street.  "The fundamental question, not just for Ginsburg, but for all developers is, 'Not what can Peekskill do for you as a real estate developer, but what exactly are you, as a developer – enjoying all the established infrastructural benefits of the city, going to do for Peekskill?' It shouldn't be just saying we're going to do this and then request a waiver on the zoning for no other reason than that it infringes on your profit, what are we getting out of it?" If you don't have the three levels of economics and if you just go for one, exclusively, it destroys a community, over and over. The point here is that "everyone can have a piece of the pie if we all get to sit at the table." That is what is all American.  Great communities are built and justified by generosity and not austerity. It's time for developers to become mindful of our mutual environment." His comment was met with sustained applause.
A number of new residents to Peekskill spoke about the character of the city and its eclectic community that includes independent coffee shops and used bookstores and its spacious riverfront. There were other concerns raised about the 'exclusive' club that Ginsburg was proposing for the ground floor of the project. The area is contemplated being a shared work/social environment for people who live in the building.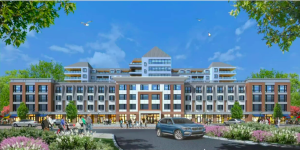 Mark Davis of Frost Avenue said he was in favor of developing the area and was speaking in support of the project. "I think it's the type of transit-oriented type of project that needs to be built. Peekskill, unlike some quaint other river towns, has made housing affordable because of its expansive housing policy. "Environmentally friendly housing is more important than maximizing parking. I don't see housing as a zero-sum game. And yes, the best time to develop this property was probably 15 years ago but now is the second-best time," he added.
Surdoval of GDC and the project's lead architect, Leoncio Torres, spoke to the revenue the city will receive from the project. "Traffic mayhem backups will not happen," said Surdoval.  He cited other projects GDC has built where people take the train. "There is going to be no caravan that's going to create the parking situation described. Ft. Hill is almost the exact same number of units and there is no traffic mayhem coming onto Main St."
Surdoval said a lot of speakers mentioned GDC's economics around the project but he wanted to take about why this project is good for Peekskill's economics. "It provides an attractive gateway to the railroad station, that's not what's there now. It will enhance the waterfront as a destination and improve the street scape design.
The city will receive a $828,000 contribution to the recreation fund based on the number of units built. He said 18 units of new affordable housing will be available as a result of the new law stating that 10 percent of new construction needs to be affordable and 166 units of market rate housing will be available.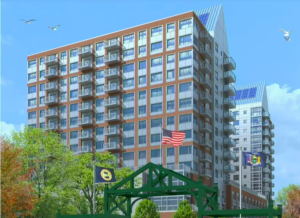 Torres finished the comments, as Surdoval had reached his three minute limit. The city receives $60,000 in tax revenue now, but that number will increase to $735,000 per year when the project is completed according to the company's computations.  GDC has a community hiring and training program and works with local business and contractors which they are doing currently in Yonkers. "The best place to locate new buildings for sustainability is in urban areas. This project sends the right, smart, growth message about Peekskill," said Torres.