Coffee, Chiefs and Cars
Sunday morning chat introduces chiefs to classic car community
 At 7 o'clock in the morning on a bright Sunday in July, Peekskill's two chiefs – fire and police – were sipping coffee and eating donuts at a tent outside of Homestyle Desserts on Water Street. They were there at the invitation of Jason Elias of Homestyle Desserts, who hosts Coffee & Cars every Sunday at the municipal commuter lot outside his business.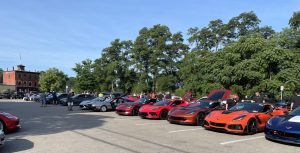 Coffee & Cars is a loosely organized group of vintage car owners who gather for a few hours on Sunday mornings before they take their cars out for a ride. "We have people coming here from all over northern Westchester with their cars, some worth millions of dollars, and I thought it would be a good way for the chiefs to get to meet people – and for the car owners to meet them," said Elias.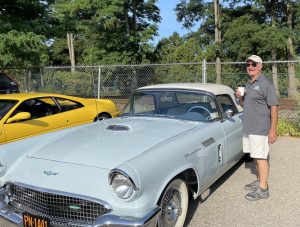 The "Coffee with a Cop" program is designed to reach different groups of people in the community. In May they met at the McDonald's on Welcher Avenue, and two weeks ago it moved to Dunbar Heights. "This seemed like a perfect idea to meet a different segment of people," said Dylewski about the invitation from Elias to go to Homestyle on a Sunday morning and he invited Fire Chief Jim Seymour, who took office in January, to join him.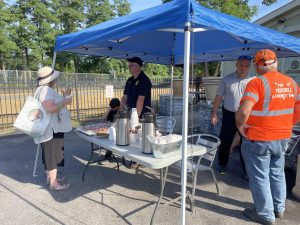 Selma Dias Stewart stopped by after her morning walk at the riverfront to say congratulations to Dylewski on becoming chief last September. She knew him from his days as the Student Resource Officer when he was at Peekskill Middle School and she was a guidance counselor there.  Speaking to Jim Seymour, she discovered her son graduated from Peekskill High School a year after Seymour.
Dylewski said he wants to keep to a monthly schedule of "Coffee with a Cop" but hasn't decided on the next location yet.