Youth are lifted by this Rising Tide boat building program
Founder looking to train new leader
Jim Taylor, the driving force behind Rising Tide, the Peekskill Youth Bureau Boat Building Program, is finally able to humbly accept the many accolades he hears about himself after a 20-year career as an educator in the Peekskill City School District. He went from classroom teacher to principalships at Oakside and Uriah Hill Elementary schools and assistant principal at Peekskill High School. Even though that career ended formally 19 years ago, he's still serving as a model to young people as he mentors boys on teamwork, attention to detail and discipline. 
Seeing him in action at the boat house in Depew Park at 2 Robin Lane, it's obvious that this is a man who thrives on working with young people and is effortlessly able to create an environment of fun, learning, and productivity for the eight students currently enrolled in the program. Each participant expressed that boat building with Mr. T helped them with their teamwork skills and gave them a sense of pride in accomplishment as they collaborated on projects in the shop, then launched the boats in the Hudson River where they could appreciate the full boating experience and learn the fundamentals of rowing in a vessel they all had a hand in either restoring or building.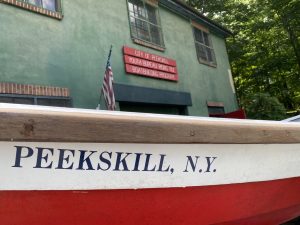 Taylor has been running this program since 2009. What makes him proudest of what he's accomplished over the last 13 years with the Peekskill Youth Bureau is that he sees some of the kids returning two and three summers. This tells him they're getting something from his teachings that they can apply to their future endeavors and they're having fun while they learn. The students there on the Wednesday morning I visited were excited to get back to restoring and painting the 22 foot skiff parked outside the shop and the 17 foot canoe propped up inside. Jim explained that these would both be river ready in about a week and everyone was looking forward to getting these boats into the water. Once these projects were in a good place, the team would then move on to building another skiff from a kit that is hanging in the shop.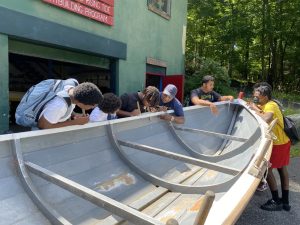 Nico is in his third year in the program. He graduated high school this year and is off to college in Staten Island in the Fall. He values the life experience the program has given him and felt it has helped bring him out of his shell. 
"I was always shy and this was a good way to meet new people." Nathaniel enjoys building benches for the school as part of the My Brother's Keeper program so when it came time to choose a summer program, he said boat building with Mr. Taylor, "sounded more fun than boxing" and was a good way for him to learn how to use new woodworking tools.
Rahrue, an incoming freshman at Peekskill high said his parents liked that the experience would get him out of the house so he could try new things. He is looking forward to being able to say he did it and to have a good time with people he is meeting.
Whether they're working together in the shop or rowing together on the river, Jim understands the importance of the sense of confidence, teamwork, accomplishment and fun that everyone in the program feels throughout the process. He says he got his love of leadership early on as the eldest of six brothers and Boy Scouts. Scouts gave him "the confidence to go. To do. They felt that I had that leadership and that's what really helped me develop." 
It was at Scout camp where he first learned canoeing and developed his love of boating. Peekskill is fortunate to have someone like Jim as a community leader. He sees the beauty of this area in the natural spaces like the riverfront and Blue Mountain park and enjoys sharing his appreciation of the many hidden gems of the area that only a longtime resident and lifetime educator would be able to point out.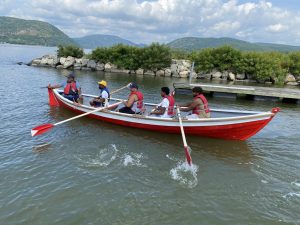 Jim works hard to stay current and make sure he's aware of what can be accomplished in the boat building world for young people. He sits on the board of TWSBA (Teaching with Small Boats Alliance), a position he's held for the last two years. With the alliance, he works to use building boats as a complement to teaching math, geometry, and gaining an understanding of how different tools make the craft possible. Enthusiasm and a willingness to work are the only prerequisites. With that, they can build their knowledge along the way as they paint, glue, epoxy, bevel, and row their way to a strong foundation of real world skills applicable to any future pursuit.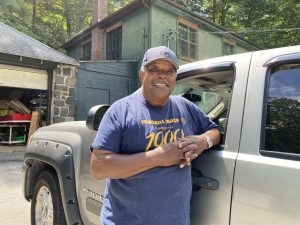 Taylor, 75, came to Peekskill in 1971 after being recruited to teach 5th grade when he was at Edinboro State College. At the time, Pittsburg lacked opportunities for African Americans looking for jobs in education. When he was approached by the school, he opened up a map, saw it was close to New York City, close to Vassar in Poughkeepsie, and said, "Oh, I might find a nice girl there." Funnily enough, that's exactly what happened.
He rented an apartment on Howard Street from Kay Moshier whose 25-year-old daughter was the same age as Jim. He has been married to that "beautiful, beautiful girl" for 50 years now and has called this area home and stayed here.  Her family adopted him as their second son. He beams when he tells me, "It's a wonderful family and I have a good life."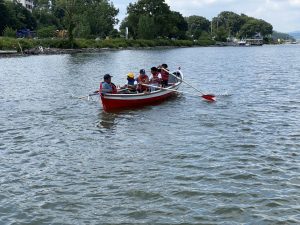 Jim spoke softly and clearly as he reminisced about his time here and looked to the future where he hopes the Rising Tide program can improve with a little community awareness and support. He is on the lookout for the right talent to help carry the educational torch as he takes a step back (though he made it clear that as long as he's still standing, he wants to stay involved but hopes to take just a bit of a back seat). The benefit of having an experienced leader at the helm is that Jim always sees opportunity to improve upon the offerings of the program.
He hopes to find enough specialized volunteers to expand and continue sharing even more of what the Hudson River has to offer by adding an element of river ecology education. If he can recruit a female counterpart to work with him, they could open the program up to girls from the high school. By collaborating with Summer School Programs in the district, they could complement the high school's latest technology initiatives. There is even talk of a Tuesday evening boat building program for adults. When he finds someone who really understands kids, who can teach and wants to work with him, he can start focusing his attention on developing the next wave of this incredible program.
Be on the lookout for Jim and his students as they take their boats out on the Hudson this summer. They are considering a Saturday in the fall to set up a small riverfront event that highlights some of the work and achievements of the Rising Tide Boat Building Program. To find out how to get involved, or to stop by the shop to say hello and see the team in action, you can find them at the building in Depew Park just beyond the horseshoe pits on most summer weekdays until August 12.
Steve Pavlopoulos is a freelance writer and video producer. He grew up in Clinton, Connecticut (the official "Bluefish Capital of the World") and now enjoys life in the rolling hills of Cortlandt Manor with his wonderful family. He is always on the lookout for solid local food recommendations, elusive woodland creatures, and new opportunities to get involved in this vibrant community. He can be reached at 

[email protected]

.