Westchester Swing Band comes to Division Street Sunday evening
Sunday's weather forecast is for sunny skies and temperatures in the low 80's. That's perfect for Greg Westhoff's Westchester Swing Band to set up outdoors on Division Street in front of Ruben's Mexican Cafe for a concert from 5:30 until 8 p.m. The music is free and open to the public. Westhoff last performed in Peekskill in June and plans on having at least 18 pieces on Sunday, depending on if there are four or five trumpets, four or five trombones.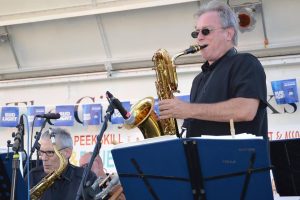 The band performs the music of Duke Ellington, Artie Shaw, Frank Sinatra, Count Basie and many other great artists of the Swing era.