Dana Levenberg wins Assembly primary race
Record low turnout in Democratic primary
Despite an 11th hour attack campaign by a NYC political action committee, Vanessa Agudelo received 34 percent of the vote in a three-way race for the 95th Assembly seat. Ossining Supervisor Dana Levenberg took first place with 44 percent and County Legislator Colin Smith trailed with 22 percent in a low turnout election that saw just 6,273 votes cast from 103 districts in Westchester and Putnam counties. 
Agudelo, who had the endorsement from the Working Families Party and the Democratic Socialists of America, was the target of a mailing campaign that featured her quote on Facebook in June of 2020.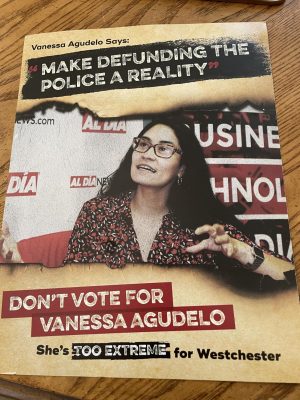 The political action committee, Voters of NY, along with Common Sense NY, planned to spend $4 million to support law and order candidates in state legislative primary elections this month. The mailer zero'ed in on Agudelo's comments about defunding the police in the wake of the George Floyd murder in May of 2020.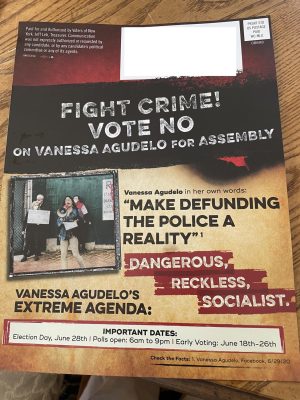 In the week before the election, Democrats registered in the 95th Assembly district were flooded with 4-color slick mailers with headlines, "Don't Vote for Vanessa Agudelo". On election day, registered voters also received texts reminding them to not vote for Agudelo. 
At the Birdsall House on election night where Agudelo gathered with some 50 of her campaign workers, she said on one level the campaign by a PAC was shocking because "I haven't experienced it before but on another level I expected it because of how shady, dark money works."  Voters of NY is funded by NYC real estate and development interests. Jeff Leb, treasurer of the PAC is a lobbyist and political consultant. 
She said from the thousands of people her campaign spoke to since she announced her candidacy in February that "people are very receptive to taxing the wealthy and that income inequity is something that everyone is feeling from home owners to tenants." 
County Legislator Colin Smith who gathered with his campaign workers at Ruben's Restaurant on N. Division Street walked over to The Bean Runner about 10:30 p.m. to congratulate Dana Levenberg on securing her victory. 
Levenberg, who is the current supervisor of the town of Ossining said she was happy to come to Peekskill because of the support she received here.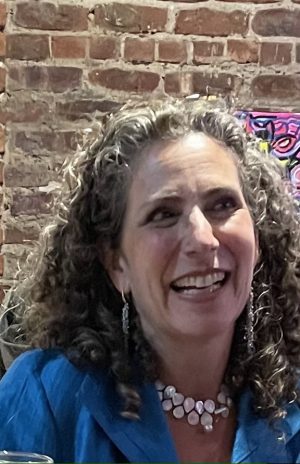 "It's been a pleasure getting to know the communities and what they have to offer. Teamwork is the only way to get anything accomplished. We have to stick together by working together," said Levenberg as she was congratulated by supporters who were telling her they were there to help her in the fall before the November 8 general election.