Peekskill's 4th of July celebration runs entire weekend
Parade on Friday night with laser light show at Riverfront, fireworks on Sunday, concert on Monday
It's a 4th of July extravaganza this weekend as the Fireman's Parade returns for the first time in three years — in the evening. Friday's parade steps off from the Central Firehouse at 7 p.m. and winds its way through the downtown before ending on Water Street near Central Avenue. 
New this year is a laser light show at the Riverfront at 9 pm, following the end of the parade. "Laser light shows are very popular in California where they can't have fireworks," said Jim Seymour, a trustee with the Peekskill Volunteer Fire Department. Seymour, who is the father of Peekskill Fire Chief James Seymour, has been involved in organizing the Firemen's 4th of July parade for some 48 years.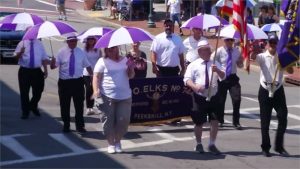 The reason for the Friday night parade involves increased demand for bands and a limited supply. "A lot of bands folded during Covid," said Seymour. It was tough to book bands for a parade on Independence Day.  He could only get four bands for that day, but was able to contract 10 bands for the parade on July 1.  He said the cost of bands has increased as well. This year the range is from $800 to $1500 for a band to perform in the parade. The Volunteer Firemen are paying a total of $13,000 for bands and another $10,000 for the laser show. Dynamic FX, the laser company from Connecticut, brings a 30-foot screen and projects onto the screen as well as into the sky.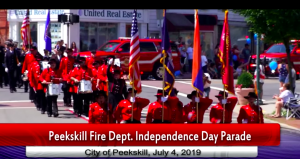 Volunteer firefighters raised some $25,000 during their fundraising drives which saw volunteers holding fire boots at the intersections of Main Street and Dayton Lane and Crompond Road and Villa at the Woods on Saturday mornings since late March. This year they added another location, — the exit ramps of Route 9 and Welcher Avenue on Thursday evenings. "The response was tremendous," said Seymour. People were so glad the parade was coming back. "They did ask about the fireworks and we're happy that the city is sponsoring them on Sunday night" said Seymour. The city sponsored fireworks begin around 9 p.m. from a barge in the river. 
The reviewing stand for the parade will be east of the Gazebo on Park Street in front of the Copy Center business. "We needed to keep the intersections open which is why we're ending it at Water and Central instead of at Riverfront Green. We didn't want to be pulling the apparatus over the train tracks."
In addition to the city sponsored fireworks on Sunday night, there will be a concert on Monday, July 4 sponsored by the city's Parks and Recreation department at Riverfront Green from 7 to 9 p.m featuring Gentlemen of Soul.   
The Friday night parade line of march is as follows: 
Start at Broad Street and Park Street (Central Fire House)
Proceed down Park Street to South Division Street
Left on South Division Street and quick right on South Street
South Street to Hudson Avenue
Right on Hudson Avenue and quick right on Water Street
End parade on Water Street in the area of Central Avenue