Peekskill Film Festival Runs This Weekend
Kick-Off Block Party Thursday at The Hat Factory
The seventh annual Peekskill Film Festival, which runs this weekend, is bookended by two parties. The Kick-Off Block Party moves to The Hat Factory on Thursday, June 23 from 5 pm to 11 pm and features music, food and experimental films. If it rains, the party will happen under the Hat Factory overhang. The after party returns to Peekskill Brewery on Saturday night starting at 11 where festival award winners will be announced.
The festival begins Friday, June 24 at 7 pm and ends at 11pm. Films start screening on Saturday, June 25th and 10 am and go until 11 pm at the Paramount Theater.  Tickets can be purchased for blocks of time here. Previous festivals have run in July and the organizers are hoping to return to that month next year.
This year's lineup features 53 films from across the United States and internationally from the United Kingdom, Russia and Iran. All genres are represented (animation, drama, comedy, action and horror). Besides the premiere of Come Find Me featuring Peekskill resident Sol Miranda, other films with local relevance are: The Flower Thrower by Emmanuel Jaquez a Peekskill resident and an encore screening of Conviction by Jia Wertz. Conviction is about Peekskill native and criminal justice activist, Jeffrey Deskovic. The film originally screened at the 2021 Peekskill Film Festival.
This year there are six student films mixed in with others.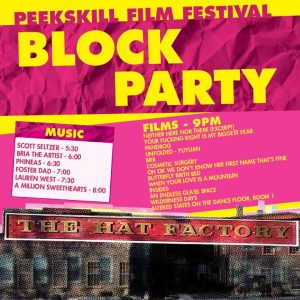 Founded in 2015, the Peekskill Film Festival screens a first-rate mix of features, shorts, documentaries, and animation. In addition to screening the best and brightest in indie film, the festival hosts workshops with Emmy-Award winning artists and filmmakers, parties and panel discussions.
The cost of admission to the Block Party at The Hat Factory is $5 and will feature local business food trucks including Gleason's Pizza Truck, New England Lobster Truck, Octavio's Food Wagon and The Weenie Wagon. The line-up of local musicians includes: Scott Seltzer at 5:30 pm, Bria the Artist at 6:00 pm, Phineas and the Lonely Leaves at 6:30 pm, Foster Dad at 7:00 pm, Lauren West at 7:30 pm, A Million Sweethearts at 8:00 pm. The experimental films are curated by Nic Koller from Brooklyn, NY. They will be shown at 9 pm.
Christopher Fox is the Director of Programming for the Festival and Carol Bash and John Morgan are festival organizers. Films will be judged by Bash, Fox and Morgan and given in the following categories: Best Feature, Best Short, Best Documentary, Best Student, Best Animation, Best Director, Best Cinematography, NY State of Mind Award, Best of Fest and Audience Favorite.
There have been more than 500 attendees annually at the Festival.
Visit the website for more information at https://peekskillfilmfestival.org/