Brilliance of creative spirit on display this weekend
Open Studios returns after two years
The poet Theodore Roethke tells us "In a dark time, the eye begins to see." This is particularly true of artists whose job description is to distill life's experiences into a shape, a collection of words, an image. When the emotional and psychological challenges of living through a pandemic take their toll, we look to have our struggles and stresses transformed into something beautiful, revelatory, inspiring, funny or just easier to bear.  
We have an opportunity this weekend to get a peek into that creative experience through a multitude of mediums – painting, photography, collage, sculpture, pottery, jewelry and multimedia work. Art lovers, collectors and the general public are invited into private workspaces at Peekskill's  23rd Annual Open Studios, presented by the Peekskill Arts Alliance. On Saturday and Sunday between 12 p.m. and 5 p.m. visitors can explore and engage in conversation with Peekskill's creative community in their studios and galleries. 
There is a pop-up show at PAA's Tent Site Gallery (the parking lot across from Bruised Apple on Central Ave.) where individual artists display a body of work. At the last Open Studios in 2019, the parking lot was transformed into a Truck Stop Gallery. This year it'll be tents where artists will display their work. There will be a music component as well at the Tent Site Gallery.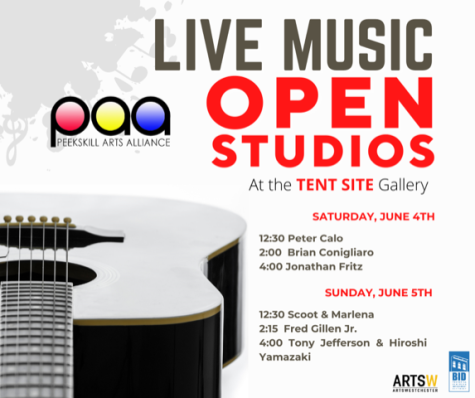 The many galleries in downtown Peekskill include The Flat Iron Gallery, The Third Eye Gallery, The Artist Spot, Peekskill Artists' Co-op, and The Artist Lofts on Main. Peekskill Clay Studios and the exhibit at PranaMoon Yoga are located in the Hat Factory just outside the downtown area. There are other exhibits at Westchester Community College "Off the Beaten Track" (a PAA show), The Field Library, Peekskill Coffee House, BeanRunner Café, and Hudson Valley MOCA. Also at Hudson Valley MOCA is Studio Theater in Exile with performance in video with a multimedia component.
All exhibitions are free for Open Studios.
Visitors can go to the Gazebo on Division and Park Streets to pick up a complimentary catalog containing information on participating artists and a map highlighting all the Open Studio attractions. Online versions of the catalog and map will also be available on our website so traveling around Peekskill is as easy as using your smartphone.
Parking is free on the weekends.
For more information about the Peekskill Arts Alliance's Open Studios, visit their website: peekskillartsalliance.org