Council kicks proposals back to developers for public input
For the second time in a month, the Common Council told a developer to host a meeting with the public to gather information on how the community views their projects. 
At Monday's work session Abraham Rosenberg presented how he wants to develop a narrow, almost four-acre site on Lower South Street and put up three buildings – one for his former tenant, Caring for the Hungry and Homeless of Peekskill (CHHOP), another for a self storage structure, and the third for a business to be determined. The council listened to his proposal and saw renderings of the buildings – but asked him to host a public meeting to gauge community interest.
Chris Lupine of LaBella Engineers, who is working with Rosenberg, spelled out the conceptual plan and pointed out that it's in an area zoned for light industrial use and would need a zoning text amendment to allow transitional housing within the M-2B Design Industrial District in order to allow CHHOP to occupy the building at the northernmost part of the property.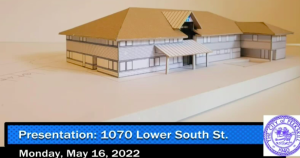 At the southern end of the property, Rosenberg would build a three-story self storage building on a footprint of 25,000 feet for a total of 75,000 square feet on one acre. Rosenberg currently owns the self storage business at the bottom of Highland Avenue and just finished building an additional 11,000 square foot structure that is already sold out and there is a waiting list for more units. "There has been a major increase in self storage because people are moving into smaller apartments and need to store items," he said, and noted that the property he owns on Lower South Street is zoned for such a use.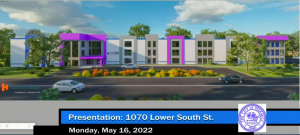 At the northern end of his property are two acres where he proposes to build a new  'Class A' homeless shelter – because he sees the condition of the current building the shelter is housed in. "Nobody should house people like that," he said of the current facility he bought two years ago. 
The other one-acre portion of the property could be any type of business, said Rosenberg. He said the city told him the brewery might be interested in a production facility and he had one meeting with the owners over a year ago.  When asked for comment, Keith Berardi of Peekskill Brewery told the Herald he doesn't have any plans for putting any portion of his brewery in the Lower South Street location.  
"Our community will be judged on how we treat the homeless shelter, more than how we treat developers," said Berardi.  "I have zero opposition to what CHHOP is trying to do."   
Rosenberg said he leaves it to the residents of the city to say what kind of building he will put next to the shelter. "It could be a dog park or an indoor sports facility. I'll leave it to the public," he said.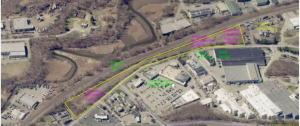 Last week, the council directed developer Martin Ginsburg to host a public meeting for citizens to weigh in on his proposal to build a commercial and residential project on Railroad Avenue. He's scheduled a meeting for Tuesday, May 24th at 7 p.m. at The Abbey Inn & Spa at 900 Fort Hill Road in the Highlands Ballroom.