First Down to History
PHS fields a girls flag football team
For our first scrimmage, the brand new Peekskill High School girls flag football team took a page from the pros that came to visit us and we withstood the elements. We took the field at Somers High School to kick off our program's inaugural season and New York Giants quarterback Daniel Jones and linebacker Blake Martinez were there to lend their support. We were not deterred by the frigid cold and rainy conditions – we worked hard and did our best in our first try at the new sport.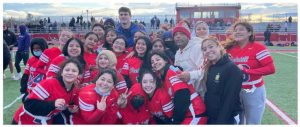 Peekskill joins Somers, Lakeland, Panas, Scarsdale, Brewster, Hastings and Greenburgh-North Castle this season by fielding teams. This is a new learning experience for everyone including myself. We've improved from our first practices and continue to hone our skills. 
Head coach Tyrone Searight has gone to great lengths to ensure that our team will learn the rules and the game of flag football. 
"It means a lot just to be coaching these young girls and see how progress is taking place along the line," said Searight. "From day one, they've learned how to catch and throw the football."
Being part of a sport in which only men are known to play is exciting. Normally when you say flag football, it's all about boys, but now it's actually about girls competing and playing it. 
Young girls like myself may have never watched or played football before. But now we all get to learn and experience something new. Other girls may have experienced playing football with their loved ones or friends or watched professional NFL games with their dads, and now they get to experience playing flag football for their school. 
Assistant Coach Charles Fardales joined the staff in the Peekskill City School District as of last year during the pandemic. He has been around sports his whole life, but is new to coaching football. 
"Personally, I've been a baseball player my whole life," coach Fardales said. "I played one year of football in high school and I know the basic rules, so I'm learning a lot from Coach Searight. To me, my most difficult challenge may be similar to the players – making sure we understand the rules because if we don't know what we are doing on the field, how are we going to be successful?" Fardales explained. 
We worked on different passing and throwing skills and also running routes before the scrimmages. We were split up into different groups, so we had the opportunity to create new friendships and meet other members of the teams from different schools. I met some really amazing players who all supported each other even though we were not from the same schools.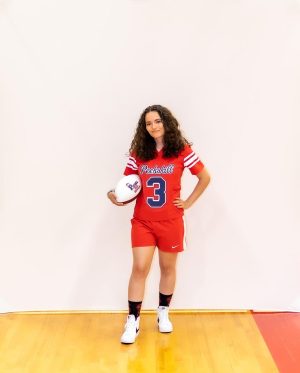 Peekskill lost its scrimmage in the first outing, but was undeterred, showing great effort on the field. 
The scrimmage helped me understand what it's like to be on the field competing against other players. It expanded my experience beyond our 7-on-7 practices with members of our team. We all know each other pretty well so I know what was expected of them. But being out on the field, it was a range of feelings and thoughts while going against members of a team I never met.