Condo and Single Family Development near Highland Park shown to Council
Project goes before Planning Commission Tuesday
A proposed 46-home development, Mountain View Acres, on Peekskill's northern border was shown to the Common Council Monday night during their work session by builder Mark Giordano and project coordinator Keith Staudohar of Cronin Associates. The condominium and single-family enclave is to be built on 16.4 acres along Lockwood Drive and N. Division Street in the Highland Park neighborhood behind The Hat Factory.  
Since there is no need for a special permit from the Council for the development, the purpose of the presentation was "to advise and inform members about the project" and answer questions. The proposal is on the agenda for the April 11 Planning Commission meeting. The Planning Commission will conduct public hearings in order to grant approval for the site plan, subdivision and steep slopes requirements.  The builder has submitted to the Planning Commission a traffic impact study, a state DEC validation of the wetlands bordering the project, and a steep slopes compliance report along with an environmental assessment report.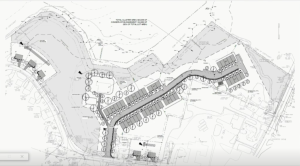 In 2008 the property had a different owner and received approval for 33 single family homes. Nothing came of that proposal, and when the current developer did a comparative analysis of what was previously approved by the Planning Commission the new proposal showed "far less impact for the categories analyzed," according to Staudohar.  
The new development features 41 two-and-three bedroom condominium residences clustered in four-and five-unit buildings, and five new single family homes on Lockwood Drive. Staudohar was quick to point out there will be no access to N. Division Street from the project, but rather from a newly created private access road that dead-ends in a hammerhead-shaped cul-de-sac within the development.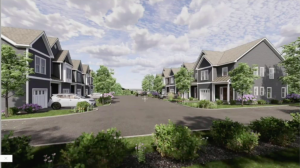 When questioned by Council members about other projects of this type that the developer has completed, he pointed to a similar development on Route 6 at the edge of the Cortlandt Town Center. "I've been building in the Town of Cortlandt for some 30 plus years," said Giordano. "I've built over 600 single family homes there."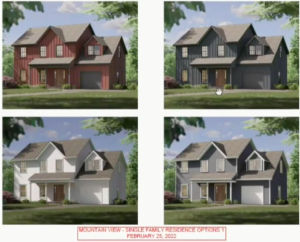 Mountain View Estates homes are projected to be sold at market rate, somewhere in the $450,000-and-up price range, said Giordiano. He added his company has their own crew of tradesmen and they purchase materials – from lumber to vegetation – locally.  
Tuesday's Planning Commission meeting is available on Zoom via the link on the city's website here.