Determination and resilience hallmarks of McKenzie's life and career
Peekskill's first female African American Mayor enthusiastic about the future          
The Herald rounds out Women's History Month with a profile of Peekskill Mayor Vivian McKenzie.
Vivian McKenzie and her staff of five were preparing for guests at Kathleen's Tea room one June morning last year when they heard a rumbling as the flat roof of the one-story building collapsed under the weight of water. McKenzie and her staff made it out safely but the building that housed her business of ten years had to be razed.  
That incident wasn't the first time life threw her a curveball. After her parents died in 2009 (within weeks of each other) McKenzie was offered the opportunity to purchase the Tea Room from its founder. Working in the insurance industry at the time, she hadn't ever thought of running a restaurant. She also wasn't prepared for a visit from some members of the Peekskill Democratic Committee when they showed up at her house in 2012 asking her to consider filling a vacant seat on the Peekskill Common Council. The following November she ran for the seat and won, becoming the first African American woman elected to the Common Council.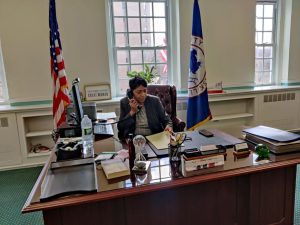 As evidenced by the remarks of fellow business owner Pam Johnson at McKenzie's mayoral inauguration in January, the 59-year-old possesses a strength of character that allows her to meet the challenges presented to her.  "She is a woman who stands by her husband, sets an example of strength, resilience and compassion for her daughter to emulate. She's an innovator and runs an iconic business, she's empathetic with a heart for others and makes room to help others, she's a role model for women of color and she's passionate about her city."   
McKenzie, who is called Cindi by her family, is someone I've known my entire life as we are related by marriage.  I've never seen her so happy, enthused, determined, optimistic and motivated.  She's planning on rebuilding the Tea Room in the same spot but increasing the number of floors to house apartments. She's also planning on expanding the kitchen. There will be a new façade which will be in sync with Peekskill's historic architecture. Changing up the menu is part of the plan, but her signature dish of chicken salad and mixed berry shortcake will remain.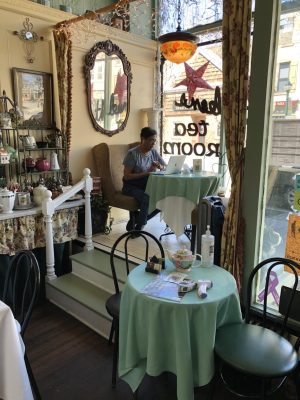 After the building collapse in June, McKenzie focused on the election campaign while figuring out how to proceed with her business. It was fortunate that she also had a catering business associated with the Tea Room.  In addition, she has a food truck that serves fried chicken, fried fish, ribs, sweet potato pie and more.  
She campaigned through the summer and was elected in November as the first African American woman mayor. 'I was in a good space' she said about the new opportunity presented to her.  Since assuming her leadership role in January, she's painted the mayor's office and brought in a couch that her mother purchased when she was baptized. It's from this sofa that she conducts her Meet the Mayor interviews for the city's YouTube channel. The 59-year-old couch is in such good condition because "in those days all the furniture was covered in plastic," explains McKenzie with a laugh. In March, she focused on Women's History Month, where she interviewed Sue Sheridan (Pictured here) and Sally Bentley here.  She was quick to point out that more than 60 percent of businesses in Peekskill are women owned.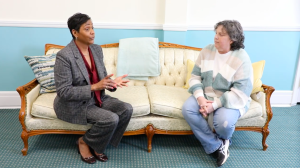 Her green sports car can be seen parked most days in the spot reserved for the mayor outside City Hall, and when she's not in her office, she's attending events throughout the city and in the schools. On a recent morning this month she was at the DPW garage at 7 am with Acting City Manager Matt Alexander handing out certificates of recognition to employees who had more than 20 years of service working in the city. She told them she understood why they weren't at the council meeting a few nights earlier at 7 pm to be recognized – because they arrive on the job so early – which is why she showed up with donuts and coffee mugs to acknowledge them.
She runs Common Council meetings with a soft spoken and gentle demeanor and adds a personal touch to the proceedings by acknowledging the names of people within the city who have died in the past weeks, extending condolences to family members.
In August 2019 the City of Peekskill was awarded a $10 million dollar grant from the state to revitalize the downtown, and McKenzie is enthusiastic about how that will be implemented in Monument Park and Pugsley Park, as well as the addition of a Boys & Girls Club to a newly expanded Kiley Center on Main Street – along with a connection between the Gazebo in downtown to the Riverfront.
She is enthused about rebuilding her business, which will be open next year, and she's very determined and excited about the revitalization of the 'Gem' she calls Peekskill.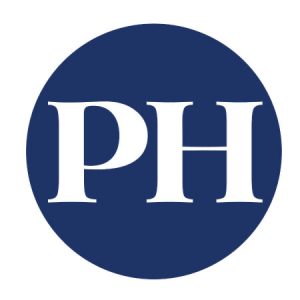 Personality profiles like this can be found at the Peekskill Herald on a regular basis. Support community journalism by donating today here.