Soak in a forest bath
New business guides people on wellness benefits of being in forest
Peekskill resident Fru Molnar is a therapist of a different sort. Her 'office' is nature and she guides people in the work of mystery, medicine and magic in the setting of a forest.  The 33-year-old leads private and public forest bathing activities in Blue Mountain and Depew Park. Forest therapy is a relational practice that brings people into deeper intimacy with natural places. 
She's certified to guide people in this type of therapy through the Association of Nature and Forest Therapy Guides (ANFT). Forest Bathing is not what it sounds like. It involves going into the forest and taking in as much as one can touch, see, hear, smell, and sometimes even taste. One is proverbially soaking or "bathing" in all the things the forest has to offer. It is more a meditation, where one can clear their mind from all distractions and be in the moment.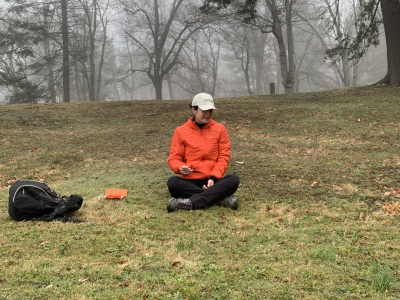 Forest bathing began in Japan in the 1980's as a response to the technological and economic  boom that saw an uptick in chronic illnesses and diseases.  More and more people were working behind the newly accessible screens, so the Japanese Ministry of Health tried out what they called "Shinrin-Yoku" which translates directly to forest baths.  Studies were done on the benefits of it, and they were quite substantial, with lowered stress and adrenaline levels, and a boosted immune system. This is caused by phytoncides, a chemical released by trees, which we are bathing in by taking walks in the woods. This, coupled with a meditative state, helps calm down the body.
Molnar, who has lived in Peekskill since 2019, moved around a lot as a child. The two main constants in her life were her family and nature. She was introduced to the joys of spending time in nature by her parents and grandparents. The family would take camping trips and hiking adventures in her home country of Hungary and the US. She credits the awe-inspiring trips to the Grand Canyon or the seemingly-mundane activity of picking currents from the backyard garden with instilling a sense of fondness for the endless gifts that nature provides. Along with that fondness came the understanding of the sense of duty and responsibility as humans to give back to the land in gratitude and appreciation.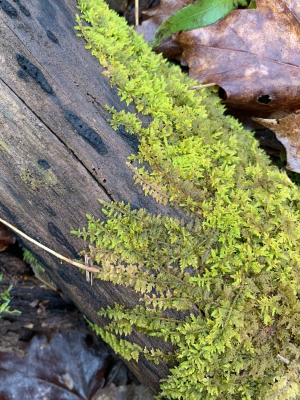 She used to live in New York City, working in a screen-heavy and a fast-paced job in the tech world. She would come up to this area every weekend with her dog to enjoy the nature that is generally hard to find in the city. Molnar was inspired to start her business, Forest Baths, at the beginning of last year as a passion project. "My vision for Forest Baths is to provide an inclusive, accessible space for people to cultivate their own authentic relationships with nature through embodiment. I believe the forest has something special to share with each one of us, and that simply by practicing presence together, we have the ability to unlock worlds of mystery, medicine, and magic," she said. 
Last Saturday, March 19, this reporter (Gabriel Berger) and photographer Damien Ritter went on a two hour Forest Bath with Molnar.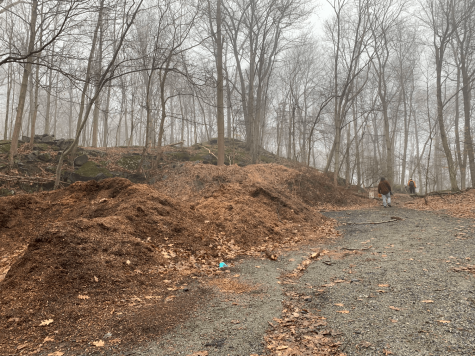 That misty morning she guided us and a few others on a walk through Blue Mountain Reservation, sitting us down for a 15 minute meditation, and urging us to take in as much as we could, focusing on different senses during each 15 minute interval. At the end of them, we would gather in a circle and one by one share a few things we observed.
While we did not dive far into the trails that branch off the main Blue Mountain, there is so much nature to be found even with the playground in sight, such as new spring growth peeking out between the leaves on the ground, and the naked buds on the bushes and trees. The foghorn on the river blew at regular intervals during the misty morning, like an old forest god blowing his horn throughout the forest.
Some of us saw a large raptor up close, perched upon a tree, squawking at us once before flying off. By the end, everyone shared that they felt much calmer, and many of us even felt more creative, which apparently is a benefit seen in studies on forest bathing. Molnar had set up a small picnic with basil tea, dried figs, and some dark chocolate peanut butter cups.
Her next public walk is on April 23rd, at the Blue Mountain Reservation, at 10am.
Tickets are available online:
https://www.eventbrite.com/e/earth-day-walk-guided-forest-bathing-session-in-blue-mountain-park-tickets-302385271487