For one Peekskill entrepreneur, "CUT" has multiple meanings
Steven Strauss mixes filmmaking and hairstyling in unique Main Street business
Steven Strauss's business card for Spring Atelier says hair/photo. That simple description disguises the talent he brings to his business on the second floor of The Flatz on Main Street.
Atelier is the French word for studio and Strauss, 42, wanted the place he created to be a launching pad – read spring – for artists who work in the medium of hair. Strauss, who will be celebrating four years in business here in October, has made a career out of combining his various abilities and creating a community, classroom and creative space.
At age 22 he graduated from the prestigious Pratt Institute and began a career in film and television production. After producing and directing a few films with money he raised using the crowdfunding platform Kickstarter, it was time to join a union. That's when he had second thoughts about the stability of that world. "I was tired of chasing the next shoot," Strauss explained to the Herald during a recent afternoon visit to his studio.
A girlfriend at the time was enrolling in beauty school, so he decided to do that as well. He was 25 years old and the haircare world seemed like a lucrative way to make a living. While working a construction job, he attended the beauty school for seven months. Upon graduation, he began working in salons for the next 11 years – and realized there was a niche for continuing education that wasn't being filled.
Craigslist led him to renting a space in Peekskill at the Flatz where he was drawn to the large windows, the fireplace and exposed brick in his second floor suite. The surroundings lent itself to the idea to blend his film and hair experience by creating an environment for stylists to work on live models and learn from each other. "There wasn't anything like it in the Hudson Valley," he said, and the collective experience was something that stylists (who frequently work on their own) quickly came to enjoy. Pre-Covid there were sometimes a dozen stylists in his studio, each with a live model, demonstrating techniques around haircutting, coloring and hairstyling.
Once the pandemic shut things down, Strauss created a YouTube channel to educate and inspire stylists. He invited stylists and models in, one at a time, and filmed them. Sometimes he went to locations where they worked and filmed them with clients. His channel has been active since April 2020 and has been viewed 25,000 times. The focus of his channel highlights technique, intention, and trust in one's creative intuition. "We strive to instill confidence, inspire creativity, and promote longevity in the careers of all hairstylists," according to his YouTube channel description.
In April of 2021 Strauss created a 20-minute short documentary of stylists sharing how the sudden shutdown of their business impacted their lives.
He acknowledges that the industry can be tough on a stylist. "Physically, you're leaning and bending a lot; it can hurt your shoulders." He's experienced both types of worlds that stylists work in. "The Saturday morning salon where people come to get their hair done but also to pick up all the social news while they're sitting and eavesdropping on the gossip. The other world is solitary – where it's just you and the client. This has always been an intimate business because you're touching people's hair and they are trusting you."
He's now back to seeing clients, one at a time, in his studio – and inviting other stylists in for filming. His current clients come from Garrison, Cold Spring, West Point, Poughkeepsie and Peekskill.

Using film techniques to produce tutorials on a YouTube channel is a natural extension of his production talents, but when it comes to hair coloring – a staple of any hairstylist – he's also got an edge. Strauss has been painting for years, and over the summer he 'discovered' birds as a subject.
Some of his images adorn the walls of his salon. He's been learning about them and using colors and spray paint to create images. "It's about an accidental messiness."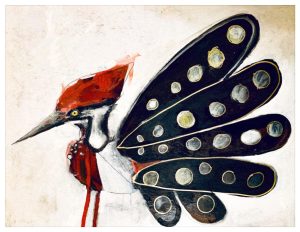 Strauss' first experience with hair cutting was with his own hair, when he was 10 years old. He remembers seeing an MTV video of Cindy Crawford demonstrating how to cut one's own hair. He wanted to try it, and began experimenting with his own 'do'..
In some ways, Strauss' life and career has come full-circle: these days he still cuts his own hair; but his personal client list has expanded a bit. The young entrepreneur has settled down with his wife in Cornwall, where he has three in-house customers for hair cutting and styling: their 8-year old son, 4-year old daughter, and 10-month-old son.