Looking Back 30 Years Ago
"Back in the Day" it was the custom to at least think of New Year's Resolutions, just as it is today.  Keeping them, well that was another story back in 1992 and it's pretty much the same challenge these days.  
One of the 1992 issues of the Herald included some "Resolves and Hopes" for Peekskill, by local luminaries.  Mayor Vincent C. Vesce's "one wish" could still serve as a community goal, "If I had one wish, I would wish our city would be free of drugs and crime," the new mayor wrote.  I reached out recently to Mayor Vesce at his lovely English Tudor family home for an update and he was kind enough to pause in his packing and home downsizing to consider a wish for our city in 2022.  "I don't believe our society has made much progress in the last 30 years in the areas that concerned me then. In addition to reaffirming my wishes for 1992, I would add that we should all resolve to show much more respect for one another than what has seemed to become the norm."  Sign me up for that one! 
In 1992, "Mr. WLNA", radio commentator Gerry Desmond, also shared hopes for the community he helped knit together, during his decades of broadcasting local news and promoting community events and resources.  "I hope there is a prosperity boom and a revitalization for Peekskill downtown." And "I resolve to have a more positive image of Peekskill and do what I can to make life better for the homeless and the needy." I gave Gerry and his wife, Anne, a call this week and learned that they are enjoying retirement in their beautiful Victorian home and still have "Nothing but good wishes for Peekskill from this home!"  With her usual good humor, Anne went on to say, "We wish everyone a wonderful New Year and all the best for Peekskill in 2022."
Speaking of the lovely housing stock in Peekskill, the issue for January 9th   featured the welcome headline "Mortgage Interest Rates Plummet in Area" and went on to relay that the16 to 17 percent mortgage rates common in the 1980's had dipped down to 4 7/8 percent.  The Bank of New York was "actively seeking middle income house buyers looking to take out mortgages."  The article described a "community home buying program for families with incomes less than $73,600 eligible for buying a house with a 5 percent down payment."  Who wouldn't love to read a story like that in these days of housing challenges?
Back in the pages of the 1992 Herald there was at least one family that would have been first on line at the bank for housing help.  The paper had a detailed report of a serious fire at River House, where a young family was burned out of their rental duplex.  Keith and Cindy Bohler were just starting their day, along with daughters, Kristen , two and a half years old and Kaitlyn, four months old and a 10-year-old nephew, Timothy Conkling.  Cindy grabbed the children and Keith called in the fire and spread the alarm to other residents. Six fire trucks, 50 volunteer firemen, Fire Chief Robert Ferris and other emergency services responded and saved the home from total destruction.  But the family had to spend the next several months with family or at another rental unit, until their home was restored.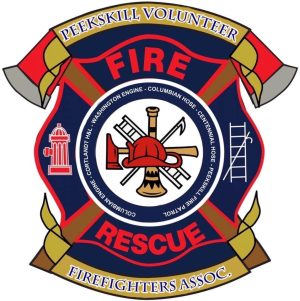 In those days, the Peekskill Fire Department was totally powered by volunteers, including member John D'Angleo, an Italian immigrant who joined the Columbia Hose before 1960.  At the time of the fire, the Bohlers had no strong connection to the fire department, but they do now.  These days Kaitlyn Maldonado and Kristen Bohler-Macey are each valued members of the Washington Engine Company and part of the Peekskill Volunteer Firefighters Association.  Their younger brother, Eric, is a member of the Verplanck Fire Department.  And they refer to 90-year- old John D'Angelo, the City's oldest serving volunteer fireman, as "Grandpa" as they offer him lifts to department meetings and events.  Although the young women did not meet Mr. D'Angelo until they joined the fire department, their paths had crossed before.  The Bohler family eventually moved to the end of Gallows Hill Road and there, right at the beginning of Gallows Hill Road, John D'Angelo was raising his family. Now John can count on his fire department "granddaughters" to keep him up-to-date with fire department news. 
There were more stories in the paper about the volunteer firefighters, including info about a fundraiser planned by the Cortlandt Hook & Ladder Company, which was being held to benefit wrestling coach, Matt Moore.  Moore, a teacher in the Peekskill Schools and also a member of the Cortlandt Hook & Ladder, was seriously injured the previous fall in a weekend rugby match.   The funds raised would be used towards Moore's mounting medical bills and hundreds of residents, including student athletes, supported the event.  One of those athletes was the accomplished high school senior, Chapman Manzer, popularly known as "Chappy."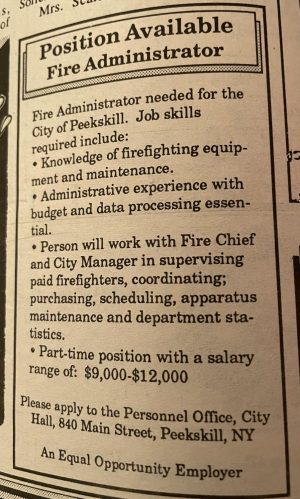 Three stories in the January 9, 1992 edition of the Herald profiled the talents of this young man and served to predict that Manzer would grow to be a strong contributor to the quality of life in Peekskill.  One story with the headline "Manzer Wrestling Star" recounts the success of the 126 lbs. senior, who had just been given the Con Edison Scholar/Athlete Award.  Another article related Chappy's academic success and noted that he had been honored for his science achievements along with 7 other Westchester students at the IBM Thomas J. Watson Research Center.  The students were treated to lunch with the researchers and then given a tour of the laboratories and saw demonstrations of advanced science equipment. 
Reading this reminded me of Chappy speaking at a meeting of the Garden Club of Peekskill a few years ago, where he shared his personal formula for a "composting tea," which he credited with much of his landscaping success. He described mixing chunks of  compost in a large tank of water and adding things like seaweed, fish emulsion and other organic ingredients, depending on soil and plant needs.   And the final reference about Chappy in that old Herald described his wins at the wrestling divisionals, where he won all his matches and was given the Most Valuable Wrestler Award.  At the end, Chappy dedicated his season to his longtime former coach, Matt Moore.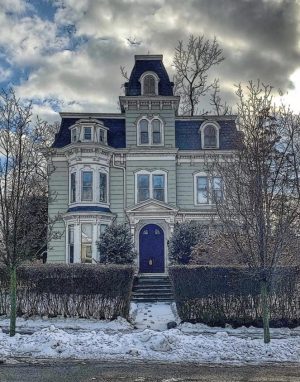 As a child, Chappy spent much time at 927 Pauding Street, the gracious family home of his mom, Christine Rasbeck. He got his first taste for landscaping, when his grandfather pointed him to the push lawn mower and put him to work.   Lucky for Peekskill, Chappy never strayed far from home and returned here after college. He kept in touch with his revered Coach Moore and even helped with fundraisers for the injured coach.  In 1999 Chappy accepted Coach Moore's suggestion that he take the job as assistant wrestling coach at Walter Panas High School. On December 12, 1999  The New York Times ran a long profile piece about Matt Moore's spirited fight to overcome his injury challenges and credited Chappy and fellow PHS wrestler, Chris Ball with being part of Moore's large support network, as the paralyzed coach worked hard to regain his strength and find ways to return to teaching.  
Chappy eventually started his own business and opened Manzer's Landscape Design & Development in 2001. His business philosophy reflects his respect and love of community, as he employs many local staff and steers them all in the practice of ecological, environmental, and ethical landscape solutions.  His business supports many area organizations and charities.  A long time member of the Rotary Club of Peekskill, he has played a key role in raising funds for the many grants that the Rotary Club awards each year.  Chappy took the helm on the Club's project of planting 100 cherry trees in the Riverfront Green Park and chairs their annual Cherry Blossom Festival at the end of April.  This year's event will feature plant and craft sales, along with a large raffle, strolls among the cherry blossoms and children's activities.  The following day a special instructional workshop will be held for area high school students, who will learn the fine art of dry stone wall building.  During the height of the COVID challenges last year, Chappy nourished lots more than just lawns, as he led the way to distributing hot meals to area residents. 
Today Chappy is wrestling with a new need for his caring and kindness.  Earlier this week,  he received a call from Coach Moore's wife, Margaret, and learned the sad news that Matt Moore had died.  As  I finish writing this column, Chappy is up in Cold Spring at the Moore's home, trying to help the family deal with their new reality.   
Now, just as Back in the Day, Peekskill is beautiful because the scenic Hudson River  runs through it.  But poking into old newspaper stories and checking on current updates proves one more thing about Peekskill.  Peekskill is special, because kindness and caring runs through it.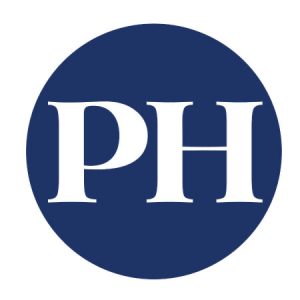 "Back In The Day" is one of the unique stories readers will not find elsewhere. Support this type of journalism that creates a community where people know and care for each other.