Developers back at Planning Commission with new ideas
SOLO now to include artist and senior housing
In a marathon Planning Commission meeting Tuesday night, through three hours of discussion around parking, landscaping and theoretical comments about zoning, two developers and their teams were all ears as details about their projects were deliberated. 
It's in the plodding back and forth between Planning Commission members and developers that details get worked out for how new buildings and developments are shaped. Both projects before the commission have far reaching implications financially and aesthetically for the city. 
Ken Kearney of Kearney Realty Corporation, and Chuck Lesnick along with their teams were present for the virtual meeting, along with all six members of the Planning Commission and city planning department staff. 
First up was resumption of a public hearing on the site plans for the project known as SOLO on Lower South Street (South of Louisa Street) that Parkview Development and Construction is proposing, represented by Kearney. The 11- acre parcel is owned by the city and is a brownfield industrial area which formerly housed a recycling center.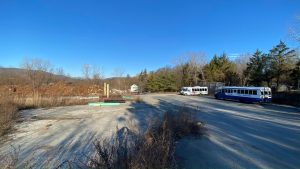 The city currently uses the site for storage of debris and retired city vehicles. Kearney Realty, who developed the artist Lofts on Main project downtown, proposes 231 housing units in six four-story buildings, along with two 1500-square-foot retail spaces in buildings facing Lower South Street.  
The conversation about SOLO began at 7:45 pm with a presentation by John Lynch, planning department consultant, bringing commissioners up to speed on changes the developer made after comments from the public and the Conservation Advisory Council. Kearney has now placed the two retail spaces fronting Lower South Street instead of in the interior of the residential campus. He expects them to be occupied by some type of food establishments. 
A top concern from the public was the environmental safety of the project, given that the site is a brownfield. Planning Commission Chairman Jeff Stern talked about the guidelines from the New York State and NYS Department of Health, and the need to trust those entities will monitor the remediation. Commissioner Ruth Wells agreed, saying the state issues exhaustive guidelines for remediation. 
The Conservation Advisory Council questioned the amount of green technology being utilized, such as solar panels, and asked if the development would be carbon neutral.  Kearney responded saying that his company has used funding from the New York State Energy Research and Development Authority (NYSERDA) in their last 20 projects, and noted that the industry is transitioning away from fossil fuels to geothermal systems with electric heat pumps as backup – or in some cases, only electric heat pumps. He noted that funding for projects from the Division of Housing requires that no fossil fuels be used for heating, and that mandates were being put in place rapidly, in 40 to 60 day windows.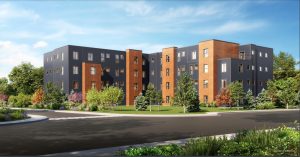 Kearney introduced one new aspect of his residential project following last month's public hearing, responding to comments he heard. His team is proposing creating a 'workshop village or incubator space' for two of the six residential buildings, allotting 92 of the housing units to artists in spaces with higher ceilings and areas to create.  He's referenced similar developments his company is completing or has under construction in Poughkeepsie, Beacon, Oneonta and Rome, NY, where there's a maker or workshop space for painting, dance, music and jewelry making. The buildings are identified on his site plan as Building Three and Four, and are built into a hillside.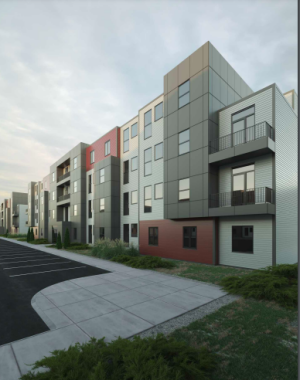 Because of the grade, they have extra space in the rear of the buildings which could be used for workshop or incubator spaces. This space is very similar to the apartments that front Diven Street in his Lofts on Main building downtown. He assured Commission members there would not be a burden placed on the city's Artist Certification Board similar to the city's downtown artist district, and he doesn't envision this project competing with his Lofts on Main building – where artists need to meet certain qualifications to occupy. The SOLO dwellings would be strictly a preference given to residents for artistic or literary activities, and applications would be vetted internally by his company. 
He also proposed a separate building for 37 senior citizen units. There was a lengthy back and forth between Kearney and Mark Potterfield of the planning commission about the wisdom of a stand alone senior building instead of senior units sprinkled in among all the other buildings. Kearney said he's found in doing other developments a higher demand for senior housing in a separate building.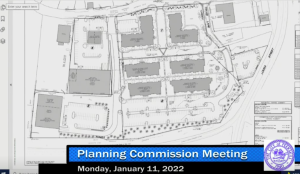 Commission members asked to see at Kearney's next appearance a different color scheme for the buildings, noting they aren't keen on the monochromatic colors shown in renderings.
At next month's site plan review of this project, the Planning Commission said it wants to look at a colorful representation of the green spaces that are in the campus, which aren't easy to recognize in the sketches they were shown. 
An hour and 40 minutes later, the commissioners adjourned the public hearing and voted to make a recommendation to the Common Council for issuing a special permit under the State Environmental Quality Review (SEQR) process regarding the level of contamination of the brownfield. A Level 4 remediation would cost $4.5 million and a Level 1 remediation would cost $82 million according to the planning staff report on the project.  It was also noted by planning consultant Lynch in his report that 78 percent of brownfield projects in Westchester County are Level 4 remediation projects.  
By 9:30 pm, commission members were moving on to the recommendation they were asked to make to the Common Council regarding a zoning text and map amendment for areas bordering the downtown. This change applies specifically to the Broad and Howard location that Chuck Lesnick is looking to develop into 48 one and two-bedroom apartments. The location is currently zoned R-1C residential, so a zoning map change would extend the downtown C-2 commercial district half a block north. The zoning text amendment would allow ground-floor residential units (rather than retail) on the side facing Howard Street. This amendment would also affect other "transition zone" buildings along Diven Street, and areas at the south end of the downtown C-2 district, most of which face residential streets. The Common Council has expressed support for this development, but wanted a recommendation from the Planning Commission about adopting the zoning changes necessary for the project to move forward. 
That was the crux of the issue that caused a discussion among commission members for nearly an hour. Commissioners questioned the need for such a change; what was the purpose of such an amendment in a neighborhood that was already a mixture of commercial and residential? Issues were brought up regarding linear footage versus linear footage of use. There was even a discussion around the language defining a city block: is it a block with consecutive numbers on both sides of a street? Members wanted clarification on that subject. 
Later there was a back and forth about a number of other blocks in the proposed transition zones, and the potential impact of the zoning changes. A large part of the discussion centered around the possibility that if changes are made,  and this specific project doesn't go forward, the Broad/Howard residential neighborhood would now have a commercial designation, for no specific reason. 
It was clear that developer Lesnick was becoming exasperated with the discussion about the merits of such a zoning text change at this juncture when he explained that he was waiting for the designation before he went forward with "writing checks for a million and a half dollars" to purchase property to bring his development to fruition. The development is in a Federal Opportunity Zone and because of that designation, the project must adhere to tight timelines.  He said he felt he was getting a lukewarm reception from the planning commission, and that was a concern to him.  
It took about a half hour for Stern, who is the planning commission chairman, to get a motion to make a recommendation to the Common Council. It appeared that the commissioners were ambivalent about the subject, grappling with the language of the zoning text amendment.  
In the end, commissioners voted 4-2 to make a recommendation with serious concern to the Common Council. Commissioners Stern and Wells voted no. ""I'm not comfortable with the zoning map change. It feels like it's spot zoning," said Wells. Stern reiterated his concern that if the residential area is rezoned to commercial and if this project doesn't happen, would  that mean that newly passed zoning would allow commercial development in the residential neighborhood. Commission members also cited the need for an updated comprehensive plan in their recommendations to the Common Council.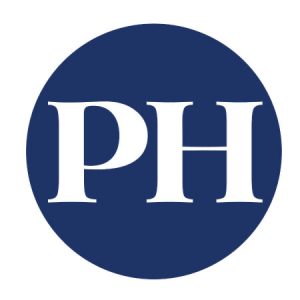 This story is an example of public service journalism, a type of reporting which benefits residents of Peekskill who lead busy lives. Stories like these help people stay informed about decisions that could impact their lives. Donate here to support this type of reporting.