McKenzie sworn in as city's first black female mayor 
Says she will be honest, humble and diligent in working for city
Vivian McKenzie, Peekskill's first black female mayor, was sworn into office on New Year's Day in a ceremony filled with references to family, faith and service as she outlined her vision for the city in a six minute speech. The inauguration ceremony reflected the historic nature of McKenzie's swearing in, with women leading song, offering greetings and words of encouragement.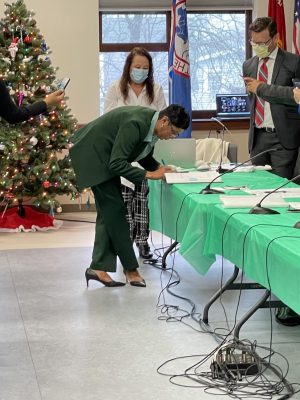 And thanks to technology, the ceremony, which saw some 150 people gather in the meeting space of the Central Firehouse, included US Senator Chuck Schumer along with other state and county elected officials joining remotely. Congressman Mondaire Jones attended in person to swear in Councilman Ramon Fernandez, who was present virtually from the Dominican Republic. Councilmen Rob Scott and Dwight Douglas were present to take the oath of office.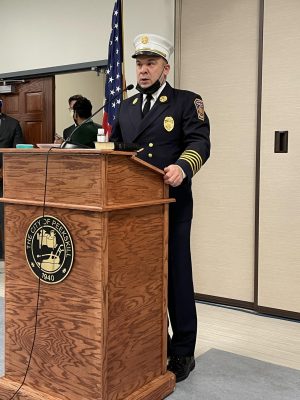 In another historic first, James Seymour, IV was sworn in as the city's first full time career fire chief.  After his oath of office, Seymour referred to the day 26 years ago when the city's first female mayor, Frances Gibbs, swore him in as a volunteer firefighter, beginning his career in Peekskill.In a contentious move which was opposed by many Peekskill volunteer firefighters, the fire chief position was moved from volunteer to professional by the city this year, in response to a study which indicated the need.
McKenzie, who has been deputy mayor for the last two years, spoke of her parents, Walter and Lulu Bridgewater, who modeled for their nine children how to work hard and serve family, church and community. She said she didn't accomplish the achievement of being elected mayor on a whim, and that she came to this day on the strong shoulders of the women of color she grew up knowing in the Park Street AME Zion church she attended as a child every Sunday.  She reminisced of how, as a teenager, she couldn't wait to get out of Peekskill. But after living in New Jersey and Dutchess County, she missed the diversity, friendliness, the small town feel, tree lined streets and beautiful homes of Peekskill along with the short train ride into NYC, the schools and children, the artist community, the people and the sense of community.  "There's a feeling I get here that I don't feel anywhere else. I am committed to build upon the renaissance that Peekskill is experiencing so that every resident has an equal opportunity to experience the American dream." 
She outlined all that is happening in Peekskill's development as the city gears up to start the projects that the state's $10 million Downtown Revitalization Initiative will fund along with an additional $14 million in state money. "These are a lot of moving parts, parts that need to be a part of a vision for our city, a vision that is developed by our council, actionable by our staff with buy-in from our community that can be tracked, modified and obtained.  In addition to continuing to provide city services, code enforcement, safe streets, creating a CCRB (Community Complaint Review Board of the police department), caring for seniors, pursuing economic development for good paying jobs, partnering with schools and private entities to provide opportunity for children like the Boys and Girls Club. I am committed to working with the council to create a vision for our city to continue to move us forward. I will not be perfect but I will be honest, humble and  diligent in serving you, in this great city of Peekskill," said McKenzie, 59.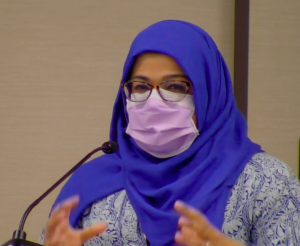 Dr. Nadia Amin, a primary care physician at NY Presbyterian Hudson Valley Hospital and downtown building owner, offered New Year greetings and said the presence of McKenzie in the role of mayor opens up the possibility for children to see someone like them in a position of leadership and gives them inspiration to become a leader. "Mayor McKenzie is an example of who we should follow when we have challenges and how we move forward. She has gone through adversity and emerged as a stronger person," said Amin. 
Business owner Pam Johnson offered words of encouragement quoting Scripture to McKenzie, suggesting that there were five areas she should heed. First was to acknowledge God and not lean on her own understanding. Second she was encouraged to seek wise counsel and consider other points of view and speak with those in similar positions such as Mt. Vernon Mayor Shawn Patterson Howard. Third, she needs to have faith in the substance of things hoped for and have faith in the things she sees but others don't see.  Fourth, have confidence in the God who created her knowing that everything she needs to walk into this assignment as mayor is already deposited with her. And fifth, recall that God is for her. God knows the plans God has for her. 
The Peekskill City Singers performed two numbers after the swearing in of Seymour and the chiefs of the Volunteer Fire Departments. Michael Sniffen took the oath of office for First Assistant Chief, John Kelly for Second Assistant Chief, James Sniffen for third assistant chief and John Rose as Deputy Chief. 
In the organizational meeting immediately following the ceremony, Councilwoman Patricia Riley was elected by the council as Deputy Mayor.