River cruises highlight Hudson's majesty
Peekskill's spectacular location on the Hudson River makes it a natural for pleasure craft. But that wasn't always the case. Long after the sloops and schooners had passed and the railroad came, Peekskill maintained connection with the outside world by steamboats. That era saw multiple boats ply the river carrying hundreds of passengers.



At that time in the late 19th and early 20th century, the river was considered a superhighway moving people and goods. That changed when transportation shifted primarily to railroads and automobiles. 
Today there is one vessel, a former Coast Guard buoy tender called The Evening Star that puts the pleasure into enjoying the Hudson River from a boat. The Evening Star was  converted to a 36 passenger tour boat and operated on the Erie Canal for ten years before it came to Peekskill in 2011 with its owner Mary Pat Driscoll. 
This May, Driscoll retired and sold her company, Trinity Cruises to Austin Haase. Haase has been a boat captain for 12 years and considers Driscoll a mentor. Mary Pat was the first captain he worked under. For the past two and a half years he has been piloting the boat a few days a week in addition to working in New York Harbor driving tugboats, fishing boats and the Staten Island Ferry. He and his wife Sinead are now running Trinity Cruises, based at Riverfront Green.
The couple lived in Brooklyn, but moved to New Paltz when their first child was born. "It's always been a dream to have my own boat in a beautiful location.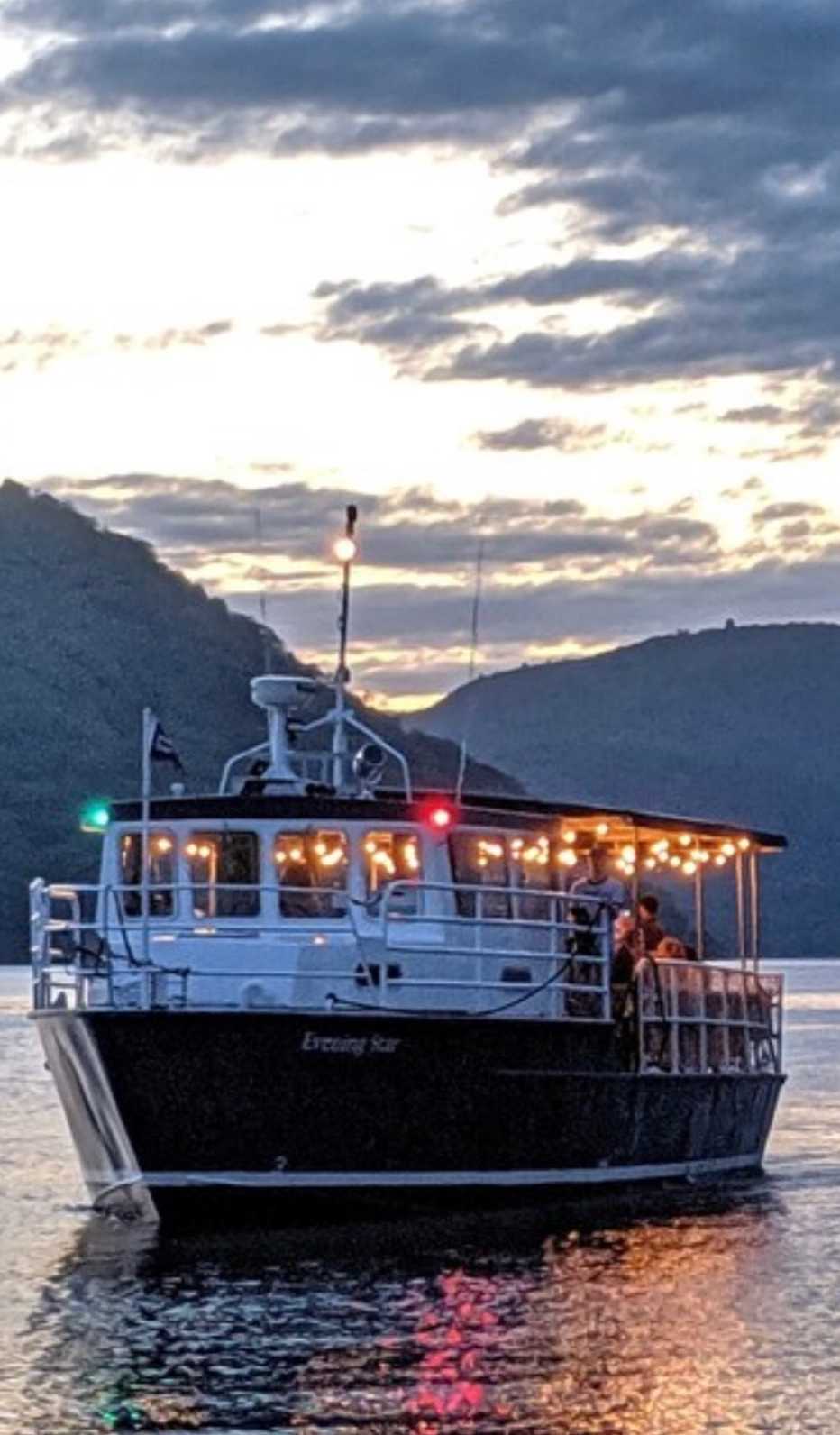 This spot can't be beat," said Haase. He became familiar with boats from being a bartender on them and working his way to pilot. 
Almost everything about The Evening Star remains as it did when Driscoll owned the company said Haase. Except he installed sitting and picnic benches aboard, and 'Brooklyn Hipster Lights'  as he called them, for evening cruises. The staff stayed on and the prices for cruises are the same. He will continue to offer tasting cruises in partnership with Dylan's Wine Cellar, Peekskill Brewery and River Outpost. He's looking to offer music cruises and in July will debut a Brunch Cruise. People can book a charter or sign up for the many sightseeing rides by going to www.trinitycruises.com