What's Old is New Again at Stark Vintage
When Michael Stark, 25, was in high school it wasn't cool to wear clothes that were purchased at a thrift shop. In the seven years since he graduated, that's changed so dramatically that he's now earning a living selling vintage clothing. His shop, on the second floor of 925 South Street in Peekskill, features a revolving inventory of T-shirts, jackets and jeans he's located over the years by scouring Goodwill and other thrift shops.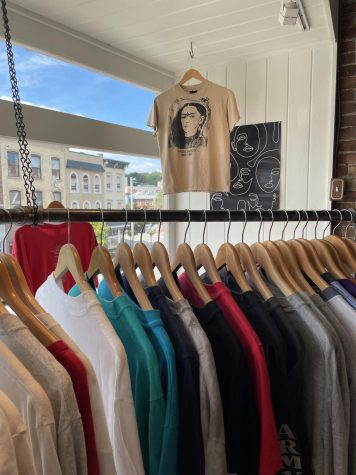 The hobby that turned into a business started when he was 10 years old and found a pair of Air Force One sneakers in the Salvation Army Thrift Store. The sneakers cost $5. "I wore them everyday and was so confused about why they were so inexpensive," because he knew they were brand new. He would return to that store many times to purchase good condition clothing to wear, especially in high school. He focused on clothing from the 80's and 90's.That Salvation Army store was formerly on Main Street where Sav-Mor Auto Parts is now located.  
Wearing clothing from earlier decades slowly started becoming a trend and more accepted.  "Nostalgia is a business now," he said.  "It's a very competitive market and it's more difficult to find items," he explained. "The whole vintage world is hush, hush. You can't go into Goodwill and find things anymore." Luckily for Stark he built a large collection of items he found for himself and was posting pictures of his finds to his friends who would come to his house and buy items. He saw that people were genuinely interested in purchasing what he had collected. And they told him he needed a bigger space. 
On Cinco de Mayo in 2018 he had his first pop-up shop on the first floor of his current building. It helped that there was a street festival downtown that day. He did so well with that experience, he decided to open his own store but knew he needed a steady income. For the next two and a half years he worked as an apprentice carpenter and painter. In February of 2020 he quit his job and planned to take a road trip around the county looking for vintage items. His first stop was New Orleans where he was visiting his sister. That turned out to be his last stop on the cross country trip after his car stopped working and he dislocated his shoulder. He was away for two weeks and returned home and lived off his savings and unemployment benefits during the pandemic. 
"I was at this weird crossroads in March of 2021 and called a friend to talk about what I was doing," he recalled. "I wasn't sure if this (business) was a stupid idea I had, but my friend told me to just stick with it." A month later Stark had a lease for the space he'd known he wanted. "There's so much history in this building," said the Montrose resident. "I have been coming to this building since I was 10 years old when I took fencing lessons here – and my mom rented a space in this building in 2003." 
Stark Vintage is open Thursday from 1 to 6 p.m, Friday, Saturday and Sunday from 12 to 8 p.m. "I've never had a day where it's been a bust," he said. He's also had frequent buyers like Ruben Salazar, 19, who was walking by one day and saw the display on the street.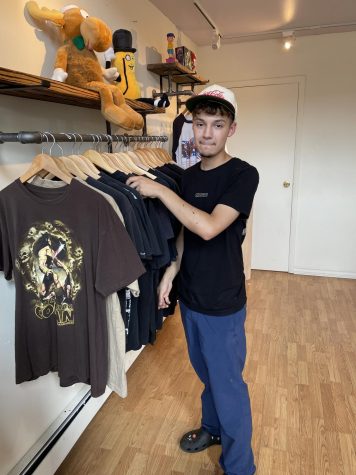 He spent $300 for his summer wardrobe and started bringing friends.  On the days Stark isn't in the shop he's laundering his merchandise, creating unique price tags made out of Pokemon cards, (another vintage item from the 1990's) and scouting additional items within a 50-mile radius.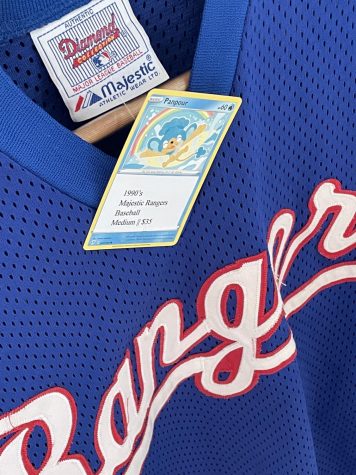 Each of the pieces of merchandise he sells has a story behind it – and that's the fun of owning a brick and mortar business, said Stark. The difference when you sell on Ebay is that you're not getting to know people, you're just packing the material and putting in the mail. The beauty of the shop is his interaction with people, hearing about their passions and experiences that prompt them to spend upwards of $75 for a tee shirt. The concert shirts from the 70's and 80's are particularly popular. He's had customers who recall being at the concerts listed on the back of tee shirts of popular bands and sharing their memories. He's also got a fair amount of sports jerseys and gear from colleges. 
On his first day in business this April a couple came in. The man asked about the price of a 1994 Nervous Records T-shirt and when he was quoted $450 he didn't express any more interest in it. The woman he was with purchased a Nike jacket and as they were preparing to leave the man pulled out $450 and bought the shirt of the underground record that had a cult following. Some of the shirts are collectors items, such as the T-shirt used as a promotion for the Fear & Loathing in Las Vegas book. The cover of that book was illustrated by artist Ralph Steadman.
Stark uses the 500 square foot loft area of his airy shop as a performance space and this weekend he will be hosting local artist Jessica Jaroff who will have an exhibit of her collages on display until August 31.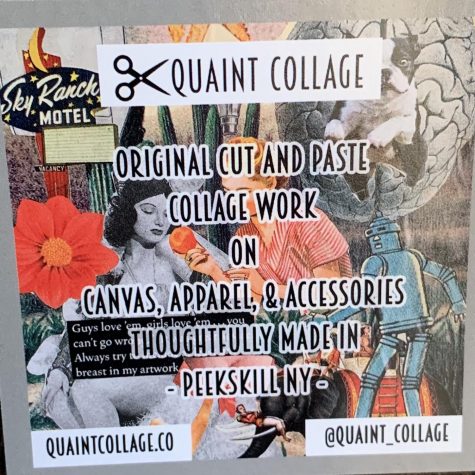 The opening reception for her Quaint Collage collection is Saturday, July 31 from 7 to 9 p.m. with music by local musician Adam Love. Jaroff's work is right in sync with the nostalgic vibe of Stark Vintage.  All her pieces are on canvases and range in size from 5×5 to 8×10. "I don't do digital, all my work is hand cut and pasted," said Jaroff.