Resoled and Retooled, Sole Man Gets New Life
Repair Shop Takes to the Road
By Jackie Suarez
Earl Johnson coined the phrase, "I'm not a heel, let me save your sole." The fervent disciple of repair didn't let a pandemic stop him, despite losing his brick and mortar shop on Welcher Avenue. I caught up recently with Johnson during his 'office' hours in his Leather and Shoe Repair van by the playground at Peekskill Riverfront Green Park.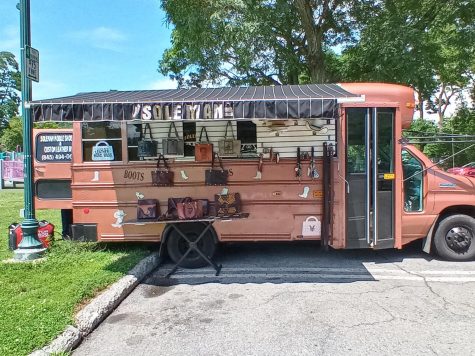 His journey began when he was 13 years old and walked into a shoe repair store in Red Hook, New York. He was fascinated with the way the owner was buffering a pair of shoes for a customer and asked if he could learn how to repair shoes. The owner smiled and said, "you don't want to do this," but he reluctantly agreed to let Earl help at the store and that was the beginning of his apprenticeship as a cobbler. He also credits wood shop at P.S. 78 in Brooklyn for giving him a love of working with his hands. He learned to work on everything from jewelry boxes to lamps. Earl is skilled in carpentry, leather, and electrical.
After many years as an apprentice, Earl said he was he was ready to, "spread his wings," and venture out on his own, opening his first shop in Beacon 20 years ago. That was the beginning of Sole Man. Since then, he's had a few locations throughout the Hudson Valley including Peekskill where he had a shop at the corner of Water Street and Railroad Avenue and one across from the Post Office on South Street. The pandemic forced Earl to close his Welcher Avenue store in March of 2020 and re-imagine how to continue his business.
Transitioning his business into a mobile repair van was something he'd been thinking about for ten years. The challenge that came along with the pandemic forced him to make that idea a reality. He purchased an old school bus for $5800 and had it painted and outfitted with his repair equipment.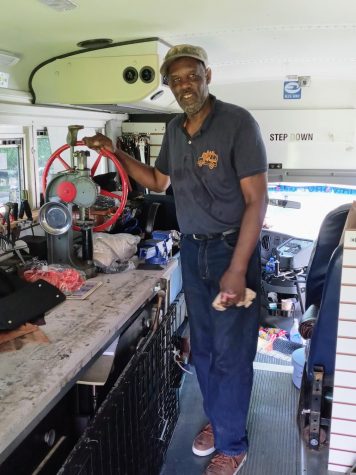 The seats in the bus were removed and he now has two heavy duty sewing machines, a buffer, and a grinder in their place. He's been working out of it for the past year and a half.
"I love the van and the freedom it gives me," said Johnson, 63.  Once he's parked, he sets up a display of handmade purses, wallets, and belts on the outside. Customers can purchase belts and sandals made to order. A people person, he said he's enjoying all the new people he's meeting. "Since I'm traveling more, I meet people from different counties I normally wouldn't meet."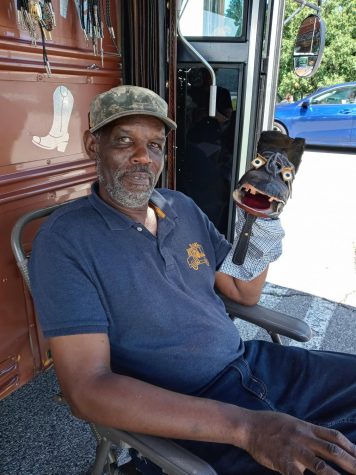 He's created a puppet out of a leather shoe named Shoey who will educate his customers on how to care for their leather goods. "Leather is a hide and needs to be oiled to last," he said, explaining that he's creating a video about Shoey which can entertain customers while awaiting repairs.  He joked that he'll be auditioning for a puppeteer. An increased social media presence to increase his customer base and stay connected to customers are other projects he's working on.
His love of working with his hands extended to sculpting with driftwood and he's passionate about it. He's been working in driftwood for decades, patrolling the riverbank selecting pieces that he envisions look like figures in his mind's eye.  This You Tube video from nine years ago illustrates Johnson's philosophy of working with driftwood.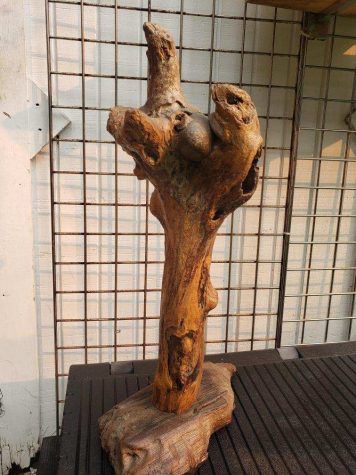 His latest acquisition is a piece of driftwood that looks like an iguana.  He's turned pieces of driftwood into furniture for customers. His work has been displayed in his stores but also sold at craft fairs and along Route 52 in Fishkill.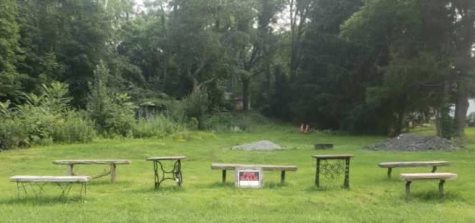 Johnson's Leather and Shoe Repair Van is at Peekskill Riverfront Green on Friday's and Saturday's between the hours of 9 a.m. and 3:30 p.m. His future plans involve visiting some of the stables throughout Westchester to increase his customer base with Saddle Restoration and Repair.