Peekskill Democratic Candidates Clash in Primary Debate
Progressive Candidates to Run on Working Families Line if Primary Bid Fails
By Jim Striebich
On Wednesday night, the two Mayoral and six Common Council candidates in the Peekskill Democratic Primary election took center stage for the one and only debate ahead of the June 22nd primary. The Peekskill Democratic City Committee (PDCC) slate led by current Deputy Mayor Vivian McKenzie emphasized their collective experience and success in landing millions of grant dollars for the northern Westchester city, while the upstart Progress4Peekskill (P4P) candidates insisted the current administration (of which three of the four PDCC candidates are members) has lagged in addressing community issues like affordable housing and has lacked transparency. 
In an unexpected moment, Progress4Peekskill mayoral candidate Conor Greene announced he would run in November's general election on the Working Families Party line, regardless of his success in the June Democratic primary.
The debate took place at the Peekskill Middle School auditorium before a small but vocal live audience, and was streamed on each of the slates' Facebook pages as well as the Herald's.
Stream the entire debate on the Peekskill Herald's Facebook Page or on the Herald's You Tube Channel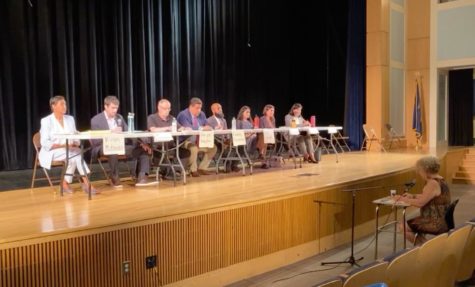 Candidates Vivian McKenzie, Conor Greene, Dwight Douglas, Ramon Fernandez, Rob Scott, Vanessa Agudelo, Amy Perlow and Amy Vele answer questions posed by Regina Clarkin of Peekskill Herald.Besides McKenzie, the PDCC-endorsed slate included current Common Council members Ramon Fernandez and Dwight Douglas, who are seeking re-election; and downtown business owner Rob Scott. The P4P candidates included Greene – co-founder of the urban advocacy group Peekskill Walks – as well as current Council Member Vanessa Agudelo; education advocate Amy Perlow; and Amy Vele, who is currently a legislative aide to Westchester County Legislator Colin Smith. The eight candidates fielded questions from the Peekskill Herald's Regina Clarkin, who moderated the event. 
Debate topics covered a wide range of local issues, from housing affordability to police reform to quality-of-life issues like litter and rogue shopping carts. 
A Study in Contrasts
From the candidates' opening statements, the two slates established contrasting tones: Deputy Mayor McKenzie and Council Member Douglas each stepped through a list of successful initiatives they'd been a part of over the years; while P4P candidates Agudelo and Perlow emphasized what they describe as the challenges of poverty and affordable housing in Peekskill, as well as a perceived lack of government transparency. "When residents came together last year to protest the sale of public land for luxury apartments, public comment was shut down," stated Perlow.
After each of the eight candidates made opening statements introducing themselves and outlining their own priorities, Clarkin turned to the two candidates for Mayor. Both candidates were asked about the controversy surrounding a recent Council-commissioned study which recommended the current system of volunteer-based Fire Chiefs be replaced by a salaried, professional Chief employed by the city. Deputy Mayor McKenzie responded "No one in City Hall has asked that we get rid of volunteer firefighters. In fact it's the exact contrast. We're looking for more volunteer firefighters, and we're looking to put together a fire department that works under one roof."
Greene commented that he's still learning about the issue, and agreed the city should be studying [the departmental structure], but emphasized that he believes the topic should be more of a community-based dialogue. "The residents should be in on this conversation too."
On Open Government
When asked whether they would ensure open and accessible public meetings if elected, both Greene and McKenzie said they support more access.
"I believe in a neighborhood-based, community-based approach to government," said Greene, saying he would bring "more live streaming, revamp our website, get out of just promoting things on Facebook; neighborhood-based town halls; better language translation; just a more participatory style of government in general."
McKenzie said she hopes to return to in-person city meetings soon: "It's a safety concern…we want to go back to [in-person] meetings before the Governor lifts the mandate." She noted that certain venues such as the Central Firehouse don't currently support live streaming. "Yes we want questions from the public. We're an open government as we've always been and continue to be."
Single Biggest Issue
Clarkin then addressed the six Common Council hopefuls, asking what each believes is the "single biggest issue facing the City of Peekskill" and, if elected, what they hope to do about it. 
Councilman Douglas zeroed in on children and their education. "We're going to bring the Boys' and Girls' Club here to Peekskill…for kids who would normally be left behind to catch up"
Predictably, Agudelo focused on what she described as Peekskill's housing crisis. "Over 60% of our population that rents cannot afford to live where they're currently living now, and we have the highest rate of foreclosure…We need leadership that's going to address these issues with legislation and not just negotiation with developers." "Currently we have a lot of developers who are…viewing our city as a pot of gold," stated Agudelo, suggesting that political leaders should be focused on new legislation to ensure equity and access to housing for current residents.
For Councilman Fernandez, who is also an independent taxi operator, Peekskill's greatest challenge surrounds transportation – an issue he says he has been working on for years. In his response, he questioned why the P4P candidates are proposing items that reduce parking.
"Our development is leaving the community behind," responded candidate Perlow. On the city's proposed affordable housing ordinance: "There is a proposal…but it's too little and it's too late," she said.  "Developers need to give back to the community," indicating that social justice and housing equity are at the top of her priority list.
Candidate Vele, whose family emigrated from Ecuador, funding for youth programs is critical as is ensuring "quality of life for everyone", and "equal access to resources."
Quality of Life
The two mayoral candidates were asked about so-called quality-of-life issues including litter, stray shopping carts, and speeding in residential neighborhoods. 
Greene answered first, saying, "We need to get back to the basics in a lot of ways. We need to find ways to better support the DPW and give them what they need to take care of our parks. They're working really really hard, but people do notice when our parks and areas of our downtown aren't maintained as well as they should be." He mentioned legalized marijuana taxes as a potential funding source. "A downtown supplemental sanitation service that would create jobs for people who have been harmed by the War on Drugs, create entry-level careers, and also help our downtown businesses." "The speeding, traffic, the reckless driving is something that needs to be addressed. The residents have brought this to City Hall's attention and nothing has been done. That is an area we need to absolutely focus on."
McKenzie suggested the speeding problem is already being addressed:  "Everyone has seen the speed monitors in areas where we've gotten calls saying there's an issue. There's been tragic things that have happened, but our police department's working to take care of that." She focused on the costs of dealing with the other issues: "In terms of city services, that's exactly why you need a balanced budget; why you need balanced housing and tax base in your city – so that you can provide the services that you need; so that you can have more garbage pickup, more code enforcement…that stuff's not free, and if you don't balance your budget and bring in affordable housing, market rate housing, middle income housing, commercial business, jobs where people can work here, then you never get to that point…we want to bring people here so that we can make sure our city runs, and we need to make sure it's done in a balanced and effective way."
Housing Affordability
Clarkin next turned to the lack of affordable housing options in Peekskill, noting that a proposed ordinance requiring developers to set aside a percentage of units in new developments for lower-income tenants has been being studied by the Common Council for nearly a year, and asking McKenzie and Greene for their respective positions.
The Deputy Mayor reminded the audience that Council Member Fernandez had originally brought the topic before the Common Council "way before other people got the flair for affordable housing." She went on to explain that the Council's consultant had recently delivered a report recommending developers reserve ten percent of units as priced affordably, "because Peekskill has the lowest rents, the lowest house [sale prices] within the county…so it's very difficult to get landlords to go above that ten percent." She emphasized the need to accommodate middle-income families earning $60,000 to $90,000 [the so-called 'workforce' range between low-income and high-income wage earners].
"Managed or inclusionary zoning is only one small way to get us towards a reasonable housing landscape," responded Greene. "We need to look at at least twenty percent; other cities are doing that, Chicago for example, other small cities are doing that. We need to demand more of developers. If we look at our zoning codes and do things like reduce the amount of parking we make them build, then the cost of construction comes down, and there's more room for affordability." The P4P candidate mentioned that Peekskill has not adopted the Emergency Tenant Protection Act, and suggested the city partner with nonprofits to create new affordable housing on existing city-owned lots, and blamed inadequate zoning codes as creating a "missed opportunity to create more housing" downtown.
They Agreed About Weed
In a moment of unity that was rare during last night's debate, all six Common Council candidates said they supported allowing newly-legalized cannabis dispensaries and consumption lounges within the city limits – a default condition as of January 1, 2022, unless the current Council were to pass laws restricting them. 
Councilman Douglas went farther, expressing support for the state's associated clemency provisions which will end current prison sentences and remove or reduce convictions for some residents convicted of marijuana-related crimes.
Several candidates mentioned the social-justice aspects of the new law, as well as the potential for new tax revenues.
Climate Change
Council Members Agudelo and Douglas were asked about the city's role in supporting a statewide NYSERDA climate change initiative. Douglas described it as "a big moment…we must do everything we can to ensure that we're in full compliance, that we follow through, and that we're fully engaged in addressing climate change.
Agudelo criticized what she sees as the current Council's lack of engagement on climate change. "I believe as a city we need to make the climate crisis a priority, not just a pet project, which is what I see our Council currently doing…we can not just do the bare minimum." She compared the city's efforts to Beacon's, explaining that the Dutchess County city has hired a part-time paid coordinator to avoid "passing the responsibility of reaching these benchmarks onto staff that are already overloaded with work." She also suggested forming a new task force dedicated to the topic. Her response appeared to draw applause from members of both slates.
Police Reform and Community Policing
A pair of questions about Peekskill's recent Police Reform Task Force and community policing drew some of the most animated responses from the two slates of candidates, with the Progress4Peekskill Candidates criticizing the process while mostly defending the city's Police Department. "It's been months since that report has been published, and no action has been taken," stated Agudelo. Her running mate Perlow went farther: "The city is doing something wrong if they're having a police reform task force and nobody is showing up…nobody feels that it is worth it; nobody feels that their opinions are valued; nobody feels safe in that space," and suggested the city should be doing community surveys to understand residents' concerns.
Deputy Mayor McKenzie defended the Task Force. "I can't let people sit here and talk about that Task Force. We initiated a Task Force of dynamic people from across our city…they came in and they worked diligently and hard…people had every opportunity to come to these meetings, either by Zoom from your home, or they could come out to meetings. So there's no excuse." McKenzie continued, "The stuff that came out of this Task Force has gone into a report; we have given this to HR…so that people will have an opportunity to come to more meetings to talk about those suggestions. Some of them have been implemented; some of them have not been implemented yet. But you will have an open opportunity to discuss all of these things…listen to what's out there, don't listen to the hype, because people don't tell you the truth."
Mayoral candidate Greene responded, thanking Task Force members and defending the city's Police Department: "We are asking our police to do too much. Chief Halmy tells us, they go from call to call to call; they've lost the role of preventing crime and solving crime." He continued, "Safe streets is not a policing issue. Mental health crises should not be solved by police officers. We don't need armed police going to every call," drawing audience applause.
Newcomer Rob Scott referred to his own demographics in fielding a followup question about community policing. "As the only young Black man on stage, I think I would have more experience dealing with police officers…I've never had a problem to be honest with you. Do we have problems? Are there incidents? Are there issues? Are there 'bad actors' as they say? Yeah. But to say that Peekskill is like Brooklyn, or Queens, where it's so corrupt…it's ridiculous."
Councilperson Agudelo, answering passionately, stated, "We should not be waiting for a Black man to be murdered in broad daylight to take action," drawing audience applause. "We're in a moment where the entire country is looking at the police force and acknowledging the fact that these institutions have been rooted in white supremacy. In a moment when we have a number of police departments pushing back against that narrative, we have a blue line painted in front of our police station. And our police department refuses to acknowledge that this symbol has been co-opted by white supremacists and Nazi groups, and we want to continue to act like everything's okay." She went on to propose that the salaries of a half-dozen currently-vacant police officer positions be re-allocated to additional mental health resources.
A Surprise Ending
Perhaps the most surprising moment of the evening came near the end, when in answering the question "if you lose the primary do you promise to support your current Democratic opponents in the general election," candidate Greene – citing his ticket's endorsement by the Working Families Party – stated that he plans to run on that ballot line in November if he is unsuccessful in the primary race against Ms. McKenzie. The Deputy Mayor's response to the same question just moments earlier was "I'm a Democrat to the core," suggesting she would support any successful Progress4Peekskill members against Republican challengers in the general election.
The Herald received statements from both campaigns on Thursday morning. 
PDCC Campaign Mangaer Barry Caro provided this release: "The point of a primary is for Democratic voters to choose their candidate and then come together. Instead, the other candidates running made clear in last night's debate they will NOT respect the choice of Democratic voters, and will run a third party campaign to hurt the Democratic nominees if they lose the primary and open the door for a Republican victory. If the other side can't commit to a basic level of respect for Democratic voters – asking for their vote and respecting their choice – then they don't deserve the Democratic Party's nomination," said Barry Caro, Peekskill Democratic Committee Campaign Manager.
"I realize Conor Greene was not living in Peekskill when Frank Catalina won the Mayor's race in 2013, or even when we barely beat him in 2017. But he should have learned by now that Peekskill had a Trump Republican Mayor not that long ago," Caro continued. "Republicans can and do win elections in Northern Westchester. To threaten all the progress we've made and threaten to play spoiler in November is selfish and wrong. It badly undermines the values the other side claims to believe in and fight for – and it's especially galling when you consider the glaring contrast between the depth and breadth of Vivian and Conor's experience in Peekskill.
"I'm not sure what I expected from someone who used to be a Republican political staffer in New York City, which Conor used to be. But it does make you ask whether this campaign is about the people of Peekskill or the other side's personal egos and desire to be personally in charge," Caro concluded.
Progress4Peekskill's campaign manager Liz Greene issued the following statement:
"We are incredibly proud to have received the endorsement of the Working Families Party, which recognized that our platform of housing justice, equitable growth and open government aligns with the issues and values they have championed for years. We applaud WFP for their work to push our local Democratic party and state further left. 
Based on having received the endorsement, our names will appear on the WFP line this November. We do not blindly pledge our loyalty to any political party, but rather will choose the path that best represents the interests of our community. We urge Peekskill residents to read our platform, attend our events, and get to know what we stand for — people over political parties.
The reality is, Democrats have an overwhelming advantage of active registered voters in our city. With more than 7,200 Dems compared to less than 2,000 Republicans, Democrats would still win, even if there was more than one candidate people voters could choose. Primaries and choice of Democratic candidates are a good thing, and should happen every year.
We need to focus on getting people to come out and vote, but we are not concerned that a legitimate contender on the WFP line would give the GOP a path to victory, given the overwhelming advantage Dems hold. This shouldn't be about promoting blind loyalty to any one party. We're committed to the people and the policies that best serve them.
The PDCC wants voters to be afraid. They're worried that they might not maintain the status quo, so they're creating a fear-driven rhetoric mixed with personal attacks. And they're ignoring the important issues and substantial policy discussion that took place last night. But we believe Democracy is about choice — and we trust the people of Peekskill to make the right one."
June 22nd's Democratic primary came about when the Peekskill Democratic City Committee's four endorsed candidates (which included three current Common Council Members) were challenged by a self-described progressive slate of newcomers to Peekskill politics Conor Greene and Amy Perlow, current Councilperson Vanessa Agudelo, and Legislative Aide Amy Vele, who branded themselves Progress4Peekskill. Early voting begins this Saturday June 12th at the Neighborhood Center at 4 Nelson Avenue, and the Lincoln Depot Museum at 10 South Water Street.